As mortgage rates reached their highest rates in over twenty years, September existing home sales fell. Meanwhile, the world's central bankers maintained their aggressive stance on tightening monetary policy. Overall, the fight against inflation continues.
September Existing Home Sales Fell as Mortgage Rates Climbed Higher
Hurt by higher mortgage rates, September existing home sales for the eighth straight month. Now, existing home sales hit their lowest level since 2012 (excluding a brief period early in the pandemic). Furthermore, existing home sales dropped 24% lower than last year at this time.
On the housing inventory front, they also declined slightly lower year-over-year. Currently, housing inventory sits at just a 3.2-month supply nationally. While the median existing-home price of $384,800 was 8% higher than a year ago, this sank from a record high of $413,800 in June.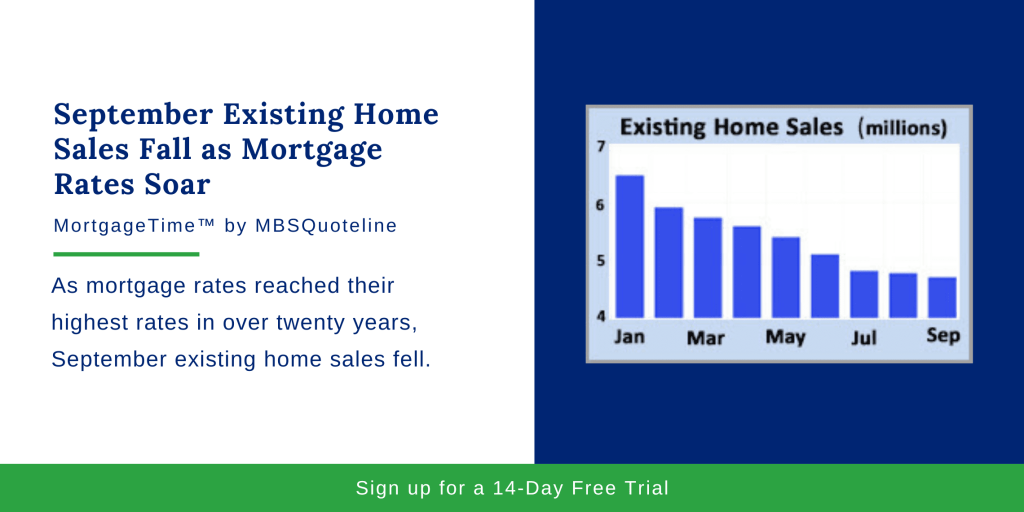 Housing Starts Decline Alongside Home Builder Sentiment
With September existing home sales falling, the lack of home inventory presents a lingering issue. More so, relief from new construction continues to be painfully slow. In September, overall housing starts fell well short of expectations and were 8% lower than a year ago. Meanwhile, single-family starts tanked a much larger 19% from a year ago, remaining near the lowest levels since early in the pandemic.
In the NAHB's recent home builder survey, sentiment declined for the tenth straight month to 38. Thus, home builder sentiment is now half what it was just six months ago. To make matters worse, home builder sentiment also reached the lowest reading since 2012 (excluding a brief dip in 2020). Analysts consider levels below 50 to be negative. Higher prices and shortages for land, materials, and skilled labor remained major issues holding back a faster pace of construction.
Mortgage Application Volumes Plummet to Lowest Levels in 25 Years
Running in tandem with September's existing home sales data, higher mortgage rates took their toll on mortgage application volumes. As a result, mortgage application volumes dropped to the lowest levels in 25 years. According to the latest data from the Mortgage Bankers Association (MBA), average 30-year fixed rates climbed "well over" 3% higher than a year ago. Thus, average 20-year fixed rates achieved the highest level since 2002.
Purchase applications descended 38% from last year at this time. In addition, applications to refinance a loan plunged a shocking 86% from one year ago. As buyers seek lower rates, the share of adjustable-rate applications climbed to 13%. Therefore, adjustable-rate applications reached the highest level since 2008.
Looking Ahead After September Existing Home Sales Fell
After the latest report of falling September existing home sales, investors anticipate another 75-basis point rate increase at the November 2nd Federal Reserve meeting. In the meantime, investors hope for more specific guidance on the pace of future rate hikes and bond portfolio reduction.
Next week, New Home Sales release on Wednesday. Third quarter GDP, the broadest measure of economic activity, comes out on Thursday. Also, the next European Central Bank meeting takes place on Thursday. Finally, the core PCE price index, the inflation indicator favored by the Fed, publishes on Friday.
---
As the September existing home sales fell, mortgage rates soared to their highest levels in over twenty years. Never miss an update with MBSQuoteline. To receive by-the-minute updates on mortgage-backed securities, try our platform free for 14 days.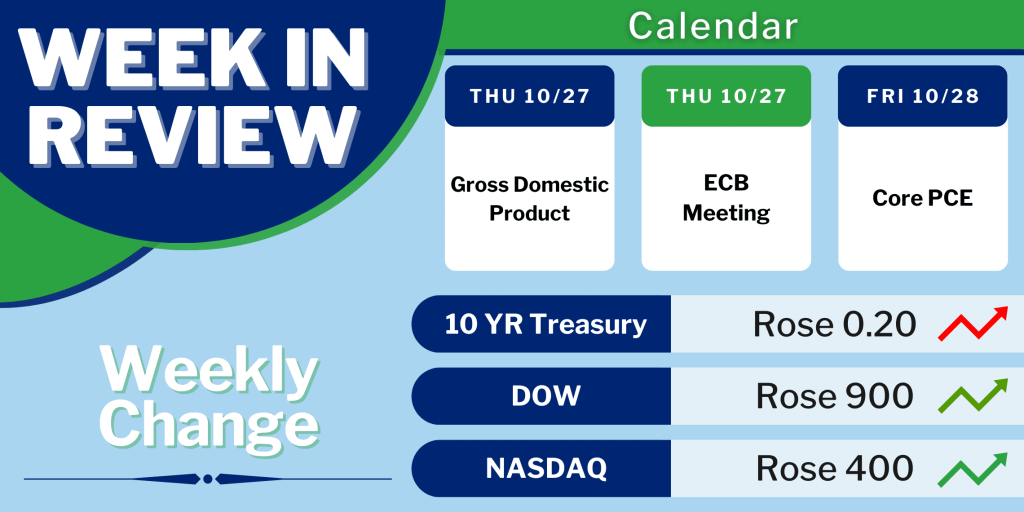 Stay connected with MBSQuoteline on social media by following us on Facebook, Twitter, and LinkedIn.
All material Copyright © Ress No. 1, LTD (DBA MBSQuoteline) and may not be reproduced without permission. To learn more about the MortgageTime™ newsletter, please contact MBSQuoteline at 800.627.1077 or info@mbsquoteline.com.