Live MBS Data from MBSQuoteline
Delivered to your desktop, tablet, phone and inbox.
MBSQuoteline delivers real-time mortgage backed securities prices live, right as trades happen. Get up-to-the-minute mortgage market news and analysis as events occur, and ongoing mortgage rate trends, all sent straight to your computer, mobile device, tablet or email. Our Economic Calendar keeps you on top of current economic releases. Stay plugged in, in real time, to mortgage rates and MBS trading updates, know in advance when investors will reprice, make the right lock/float decisions, impress customers and earn more referrals.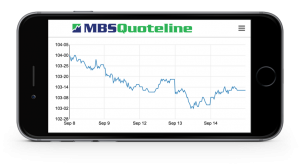 With MBSQuoteline, you can chart MBS prices over time, intra-day or inter-day up to five years, add moving averages, candlesticks, stochastics, and more. You get many valuable mortgage originator marketing tools, including a personalized weekly newsletter to send to clients and referral sources, and to post on social media sites. Be the expert your clients expect with the most accurate information on the mortgage backed security market, and know what's moving interest rates today, tomorrow and beyond. See more.
Testimonials
See what MBSQuoteline clients are saying
"100% reliable and accurate even in the most volatile markets. Would recommend without any equivocation."
"Sending the MBSQuoteline monthly newsletter to all my past clients over the past 32 years has been resoundingly successful to keep my name and contact info in front of them on a weekly basis. When they thought mortgage, they thought of me."
"I find your reports invaluable to my perceived expertise by my clients! You make me look smart!"
"I have been a loyal client of MBSQuoteline for many years. Their timely MBS Markets updates throughout the day has saved my clients thousands of dollars by providing me with real-time information that helps me lock-in their rates at the appropriate time. This is especially true in today's volatile and rising interest rate environment. My clients and I also find the weekly MortgageTime Newsletter to be very informative and an easy read. Of note…I also recently needed to change my information after our merger was completed with new branding and contact information…MBS home office worked with me to accomplish that quickly and with only two short phone conversations. I am a big fan of MBSQuoteline and strongly recommend them…money well spent!"
"These guys have been great. Been with them for probably close to a decade! Love the easy texts and email communications. Short and to the point. Thank you!"
"I have been recommending MBSQuoteline for years. Their service is something I can't do without. Because of this service I'm able to take locks for my borrowers prior to negative moves affecting their interest rate. My clients love that I am on top of the market for them and it helps set me apart from the competition. I couldn't do it without MBSQuoteline."
"I had been testing MBSQuoteline for about 4-6 weeks when I decided to cancel my other MBS subscription. I have found that the MBSQuoteline service provides more concise secondary marketing information without a lot of the fluff that the other service was pushing. It is strictly pricing information with impressive charting options and instant updates throughout the day based on market movement. I would recommend it to any loan officer and in my opinion is superior to the information, advice, and options that the competitor provides."
"I am a 32-year veteran in mortgage originations. I have been enrolled in MBSQuoteline for over ten years. I find the timeliness of their updates and accuracy of data

 

to be an integral part of my daily business. This is an invaluable tool and should be part of every loan officer's arsenal."
"I use the newsletter MBSQuoteline produces for me and distribute it to my database of personal and business contacts – approx. 600 per week. I average 2-3 leads a week based on this."
"MBSQuoteline has a very valuable service for mortgage professionals. If you're a mortgage professional, you truly should be a subscriber."
"I have been a customer of MBSQuoteline for probably 20+ years now and wouldn't consider another service. They are excellent and it's an incredible value as well when you look at all the options in the marketplace."
"I absolutely love MBSQuoteline. I am using the site, alerts and newsletter. I am watching the site all day. What I love most is that after 10 years in banking, 7 of it being specifically in mortgage, I am finally learning how all the pricing and markets affect mortgage rates. Before I had been told to just watch the 10-year treasury, and it's never been enough for me."
"This service has saved many of my deals in the 30 days I've subscribed. Plus it's relieved me of much stress with proactive messages and relevant content sent throughout the day."
"This is a must-have service if you are in the mortgage industry."
"MBSQuoteline's service is awesome. Whether you use it as a general guide or in depth it is a reliable, timely source for rate information."
"It is a fabulous marketing tool; the weekly newsletter is excellent. The constant "alerts" on pricing keeps me in control of communicating and locking-in my loan applicants and makes me look sharp!"
"Great service and good value…saved me countless times!"
"The information is timely to the point. I love it! I look at this during the day. Very helpful. Look forward to continuing our relationship."
"Great service. Clear concise synopsis of what can be affecting the bond market."
One MBSQuoteline Plan to Cover All Your Needs
The information you need, when you need it, wherever you are
GOLD PLAN
Streaming Real-Time MBS and Treasury Prices, News and Analysis, Re-Pricing Alerts, PERSONALIZED Weekly Newsletter, Mobility and Flexibility, Custom Charts, and much more!
---
To receive by-the-minute updates on mortgage-backed securities, try our platform free for 14 days. Stay connected with MBSQuoteline on social media by following us on Facebook, Twitter, and LinkedIn.

All material Copyright © Ress No. 1, LTD (DBA MBSQuoteline) and may not be reproduced without permission. To learn more about the MortgageTime™ newsletter, please contact MBSQuoteline at 800.627.1077 or info@mbsquoteline.com.