In the release of the most anticipated weekly economic data, August 2022 CPI showed an 8.2% annual inflation jump. However, this outcome came in higher than expected. Thus, mortgage rates increased a bit.
August 2022 CPI Shows 8.2% Year-Over-Year Increase
Analysts closely watch the Consumer Price Index (CPI) report for inflation indications. Overall, CPI looks at price changes for a broad range of goods and services. With the latest release, August 2022 CPI showed an 8.2% year-over-year increase. Therefore, this exceeded the consensus forecast of 8.0%.
Meanwhile, Core CPI excludes the volatile food and energy components. Also, Core CPI provides a clearer picture of the longer-term trend. In August, Core CPI rose 6.6% from a year ago. Similarly, Core CPI surpassed the consensus. Notably, this marked the highest annual rate since 1982.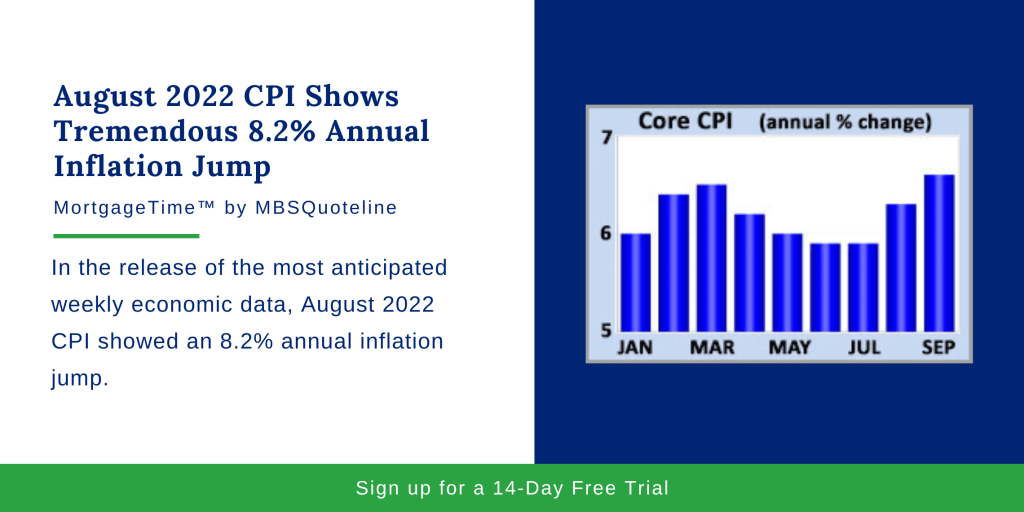 August 2022 CPI Impact on November Federal Reserve Meeting
With the August 2022 CPI report, inflation remains far above 2021 readings of 2.0%. Currently, the Federal Reserve still targets that 2.0% mark. Furthermore, medical care services and new car prices posted large increases in September.
On the other hand, shelter (housing) costs account for roughly one-third of the CPI index. Additionally, shelter posted significant gains. To reduce inflationary pressures, investors anticipate a 75-basis point increase to the federal funds rate at the November 2nd meeting.
Consumer Spending Stays Flat from Last Month
Consumer spending accounts for over two-thirds of United States economic activity. That said, consumer spending represents an important indicator of the health of the economy. In September 2022, retail sales stayed flat from August.
Although this result falls below the consensus forecast for a slight increase, sales remain a strong 8.2% higher than a year ago. Analysts attribute some of this annual increase to higher prices. On the other hand, bars and restaurants saw spending gains. Despite those upward figures, furniture and sporting goods posted significant declines.
Looking Ahead to Next Week's Housing Data
After the August 2022 CPI report publication, investors hope for specific guidance from the Federal Reserve. Particularly, investors seek insights on the pace of future rate hikes and bond portfolio reduction. Next week, contains light economic reporting. However, the focus falls on the housing sector. Housing Starts release on Wednesday, whereas Existing Home Sales come out on Thursday.
---
As the August 2022 CPI increased, mortgage rates climbed slightly by week's end. Never miss an update with MBSQuoteline. To receive by-the-minute updates on mortgage-backed securities, try our platform free for 14 days.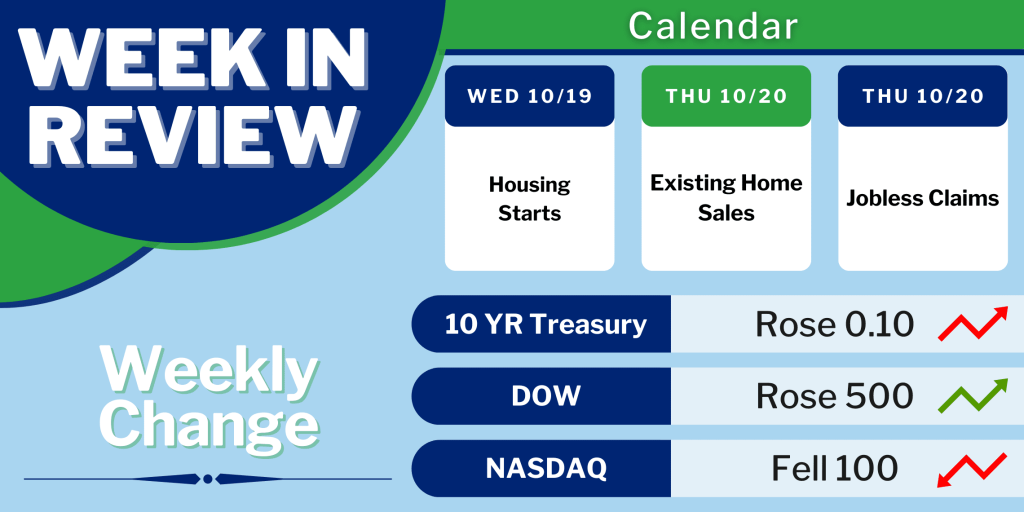 Stay connected with MBSQuoteline on social media by following us on Facebook, Twitter, and LinkedIn.
All material Copyright © Ress No. 1, LTD (DBA MBSQuoteline) and may not be reproduced without permission. To learn more about the MortgageTime™ newsletter, please contact MBSQuoteline at 800.627.1077 or info@mbsquoteline.com.