With this week's data release, European inflation surges spiked mortgage rates in the United States. As bonds yields rose, so, too, did mortgage rates. However, the latest American economic news generated little impact.
European Inflation Surges Reveal Massive 8.9% Increase
Although inflation moderates in the United States, European inflation surges reached record levels. Ultimately, the latest European Union revealed a massive annual rate of increase of 8.9%. Furthermore, the United Kingdom figures showed an even higher 10.1%.
Like the United States Federal Reserve, European Central Bank officials target an annual inflation rate of just 2.0%. That said, Europe faces a steep challenge in reaching that goal. Due to the Russia-Ukraine conflict, energy prices experienced a steep rise, contributing to inflation.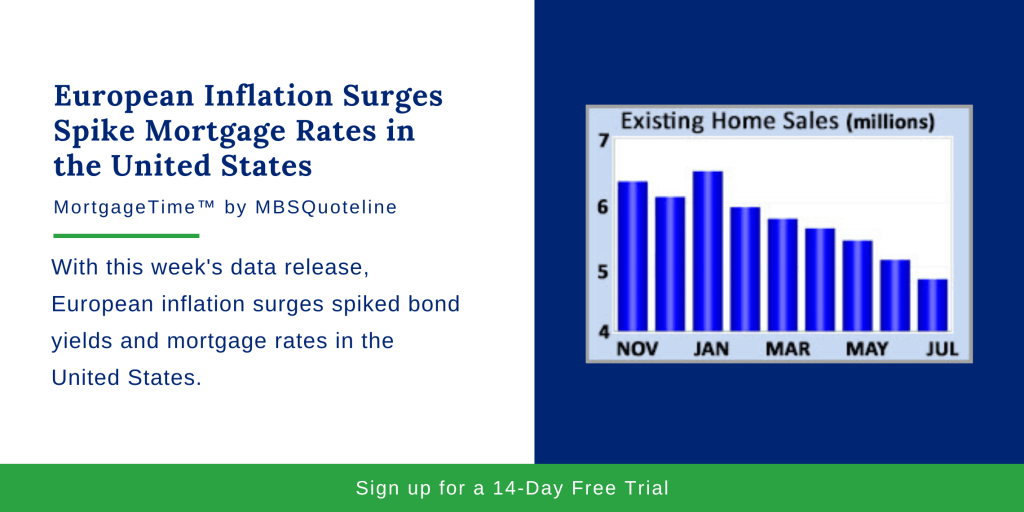 Mortgage Rates Take Their Toll on the American Real Estate Market
As European inflation surges, mortgage rates did, too. Holistically, higher mortgage rates took their toll on the American real estate market. For the six straight month, sales of existing homes fell in July. Now, existing home sales met their slowest pace since May 2015 (excluding the dip near the start of the pandemic). In addition, existing home sales declined 20% year-over-year. Meanwhile, inventory levels remain unchanged from a year ago, sitting at a 3.3-month supply nationally. On the other hand, the median existing-home price climbed 11% higher than a year ago, hitting $403,800.
Despite inventory levels presenting a lingering issue, new construction continues to be painfully slow. In July, housing starts of single-family units dropped 10% from June to the lowest level since June 2020. In July, 15% of homes under contract for purchase faced cancellations. Subsequently, a separate survey of home builder sentiment from the NAHB decreased for the eighth straight month to the lowest reading since early in the pandemic. Builders cite higher prices and shortages for land, materials, and skilled labor as barriers to a faster pace of construction.
Retail Sales Stay Flat as Federal Reserve Debates Potential Economic Weakness
Aside from the European inflation surges and housing market challenges, retail sales stayed flat from June. Notably, consumer spending accounts for over two-thirds of United States economic activity. Thus, retail sales indicate economic health. While the dollar value of gas sales declined sharply due to lower gas prices, consumers used their savings to purchase other items. In particular, electronics demonstrated particular strength, commonly boosted by back-to-school shopping.
With ongoing discussions pertaining to the economy's strength, the July 27th Federal Reserve meeting minutes contained no surprises. Moreover, the minutes offered no specific guidance on future monetary policy. Officials simply said that decisions on how aggressively to fight inflation depend on incoming economic data. Currently, Federal Reserve officials debate the relative risks of tightening monetary conditions too much, causing unnecessary economic weakness, versus not enough, risking "entrenched" inflation.
Looking Ahead After European Inflation Surges
After news of the European inflation surges, investors watch for Federal Reserve guidance on the pace of future rate hikes and bond portfolio reduction. Beyond that, New Home Sales come out on Tuesday.
Durable Orders, an important indicator of economic activity, release on Wednesday. The core PCE price index, the inflation indicator favored by the Fed, comes out on Friday. Finally, Federal Reserve Chair Powell is scheduled to speak at the Jackson Hole Conference on Friday as well.
---
With the recent European inflation surges, mortgage rates rose by week's end. Never miss an update with MBSQuoteline. To receive by-the-minute updates on mortgage-backed securities, try our platform free for 14 days.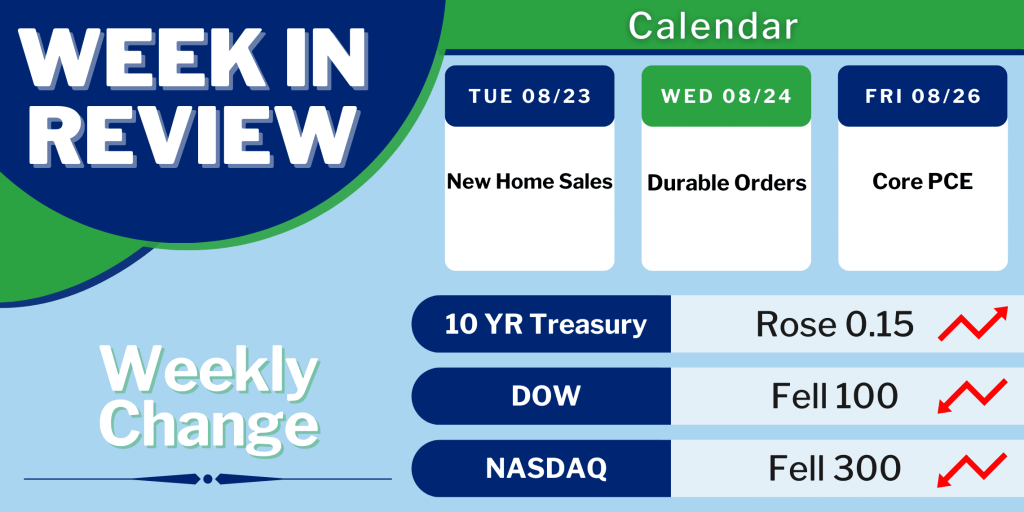 Stay connected with MBSQuoteline on social media by following us on Facebook, Twitter, and LinkedIn.
All material Copyright © Ress No. 1, LTD (DBA MBSQuoteline) and may not be reproduced without permission. To learn more about the MortgageTime™ newsletter, please contact MBSQuoteline at 800.627.1077 or info@mbsquoteline.com.