This week's major economic data revolved heavily around the January 2023 consumer spending report. With the publication of the latest data, consumer spending came in much stronger than expected. As a result, mortgage rates climbed to their highest levels since November 2022.
January 2023 Consumer Spending Surges 7% Among Bars and Restaurants
Consumer spending accounts for over two-thirds of the United States economic activity. Following two months of moderate declines, the January 2023 consumer spending report offered a change of pace. As a matter of fact, retail sales in January surged a massive 3.0% from December.
As a result of the surge, consumer spending far exceeded analysts' consensus forecast. Notably, investors saw gains across every category. In particular, consumer spending at restaurants and bars demonstrated a 7% jump from December 2022. Furthermore, vehicle sales climbed 6% from the prior month.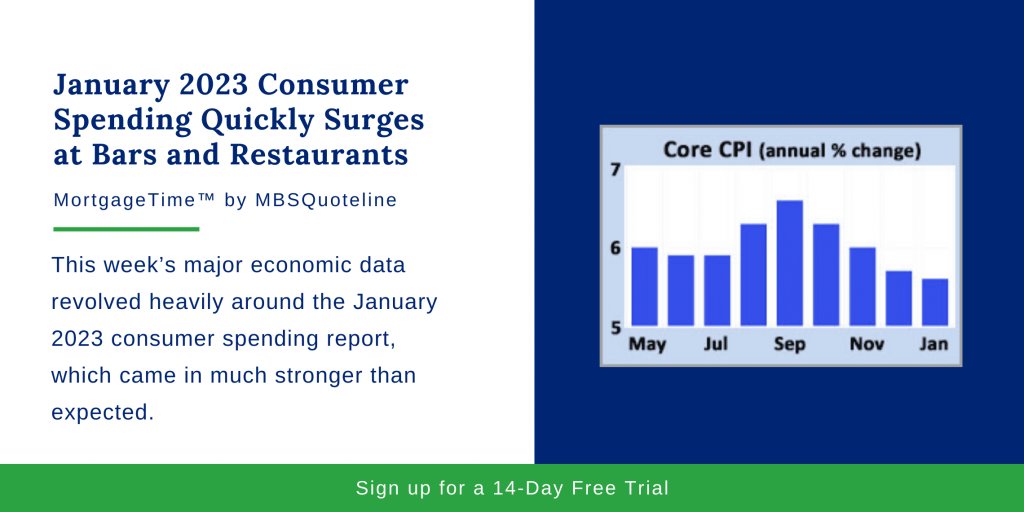 January 2023 Core CPI Rises Above Forecast Due to Stubborn Shelter Costs
Aside from the January 2023 consumer spending report, the latest core Consumer Price Index (CPI) data came out. Analysts and investors follow core CPI as an inflation indicator because it excludes the volatile food and energy components to provide a clearer picture of the longer-term inflation trend. In January 2023, core CPI increased 5.6% from a year ago, slightly above the consensus forecast. For attribution, analysts pointed to stubbornly high shelter costs.
While the annual rate of increase in core CPI decreased from a peak of 6.6% in September 2022, it remains far above the readings around 2.0% from 2021. Worth mentioning, the Federal Reserve still states that 2.0% is its target level. To help reduce inflationary pressures and reach this goal, the Fed plans to raise the federal funds rate. Currently, investors anticipate additional 25-basis point rate hikes at the March and May 2023 meetings, respectively. However, they also believe there is roughly a 50% chance for another at the June meeting.
January 2023 Housing Starts Fell to the Lowest Level Since June 2020
For quite some time, the United States lacked home inventory. However, the latest data continued to disappoint investors. In January 2023, housing starts fell 5% from December to the lowest level since June 2020, early in the pandemic. Along with elevated mortgage rates, builders reported that higher prices for materials and skilled labor held back a faster pace of construction.
On a better note, builders show optimism surrounding future conditions. The NAHB housing index displayed an unexpected jump in homebuilder confidence. Moving from 25 to 42, this marks the highest reading since September 2022.
Looking Ahead After January 2023 Consumer Spending Report
After the January 2023 consumer spending report, investors closely watching to see if Federal Reserve officials say more on their plans for future rate hikes. Next week, Existing Home Sales release on Tuesday.
Later in the week, New Home Sales come out on Friday. In addition, the core PCE price index comes out on Friday. The Federal Reserve favors the core PCE as its go-to inflation indicator.
---
After news of an increase in the January 2023 consumer spending report, mortgage rates rose again to their highest levels since November 2022. Never miss an update with MBSQuoteline. To receive by-the-minute updates on mortgage-backed securities, try our platform free for 14 days.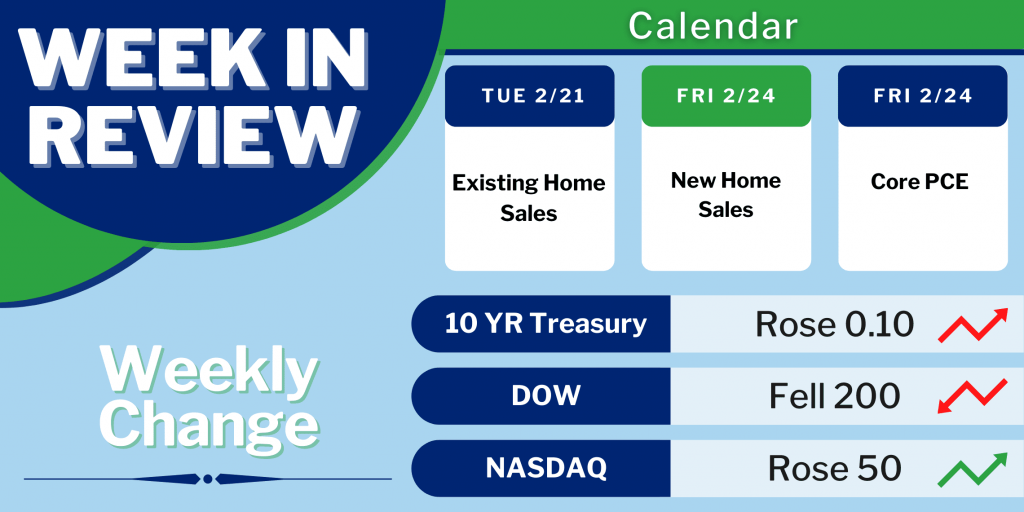 Stay connected with MBSQuoteline on social media by following us on Facebook, Twitter, and LinkedIn.
All material Copyright © Ress No. 1, LTD (DBA MBSQuoteline) and may not be reproduced without permission. To learn more about the MortgageTime™ newsletter, please contact MBSQuoteline at 800.627.1077 or info@mbsquoteline.com.