In recent months, high inflation (and higher mortgage rates) took a large toll on mortgage application volumes. Now, they dropped to the lowest levels in 22 years. The rate hike has been implemented to fight against high inflation. According to the latest data from the Mortgage Bankers Association (MBA), average 30-year fixed rates rose 2.0% higher year-over-year.
Purchase applications are down 21% from last year at this time. Applications to refinance a loan have plunged a shocking 75% from one year ago. This year, MBA forecasts total mortgage originations to decline over 35% lower than last year. Analysts attribute this to the massive decline in refinancing.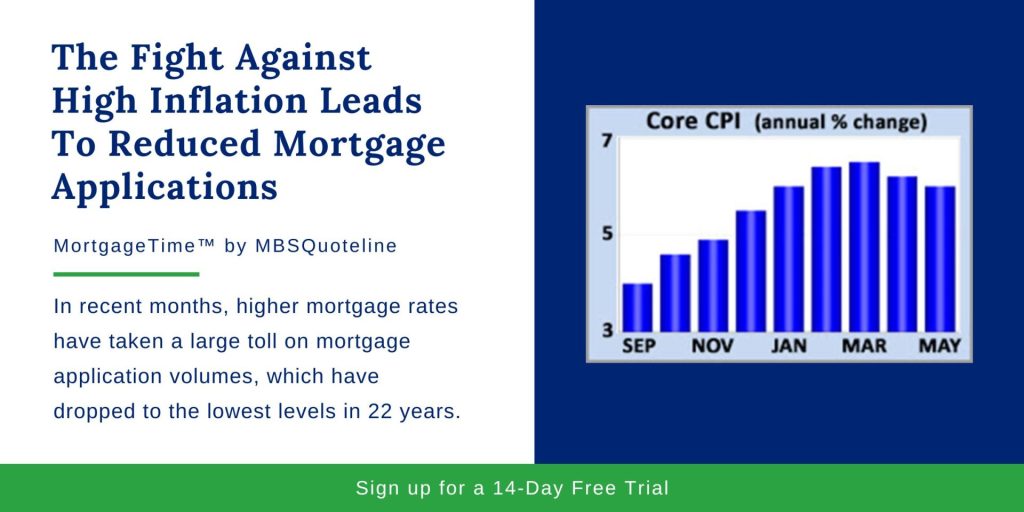 High Inflation
Inflation remained the focus for investors this week, and the latest readings came in stronger than expected, at or near the highest levels in decades. The European Central Bank also revealed a more aggressive stance to fight inflation. As a result, mortgage rates ended the week higher.
As an inflation indicator, Consumer Price Index (CPI) looks at price changes for a broad range of goods and services. Core CPI excludes the volatile food and energy components and provides a clearer picture of the longer-term trend. In May, Core CPI increased 6.0% higher than a year ago. As a result, Core CPI decreased from an annual rate of increase of 6.2% last month. However, CPI hovers far above the readings around 2.0% seen early in 2021.
Supply & Demand & Inflation
As the economy has steadily recovered from the pandemic, strong consumer demand, supply constraints, and surging commodity prices have pushed prices much higher for a wide range of goods and services. The conflict in Ukraine and the recent shutdowns in China due to COVID-19 have worsened shortages for many key items.
Over time, supply chain disruptions will ease, and Fed tightening will reduce the pressures from high inflation, but it is not clear how quickly this will occur.
European Interest Rates
At its meeting on Thursday, the European Central Bank (ECB) announced that it intends to raise interest rates by 25-basis points at its next meeting in July. It also plans to hike rates again in September by either 25 or 50-basis points depending on whether prices show signs of easing by then.
One primary reason for its monetary policy tightening is that inflation in the eurozone reached a record high in May. The ECB also significantly raised its forecast for annual inflation for 2022 from 5.1% to 6.8%. 
---
While the fight against high inflation continues, so does the rise of mortgage rates. Never miss an update with MBSQuoteline. To receive by-the-minute updates on mortgage-backed securities, try our platform free for 14 days.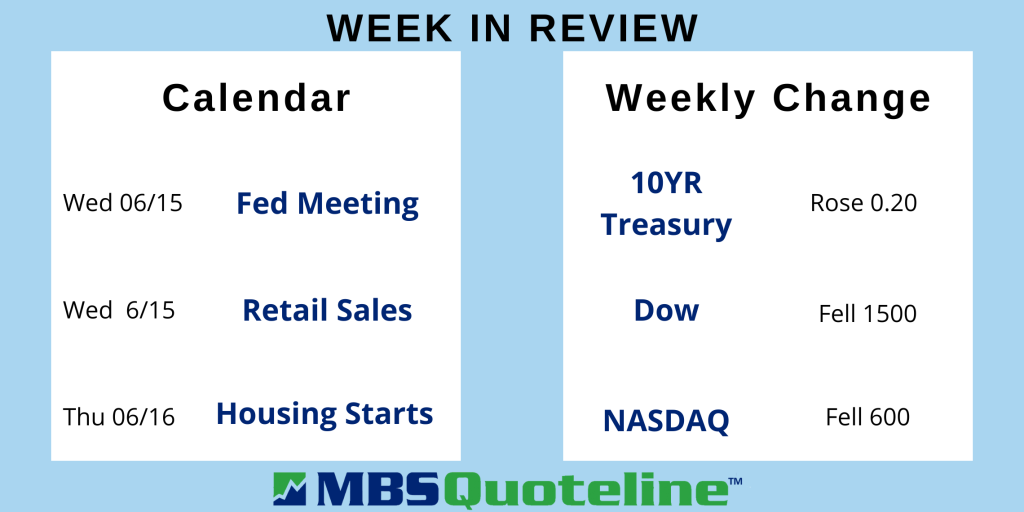 Stay connected with MBSQuoteline on social media by following us on Facebook, Twitter, and LinkedIn.
All material Copyright © Ress No. 1, LTD (DBA MBSQuoteline) and may not be reproduced without permission. To learn more about the MortgageTime™ newsletter, please contact MBSQuoteline at 800.627.1077 or info@mbsquoteline.com.