Closing out 2021, the United States achieved a record-setting Core PCE Price Index. In doing so, Core PCE hit its highest level since 1989.
On the investing front, the last couple of weeks in December typically exhibit very light trading volume. Additionally, investors tend to limit their reactions to economic news. While this year was no exception, mortgage rates ended a little higher than they were in mid-December.
Record-Setting Core PCE Since 1989
The Fed favors the Core PCE Price Index as its go-to inflation indicator. In November 2021, the United States realized record-setting core PCE achieving its highest level since 1989. Overall, Core PCE rose 4.7% higher than a year ago. Additionally, it climbed upwards from 4.2% in October.
For comparison, Core PCE Price Index readings fell below 2.0% during the first three months of 2021. Heading into 2022, investors question how quickly inflation will moderate as pandemic-related disruptions clear up.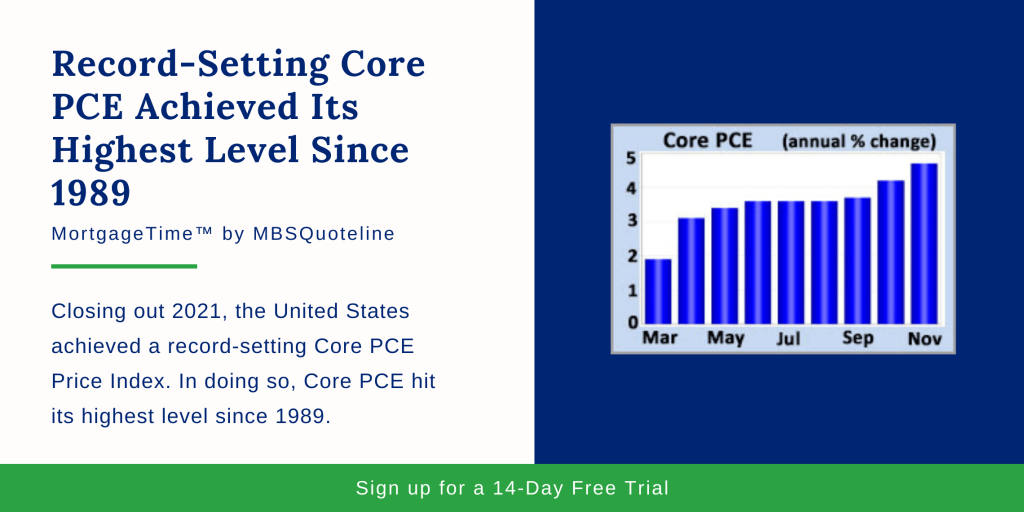 Home Sales See Strong Year Alongside Record-Setting Core PCE
Aside from the record-setting Core PCE Price Index results, home sales stay on track for their strongest year since 2006. Sales of existing homes in November rose modestly from October 2021. Thus, existing home sales reached their best level since January of this year.
The median existing-home price increased 14% compared to this time last year. In 2020, the median existing-home price only hit $353,900. Meanwhile, inventory levels declined 13% from a year ago. Currently, home inventory levels sit at just a 2.1-month supply nationally. Economic analysts consider a 6-month supply to be a healthy balance between buyers and sellers.
First-Time Home Buyers Face Challenges
With record-setting Core PCE and strong home sales, the economy is set up for a fascinating start to 2022. However, first-time home buyers face numerous challenges. According to the National Association of Realtors, supply-chain disruptions and labor shortages remained significant obstacles to a faster pace of home construction. Rising prices and competition from investors made it more difficult for buyers to find affordable homes. The National Association of Realtors especially noticed this trend at the lower end of the market.
First-time buyers made up just 26% of sales in November. Conclusively, first-time home buyers dropped down from 32% a year ago. Thus, first-time buyers fell to their lowest level since 2014. Cash sales accounted for about 24% of the total. As a matter of fact, cash sales rose up from 20% last year at this time.
Looking Ahead After Record-Setting Core PCE
Looking ahead after the record-setting Core PCE Price Index, investors closely follow news on the Omicron variant. Also, investors look for additional Fed guidance on the pace for tapering bond purchases and the timing for future rate hikes.
Beyond that, the ISM national manufacturing index releases on January 4th. In addition, the ISM national services index comes out on January 6th.
Finally, the monthly Employment report publishes on January 7th. Because the monthly Employment report contains figures on the number of jobs, the unemployment rate, and wage inflation, analysts see it as the most highly anticipated economic data of the month.
---
Want to see how record-setting Core PCE impacts mortgage-backed securities? Never miss an update with MBSQuoteline. To receive by-the-minute updates on mortgage-backed securities, try our platform free for 14 days.
Stay connected with MBSQuoteline on social media by following us on Facebook, Twitter, and LinkedIn.
All material Copyright © Ress No. 1, LTD (DBA MBSQuoteline) and may not be reproduced without permission. To learn more about the MortgageTime™ newsletter, please contact MBSQuoteline at 800.627.1077 or info@mbsquoteline.com.