In an action-packed week, analysts saw Central Bank meetings quickly offset high volatility for mortgage-backed securities. Most of the major news stemmed from the ever-anticipated U.S. and Central European Central Bank meetings.
Mortgage-Backed securities faced a high daily volatility. However, the Central Bank meetings mostly offset it. Thus, mortgage rates ended the week a little lower.
Central Bank Meetings See Policy Changes
Towards the end of the year, mortgage-backed securities demonstrate greater volatility. Over the last week, news from the U.S. and European Central Bank meetings quickly offset the mortgage volatility.
Federal Reserve Bank Expedites 'Tapering' Timeline
Early in the pandemic, the Fed installed extremely accommodative policy measures to help the economy recover. Now, inflation runs at the highest levels in decades. Therefore, the Fed announced Wednesday that it will remove those measures faster than anticipated. Originally, the Fed indicated a slower pace at November's meeting.
First, the Fed plans to double the pace at which it will taper bond purchases. As a result, the bond purchase program concludes around March or April. In addition, officials forecast that they will increase the federal funds rate three times by the end of the year. furthermore, Fed officials intend to increase the federal funds rate another three times in 2023.
European Central Bank Reveals Slower Pace
By contrast, the European Central Bank meeting quickly announced Thursday that it will tighten monetary policy at a slower pace. Last year, the ECB implemented several different bond purchase programs. Currently, the ECB proposes to allow some to end in early 2022 as originally scheduled. However, they will extend others at least through October. Overall, both sets of news from the Central Bank meetings quickly offset high volatility for mortgage rates.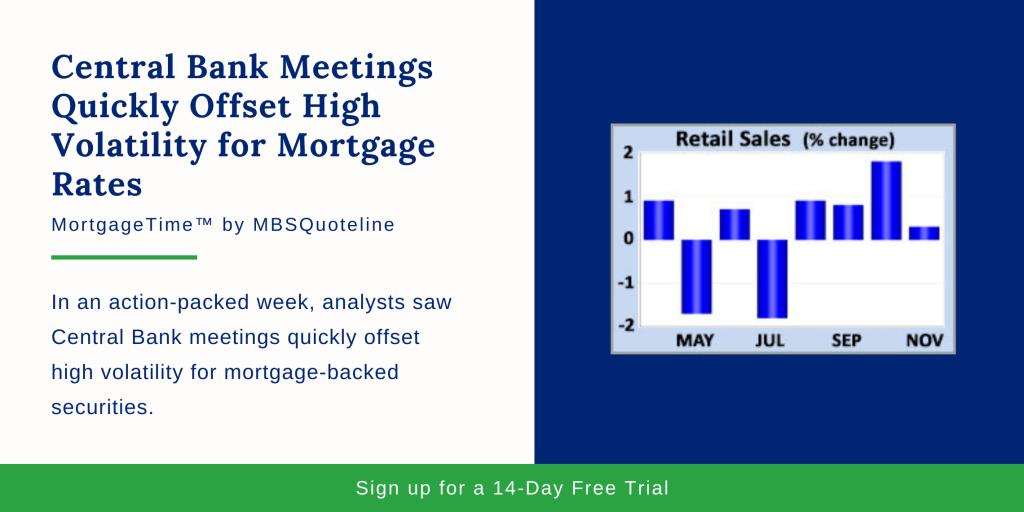 Retail Sales Reflect Jump in Consumer Spending
Aside from Central Bank meetings quickly offsetting mortgage volatility, consumer spending and housing starts came out. Consumer spending accounts for over two-thirds of US economic activity. In October 2021, retail sales jumped a massive 1.7% from September. This result climbed far above the consensus forecast. However, sales rose just 0.3% in November 2021, well below expectations.
Many economists made predictions regarding product shortages. Economists feel that consumers would start doing their shopping earlier than usual. This group of economists appear to be correct. Looking at the two-month period holistically, the holiday season produced strong results.
Housing Starts Exceed Expectations
Many regions confront a severe need for larger inventory of homes for sale. Concurrently, the monthly report on housing starts gained in importance. In conclusion, the latest results reflect encouragingly. In November 2021, overall housing starts far exceeded expectations. Housing starts skyrocketed an impressive 12% increase from October 2021 to the highest level since March 2021.
Housing analysts saw strength in both single-family and multi-family units. Building permits, a leading indicator, posted a solid gain of 4% from October. Rising prices and shortages for materials, land, and skilled labor continued to present challenges to builders. While the saw Central Bank meetings quickly offset high volatility for mortgage rates, news from consumer spending and housing contributed to the spike.
Looking After Central Bank Meetings Quickly Offset High Volatility
Looking ahead after Central Bank meetings quickly offset high volatility for mortgage rates, investors closely follow news on the Omicron variant. Also, investors look for additional guidance on the pace for tapering bond purchases and the timing for future rate hikes.
Beyond that, Existing Home Sales release on December 22nd and New Home Sales come out on December 23rd. The Fed favors the core PCE price index as an inflation indicator. The next Core PCE price index publishes on December 23rd. Mortgage markets grow increasingly volatile during the last two weeks of December due to reduced daily trading volume.
---
Want to see how Central Bank meetings quickly offset high volatility for mortgage rates? Never miss an update with MBSQuoteline. To receive by-the-minute updates on mortgage-backed securities, try our platform free for 14 days.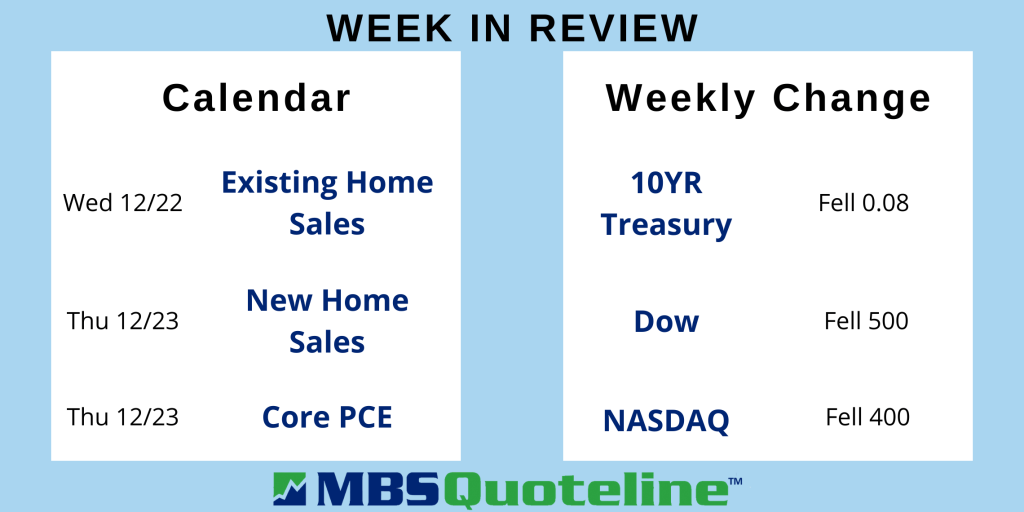 Stay connected with MBSQuoteline on social media by following us on Facebook, Twitter, and LinkedIn.
All material Copyright © Ress No. 1, LTD (DBA MBSQuoteline) and may not be reproduced without permission. To learn more about the MortgageTime™ newsletter, please contact MBSQuoteline at 800.627.1077 or info@mbsquoteline.com.