This past week saw luxury home sales rise as the market overcomes age-old housing challenges. Although the market saw little economic news, mortgages rates also rose. Ultimately, investors still focus on higher inflation.
Luxury Home Sales Rise
Existing Home Sales rose 7% in September compared to August. However, existing home sales fell slightly short from a year prior. Meanwhile, inventory levels collapsed 13% from a year ago. Currently, home inventory sits at just a 2.4-month supply nationally. Analysts desire to see a 6-month supply, a healthy balance between buyers and sellers. Lastly, the median existing-home price jumped 13% higher from last year at this time at $352,800.
Of note, the home sale mix rapidly shifted over the past month. Homes priced between $100,000 and $250,000 saw a 23% decline in sales from last year. Buyers faced stiff competition brought on by rising prices and real estate investors. Because of this, prospective home buyers saw additional challenges to finding affordable homes. Analysts especially noticed this trend at the lower end of the market.
By contrast, analysts saw luxury home sales rise. Sales of homes priced above $1,000,000 jumped 30% during the same period. Notably, first-time buyers made up just 28% of sales in September. As a result, first-time home buyers hit its the lowest level since July 2015.
With the shortage of available homes in many areas, investors closely watched the monthly reports on housing starts. The most recent data contained mixed news. In September, overall housing starts unexpectedly declined from August. However, housing starts remained 7% higher than a year ago. However, housing starts primarily saw weakness in multi-family units. On the other hand, single-family starts lingered roughly flat from August. Rising prices and shortages for land, materials, and skilled labor continually present obstacles to a faster pace of construction.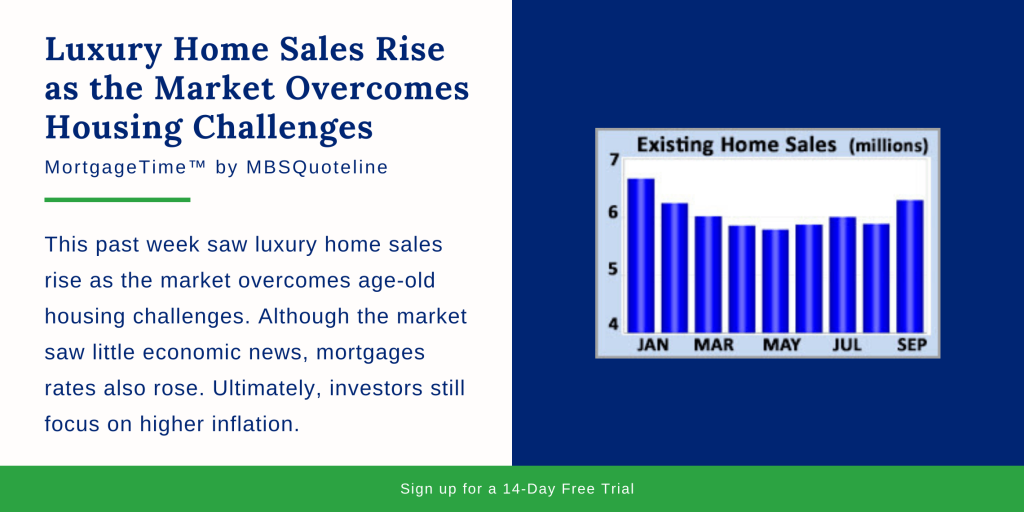 Unemployment Declines to Lowest Level Since March 2020
Aside from the market seeing luxury home sales rise, unemployment declined considerably. The Department of Labor releases the total number of new claims for unemployment insurance each week. The latest reading reflected 290,000, the lowest level since March 2020 (near the start of the pandemic).
Unemployment claims dropped significantly from last spring's inflated figures. During the spring, unemployment claims easily reached the millions as a result of the partial economic shutdown. Additionally, September's numbers hover only a little above the readings around 250,000, typical during 2019.
Looking Ahead After Luxury Home Sales Rise
Looking ahead after luxury home sales rise, investors closely monitor global COVID-19 cases. They also look for hints from Fed officials about the timing for changes in monetary policy.
Beyond that, the next European Central Bank (ECB) meeting takes place on Thursday. Third-quarter gross domestic product (GDP), the broadest measure of economic activity, releases on Thursday. The core PCE price index, the inflation indicator favored by the Fed, also comes out on Friday.
---
Want to see how mortgage-backed securities change as luxury home sales rise? Never miss an update with MBSQuoteline. To receive by-the-minute updates on mortgage-backed securities, try our platform free for 14 days.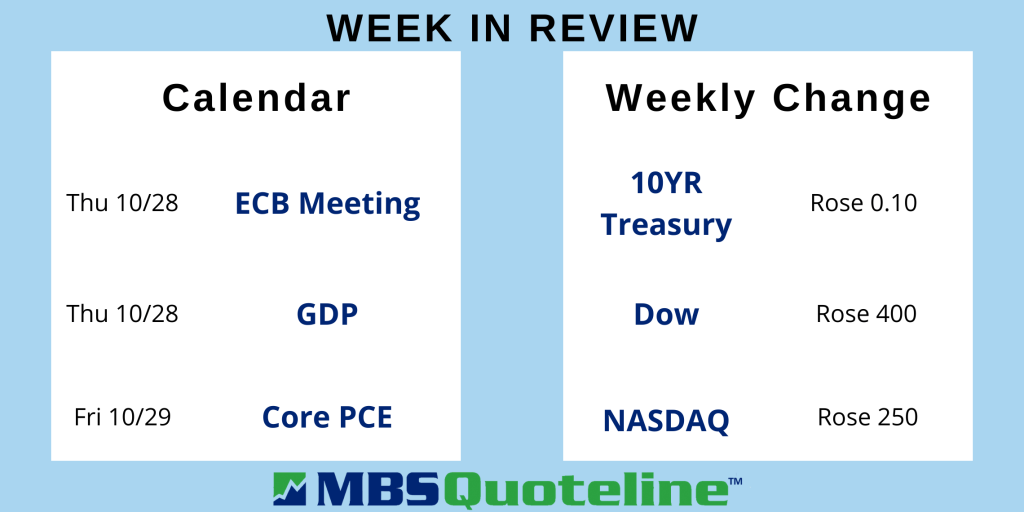 Stay connected with MBSQuoteline on social media by following us on Facebook, Twitter, and LinkedIn.
All material Copyright © Ress No. 1, LTD (DBA MBSQuoteline) and may not be reproduced without permission. To learn more about the MortgageTime™ newsletter, please contact MBSQuoteline at 800.627.1077 or info@mbsquoteline.com.