After months of slow recovery, inflation remains high. Meanwhile, the latest GDP reported showed a negative impact on supply chain growth.
Overall, supply chain issues and the coronavirus pandemic still create ripple effects across the economy. Finally, mortgage rates ended the week slightly lower, ahead of the upcoming Fed meeting.
Inflation Remains High
The Fed favors the core PCE price index as its go-to inflation indicator. In September 2021, core PCE rose 3.6% higher than a year ago. Not only did this match the consensus forecast, it showed that inflation remains high.
Also, this matched last month's annual rate of increase. However, the annual rate of increase jumped from levels below 2.0% during the first three months of the year. Overall, the U.S. continues to see the highest annual rate since 1991.
Economists have differing views on inflation. Some believe that the higher inflation will be short-lived. Others, feel high inflation will persist for years to come.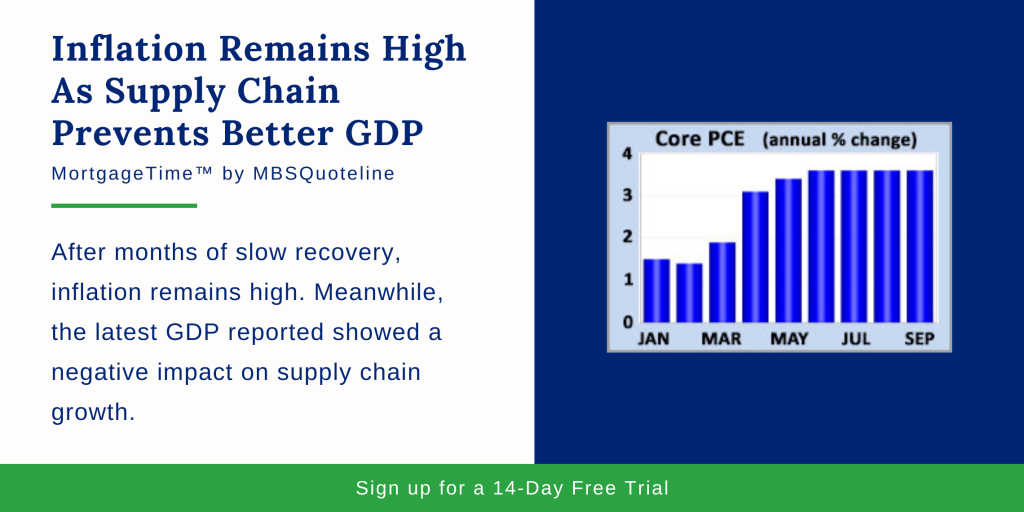 U.S. GDP Fails to Meet Consensus as Inflation Remains High
As inflation remains high, COVID-19 and supply chain disruptions stifled growth across sectors. For investors, it came as no surprise to see that economic growth slowed last quarter.
Gross domestic product (GDP) represents the broadest measure of economic activity. Third-quarter GDP showed annualized growth of just 2.0%. As a result, GDP fell below the consensus forecast of 2.7%. Subsequently, GDP dropped from 6.7% during the second quarter.
Having said that, the impact of the report was small. Investors believe that the consumer appetite for goods and services remains very strong. Additionally, investors anticipate greater growth as production issues are resolved and companies are able to catch up to meet the demand.
New Home Sales Soar Above Forecast
In September 2021, new home sales jumped 14% from August 2021. Thus, new home sales reached an annual rate of 800,000 units. This data showed that new home sales climbed well above the consensus forecast of 760,000. Lastly, new home sales hit the highest level since March 2021.
The median new home price of $408,800 rose 19% higher than a year ago as inflation remains high. In general, home supply dictates the pace of both new and previously owned sales. Builders point to shortages of key materials and skilled labor as obstacles to faster construction.
Looking Ahead as Inflation Remains High
Looking ahead as inflation remains high, investors closely global COVID-19 cases. Beyond that, the ISM national manufacturing index comes out on Monday. Meanwhile, the ISM national services sector index comes out on Wednesday.
Also, the next Fed meeting takes place on Wednesday. Investors look for guidance on the timing for tapering the bond purchase program and for future rate hikes.
Finally, the key Employment report releases on Friday. These figures on the number of jobs, the unemployment rate, and wage inflation signify the most highly anticipated economic data of the month.
---
Want to see how mortgage-backed securities change as inflation remains high? Never miss an update with MBSQuoteline. To receive by-the-minute updates on mortgage-backed securities, try our platform free for 14 days.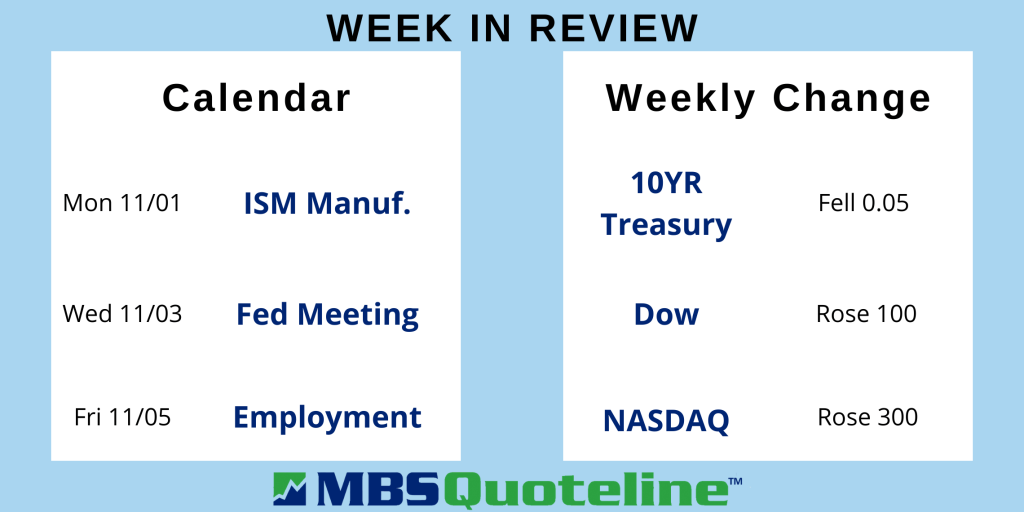 Stay connected with MBSQuoteline on social media by following us on Facebook, Twitter, and LinkedIn.
All material Copyright © Ress No. 1, LTD (DBA MBSQuoteline) and may not be reproduced without permission. To learn more about the MortgageTime™ newsletter, please contact MBSQuoteline at 800.627.1077 or info@mbsquoteline.com.