As CPI shows inflation plummet, most investors expect moderate U.S. economic growth this year. Also, investors anticipate some degree of weakness in other regions and continued low levels of inflation. This week's news did little to alter their outlook. Thus, mortgage rates ended slightly higher.
CPI Shows Inflation Plummet
Wednesday's release of CPI shows inflation plummet. Investors widely follow Consumer Price Index (CPI). This monthly inflation report looks at the price change for U.S. goods and services. In recent months, core inflation trended lower.
Core CPI excludes the volatile food and energy components. Overall, Core CPI rose less than expected in March. It increased just 2.0% higher than a year ago. Also, Core CPI dropped down from an annual rate of increase of 2.1% last month. Finally, Core CPI reached its lowest level in more than a year.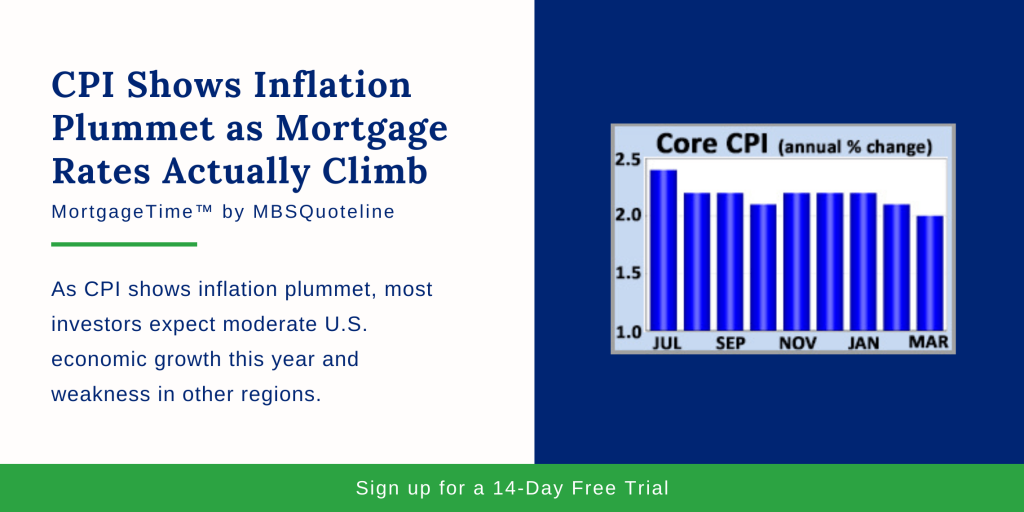 European Central Banks Made No Policy Changes
While CPI shows inflation plummet, investors also looked towards the latest European Central Bank meeting. The combination of uncertainty about the outlook for global economic growth and contained levels of current inflation caused global central banks to delay their plans to further tighten monetary policy. This remained true in the most recent European Central Bank (ECB) and U.S. Federal Reserve meetings.
At Wednesday's meeting, the ECB made no policy changes. They repeated that they plan to hold rates at current levels at least through the end of the year. in the March 20th Fed meeting (minutes released Wednesday), the Federal Reserve confirmed that a majority of Fed officials do not expect to raise the federal funds rate this year. Officials at both banks cited potentially weak global growth, trade tensions, and concerns about the effects of Brexit as factors in their patient approach.
Brexit Departure Terms Up in the Air
As CPI shows inflation plummet, United Kingdom lawmakers still fail to decide on how to leave the European Union. Overall, the vote in favor of the British exit (Brexit) from the European Union took place in June 2016. Nearly three years later, United Kingdom lawmakers pushed back its exit date after its originally scheduled date of March 29th.
After accepting a brief delay near the end of March, European Union leaders agreed this week to postpone Brexit until October 31st. While this removes the immediate prospect of leaving the European Union with no deal in place, uncertainty remains. Having said that, individuals and businesses continue to hesitate to make long-term commitments.
Looking Ahead After CPI Shows Inflation Plummet
Looking ahead after CPI shows inflation plummet, this week contains little economic data. Retail Sales release on Thursday. Consumer spending accounts for about 70% of all economic activity in the U.S.. Therefore, the retail sales data indicates growth levels.
Meanwhile, Housing Starts come out on Friday. In addition, news about trade negotiations between the U.S. and China hold the potential to affect mortgage rates. Mortgage markets close early at 2:00 EDT on Thursday. Beyond that, mortgage markets close entirely on Friday in observance of Good Friday.
---
Want to see how mortgage-backed securities fluctuate when CPI shows inflation plummet? Never miss an update with MBSQuoteline. To receive by-the-minute updates on mortgage-backed securities, try our platform free for 14 days.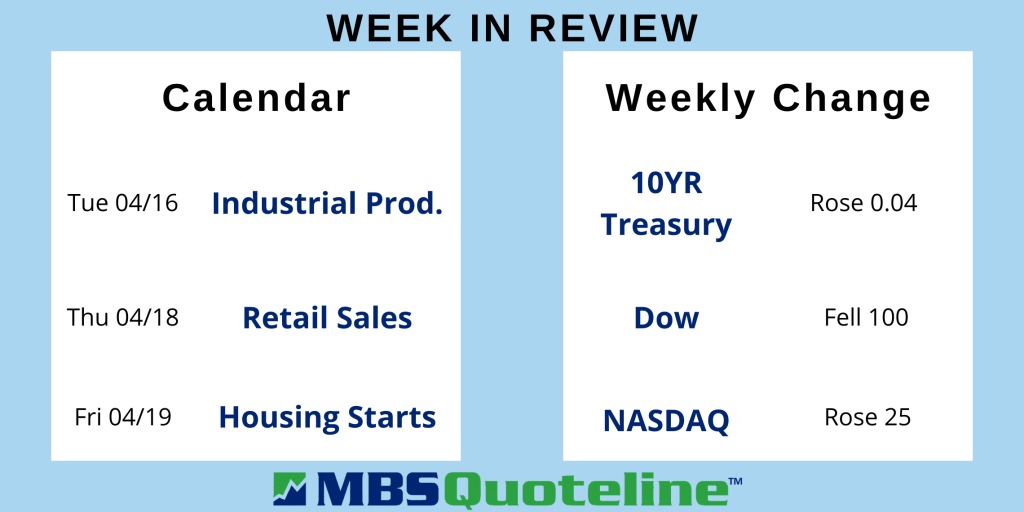 Stay connected with MBSQuoteline on social media by following us on Facebook, Twitter, and LinkedIn.
All material Copyright © Ress No. 1, LTD (DBA MBSQuoteline) and may not be reproduced without permission. To learn more about the MortgageTime™ newsletter, please contact MBSQuoteline at 800.627.1077 or info@mbsquoteline.com.