United States GDP (Gross Domestic Product) represents the broadest measure of economic activity. Overall, the latest report saw the GDP rise at a rate of 2.9% in the fourth quarter.
GDP Surprising Rise
The 2.9% of U.S. GDP growth is above what the consensus forecast had predicted. However, its still down from 3.2% during the third quarter. The strength in consumer is apparent and government spending, while residential investment (housing) is still a major source of weakness. Due to tighter monetary policy, early forecasts are for U.S GDP growth to continue to weaken in 2023.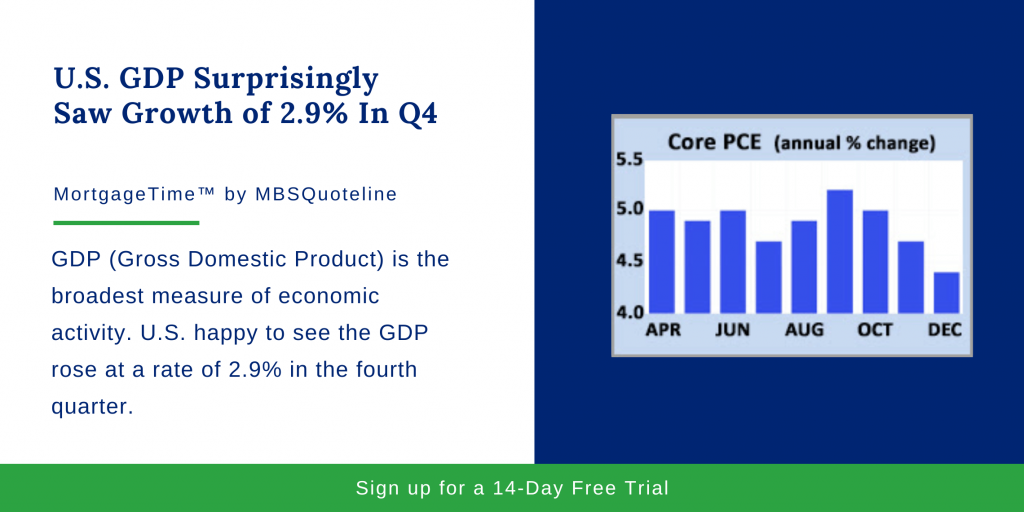 United States GDP Rate Rising Along With PCE
Overall, the United States GDP rose along with the Personal Consumption Expenditures. Favored by the Fed, the PCE price index is the inflation indicator. The PCE adjusts for changes in consumer preferences over time. In December, core PCE was up 4.4% from a year ago, and at the lowest annual rate since October 2021.
However, this remains far above the Fed's target level of 2.0%. This is relevant because of how quickly their aggressive monetary policy tightening can bring down inflation. This has enormous implications for financial markets.
Home Sales Rough For 2022
Like the United States GDP, sales of new homes rose slightly in December, meeting expectations, but it was a tough year. Due to rising prices and higher mortgage rates, new home sales in 2022 dropped 16% from 2021. The median new-home price of $442,100 was 8% higher than last December.
Looking Ahead To Employment Report and ISM Services
While the rise of the United States GDP is exiting, there will be two extremely important events next week. The Fed meeting will take place on Wednesday. A 25 basis point increase in the federal funds rate is expected. Investors will look for guidance on the impact of future rate hikes and bond portfolio reduction.
The key Employment report will be released on Friday, and these figures on the number of jobs, the unemployment rate, and wage inflation will be some of the most highly anticipated economic data of the month. In addition, the ISM national manufacturing sector index will come out on Wednesday and the ISM national services sector index on Friday.
---
Despite the rising United States GDP, mortgage rates remained roughly unchanged. Never miss an update with MBSQuoteline. To receive by-the-minute updates on mortgage-backed securities, try our platform free for 14 days.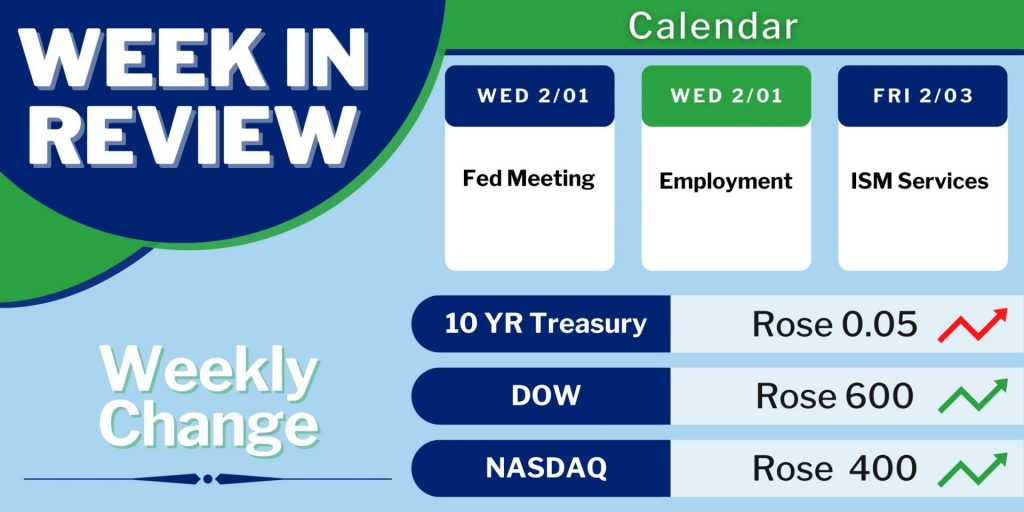 Stay connected with MBSQuoteline on social media by following us on Facebook, Twitter, and LinkedIn.
All material Copyright © Ress No. 1, LTD (DBA MBSQuoteline) and may not be reproduced without permission. To learn more about the MortgageTime™ newsletter, please contact MBSQuoteline at 800.627.1077 or info@mbsquoteline.com.