In a packed reporting week, the November 2022 Federal Reserve speech acknowledged lower inflation levels throughout the United States. Overall, the Fed's comments created a favorable reaction for mortgage markets. Concurrently, the latest PCE price index data also proved favorable.
Meanwhile, the labor market report created more of a negative impact. However, the declining inflationary pressures overcame that. Thus, mortgage rates ended the week a little lower.
November 2022 Federal Reserve Speech Leads Investors to Forecast 50-Basis Point Increase
In Wednesday's November 2022 Federal Reserve speech, Chair Jerome Powell the progress in bringing down inflation. Despite the acknowledgement, he also added that that a lot more work needs to be done.
Given the long lag in the effects of monetary policy changes on the economy, he said that the pace of rate hikes could slow as soon as the next meeting on December 14th. Now, most investors anticipate a 50-basis point hike, following several larger 75 basis point hikes at recent meetings.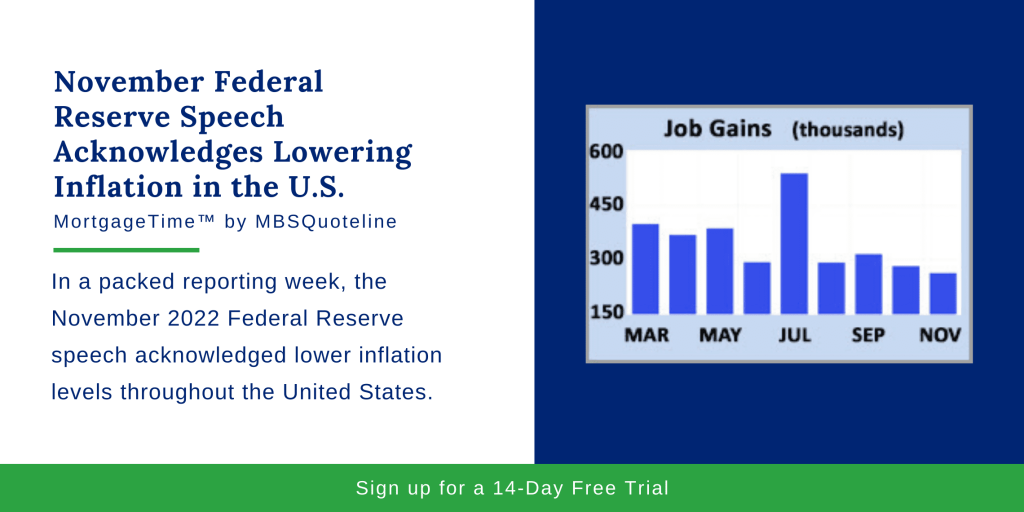 Employment Report Alludes to Increasing Inflationary Pressures
Despite the positive comments from the November 2022 Federal Reserve speech, the labor market sent investors headed in the other direction. After a string of good news this week for mortgage rates, stronger than expected job gains and wage growth on Friday increased concerns about inflationary pressures.
The economy gained 263,000 jobs in November, above the consensus forecast of 200,000. The best performing sectors were leisure, hospitality, and health care. Average hourly earnings, an indicator of wage growth, were 5.1% higher than a year ago, far above the consensus forecast for a decline to 4.6%.
November 2022 Federal Reserve Speech and PCE Price Index Create Enormous Financial Implications
Similar to the November 2022 Federal Reserve speech, the PCE price index reflected lower inflationary pressures. Holistically, the Federal Reserve favors the PCE price index because it adjusts for changes in consumer preferences over time.
In October, core PCE was up 5.0% from a year ago, slightly below expectations, and down from a peak of 5.4% in February. However, this remains far above the Fed's target level of 2.0%. This is particularly relevant because how quickly aggressive monetary policy tightening will bring down inflation is a widely debated question with enormous implications for financial markets.
Manufacturing Sector Contracts While Mortgage Rate Limits Increase
Another significant economic report released this week from the Institute of Supply Management (ISM) hinted at slower economic growth. The ISM national manufacturing index dropped to 49.0, below the consensus forecast, and the lowest since May 2020. Levels below 50 indicate that the sector is contracting.
The Federal Housing Finance Agency (FHFA) announced that the baseline conforming loan limit for Fannie Mae and Freddie Mac mortgages in 2023 will increase 12% from $647,200 to $726,200. The new limit for most high-cost areas will be $1,089,300 or 150% of $647,200. This will be the seventh consecutive year of increases.
Looking Ahead After November 2022 Federal Reserve Speech
After the November 2022 Federal Reserve speech, investors hope for more specific Fed guidance on the pace of future rate hikes. Furthermore, investors seek additional insights into the Federal Reserve's bond portfolio reduction strategy.
Next week, analysts turn their heads to Monday's ISM national services sector index report. After that, attention refocuses on December 13th's CPI inflation report. Lastly, the next Federal Reserve meeting takes place on December 14th.
---
With the most recent comments from the November 2022 Federal Reserve speech, mortgage rates ended the week at a lower level. Never miss an update with MBSQuoteline. To receive by-the-minute updates on mortgage-backed securities, try our platform free for 14 days.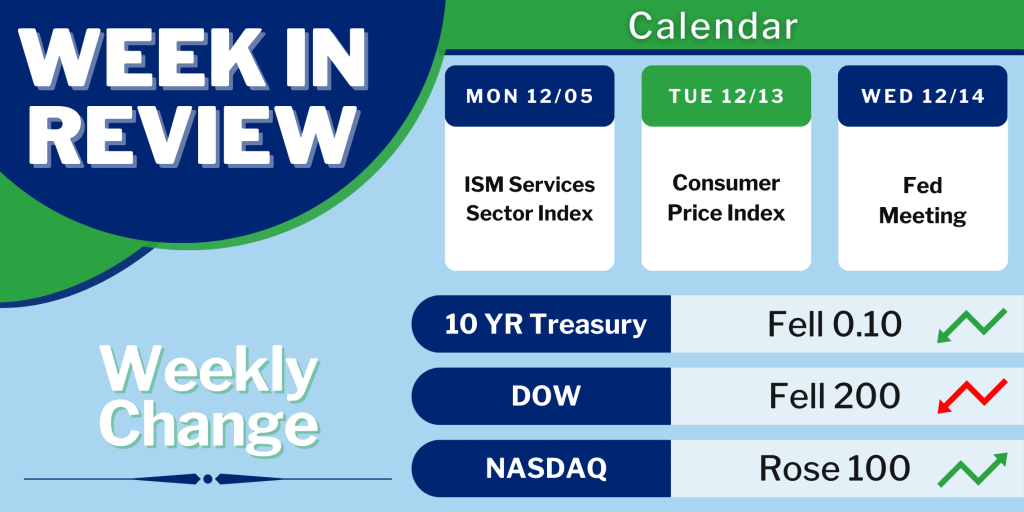 Stay connected with MBSQuoteline on social media by following us on Facebook, Twitter, and LinkedIn.
All material Copyright © Ress No. 1, LTD (DBA MBSQuoteline) and may not be reproduced without permission. To learn more about the MortgageTime™ newsletter, please contact MBSQuoteline at 800.627.1077 or info@mbsquoteline.com.