This week, the highly anticipated labor market data came out, highlighted with the surprising drop in the August 2022 unemployment rate. Overall, the Employment report failed to ease investors' inflation concerns.
Furthermore, investors still worry about additional hikes to the federal funds rate in 2022. As a result, mortgage rates ended a bit higher.
Latest Employment Report Highlights a Declining August 2022 Unemployment Rate
Although most of this month's Employment report met expectations, the job performance dismayed Fed officials. Against a consensus forecast of 250,000, the economy gained 263,000 jobs in August. As standouts, leisure, hospitality, and healthcare performed the best, while government hiring fell. Average hourly earnings, an indicator of wage growth, rose 5.0% higher than a year ago, down from an annual rate of 5.2% last month.
Significantly, the August 2022 unemployment rate unexpectedly dropped from 3.7% to 3.5%. This matches the lowest level in decades (also seen in July). Analysts attribute the decline to people leaving the labor force. Notably, the Federal Reserve prefers to see more workers seeking jobs. In doing so, inflationary pressures on wages would decline.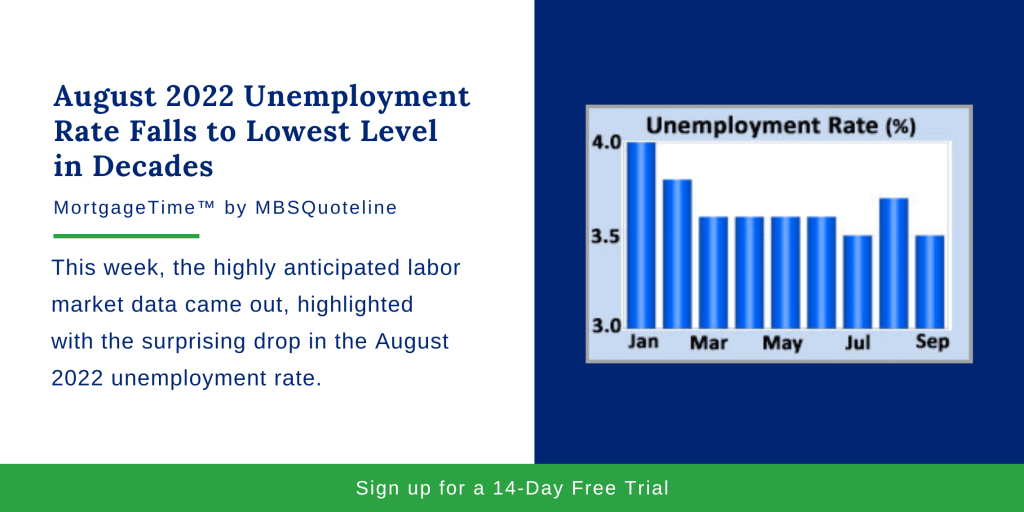 JOLTS and ISM Show Changing Themes
Aside from the August 2022 unemployment rate, the JOLTS report In contrast, Tuesday's JOLTS report revealed signs of a loosening labor market. In August, job openings plunged to 10.1 million, far below the consensus forecast of 11.0 million. Thus, companies tend to face easier hiring conditions moving forward.
Additionally, the Institute of Supply Management (ISM) released its Manufacturing and Services Sector Indexes. Holistically, the most recent data indicated a consumer spending shift from goods to services. The ISM national services sector index came in at 56.7, stronger than expected. By contrast, the ISM national manufacturing fell to 50.9, below the consensus forecast. More so, the National Manufacturing Index decreased to its lowest level since May 2020. Levels above 50 indicate that the sectors are expanding.
Looking Ahead After August 2022 Unemployment Rate Fell
After the latest data concerning the August 2022 unemployment rate, investors hope for more specific guidance from the Federal Reserve. Specifically, investors want insights into the pace of future rate hikes and bond portfolio reduction. On Thursday, the Consumer Price Index (CPI) comes out. CPI is a widely followed monthly inflation indicator that looks at the price changes for a broad range of goods and services.
Later, Retail Sales and Import Prices publish on Friday. Since consumer spending accounts for over two-thirds of U.S. economic activity, the retail sales data indicates economic health. In observance of Columbus Day, mortgage markets close this Monday.
---
As the August 2022 unemployment rate declined, mortgage rates rose by the end of the week. Never miss an update with MBSQuoteline. To receive by-the-minute updates on mortgage-backed securities, try our platform free for 14 days.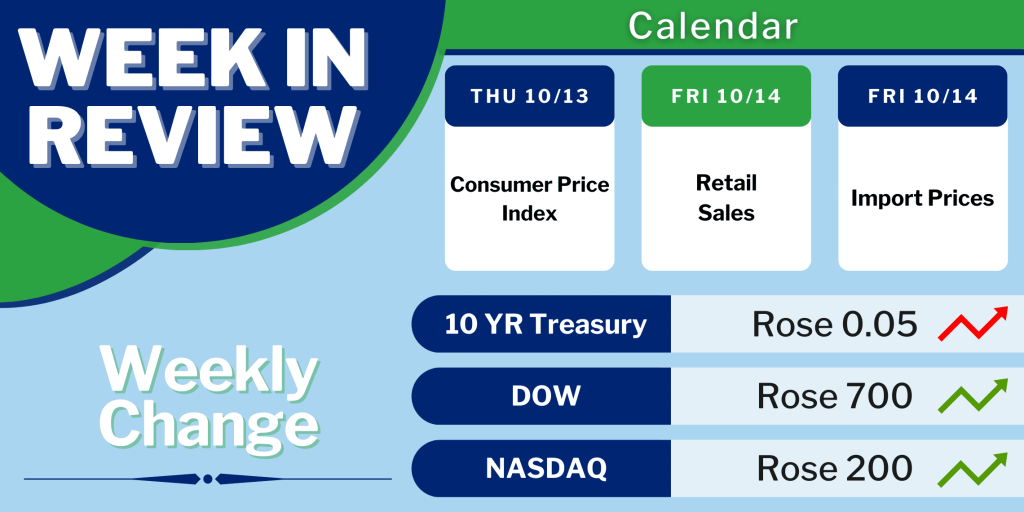 Stay connected with MBSQuoteline on social media by following us on Facebook, Twitter, and LinkedIn.
All material Copyright © Ress No. 1, LTD (DBA MBSQuoteline) and may not be reproduced without permission. To learn more about the MortgageTime™ newsletter, please contact MBSQuoteline at 800.627.1077 or info@mbsquoteline.com.