Although this week contained little new data, the European Central Bank (ECB) raised interest rates to their highest levels since 2011. While investors focused heavily on the ECB announcement, the move failed to cause commotion. As a result, mortgage rates ended the week with little change.
ECB Raised Interest Rates by 75 Basis Points
With inflation surging to decade highs, the ECB raised interest rates by a massive 75 basis points. Thus, interest rates achieved their highest levels since 2011. The latest readings showed inflation in the eurozone at an annual rate above 9%. Conclusively, Eurozone inflation far exceeded the target level of the ECB of 2%.
ECB chief Lagarde explained rate increase as a necessary move. Lagarde mentioned that inflation is likely to stay above the target for "an extended period." Furthermore, investors expect additional 50 basis point rate hikes at the next two meetings.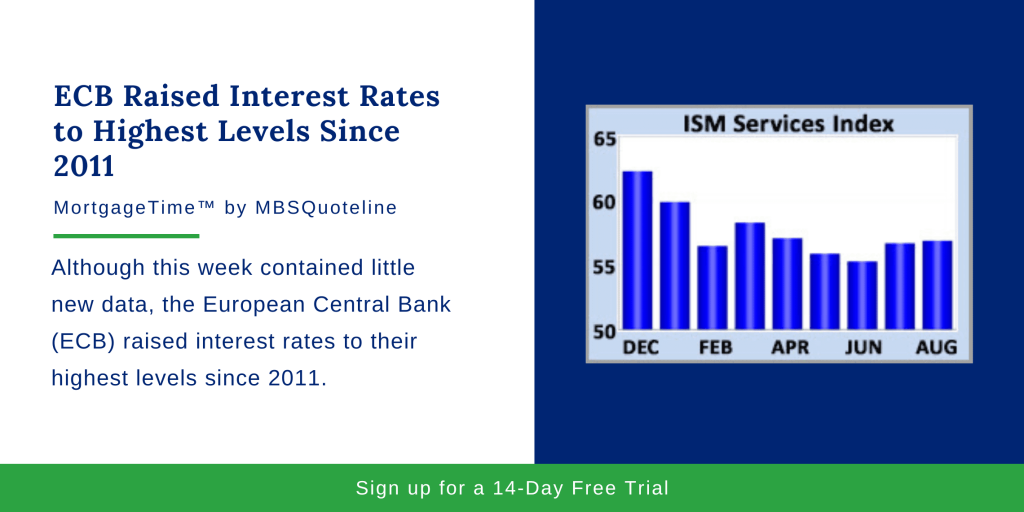 Fed Chair Powell Remains "Strongly Committed" to Inflation Fight
As the ECB raised interest rates, the Federal Reserve continues their inflation battle, too. On Thursday, Fed Chair Powell repeated that he is "strongly committed" to fighting inflation. He emphasized the importance of reducing inflation. Additionally, Powell intends to lower inflation before the public views higher levels as normal and makes future plans based on it.
According to Powell, Fed officials hope that higher rates bring the strong labor market back into "better balance". Overall, Powell plans reduce outsized wage increases and lessen inflationary pressures. Moving forward, investors anticipate a 75-basis point rate hike at the September 21st meeting.
ISM Reflects Consumer Shift from Goods to Services
Aside from the Federal Reserve messaging and the ECB raising interest rates, the Institute of Supply Management (ISM) released the most significant economic report this week. In doing so, the ISM provided additional evidence that consumers shifted their spending from goods to services.
The national services sector index rose to 56.9. notably, this index came in stronger than expected. Levels above 50 indicate that the sector is expanding.
Looking Ahead After ECB Raised Interest Rates
After the ECB raised interest rates, investors seek specific Federal Reserve guidance on the pace of future rate hikes and bond portfolio reduction. The Consumer Price Index (CPI) releases on Tuesday. As a monthly inflation indicator, CPI looks at the price changes for a broad range of goods and services.
Retail Sales publish on Thursday. Since consumer spending accounts for over two-thirds of U.S. economic activity, the retail sales data indicates economic health. Finally, Import Prices also come out on Thursday.
---
Although the European Central Bank raised interest rates to record levels, mortgage rates remained roughly unchanged. Never miss an update with MBSQuoteline. To receive by-the-minute updates on mortgage-backed securities, try our platform free for 14 days.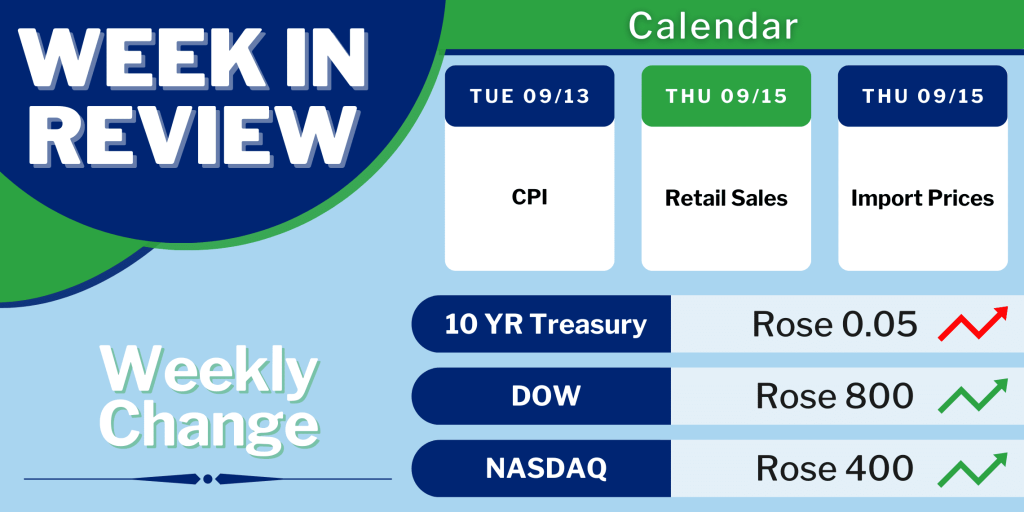 Stay connected with MBSQuoteline on social media by following us on Facebook, Twitter, and LinkedIn.
All material Copyright © Ress No. 1, LTD (DBA MBSQuoteline) and may not be reproduced without permission. To learn more about the MortgageTime™ newsletter, please contact MBSQuoteline at 800.627.1077 or info@mbsquoteline.com.