While much of this week's economic data met investor expectations, consumer spending surged in April 2022. However, the overall impact caused little market reaction.
Similarly, the Federal Reserve's "tough talk" on fighting inflation generated little noise. Thus, mortgage rates ended the week a bit lower.
Consumer Spending Surges in April 2022
In April 2022, consumer spending surged as retail sales rose a substantial 0.9% from March. Also, retail sales climbed 8% higher than last year at this time.
After being hit especially hard by the pandemic, bar and restaurants sales continued their steady recovery with solid gains in April. In fact, retail sales gains posted an impressive 20% higher than a year ago. Despite rising prices, consumer spending remains extremely strong in 2022.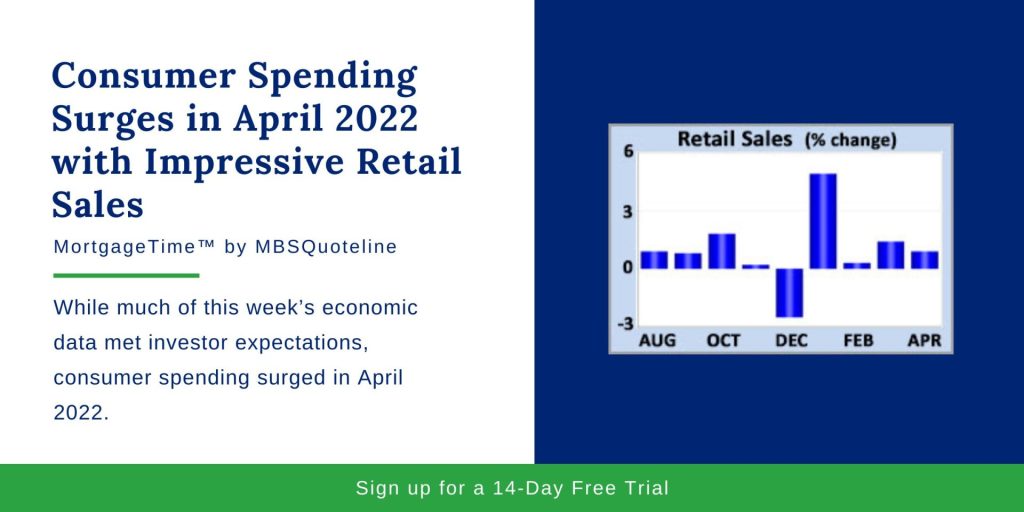 Existing Home Sales Fell Amidst Limited Housing Inventory
As consumer spending surges, existing home sales showed a small decline from March to the lowest level since June 2020, 6% lower than last year at this time. Inventory levels, down 10% from a year ago, continued to be a major headwind, at just a 2.2-month supply nationally. This remained far below the 6-month supply, a healthy balance between buyers and sellers. The ever-climbing median existing-home price increased 15% higher than last year, a record $391,200.
Home buyers desperately need more inventory in many regions. In April, overall housing starts decreased slightly from March, falling a bit short of expectations. Single-family starts declined 7% from March but remained well above the levels seen prior to the pandemic. The number of single-family units under construction rose to 815,000, the most since 2006. Once again, builders reported that higher prices and shortages (for land, materials, and skilled labor) held back a faster pace of construction.
Tough Talk on Inflation as Consumer Spending Surges
In a speech on Tuesday, Fed Chair Powell again stressed that restoring price stability is "an unconditional need." He firmly stated that the Fed will not hesitate to raise the federal funds as high as needed.
However, Fed Chair Powell warned that this might lead to an increase in the unemployment rate. According to Powell, "there could be some pain involved" for the economy due to the monetary policy tightening. As of right now, the economy look strong with surging consumer spending.
Looking Ahead After Consumer Spending Surges in April 2022
Looking ahead after the surging consumer spending in April 2022, investors continue to closely follow news on Ukraine and COVID-19 case counts in China. Additionally, investors look for additional Fed guidance on the pace of future rate hikes and bond portfolio reduction.
Beyond that, New Home Sales releases on Tuesday. Durable Orders, an important indicator of economic activity, comes out on Wednesday. The core PCE price index, the inflation indicator favored by the Fed, publishes on Friday.
---
While April 2022's consumer spending surged with strong retail sales, mortgage rates declined slightly. Never miss an update with MBSQuoteline. To receive by-the-minute updates on mortgage-backed securities, try our platform free for 14 days.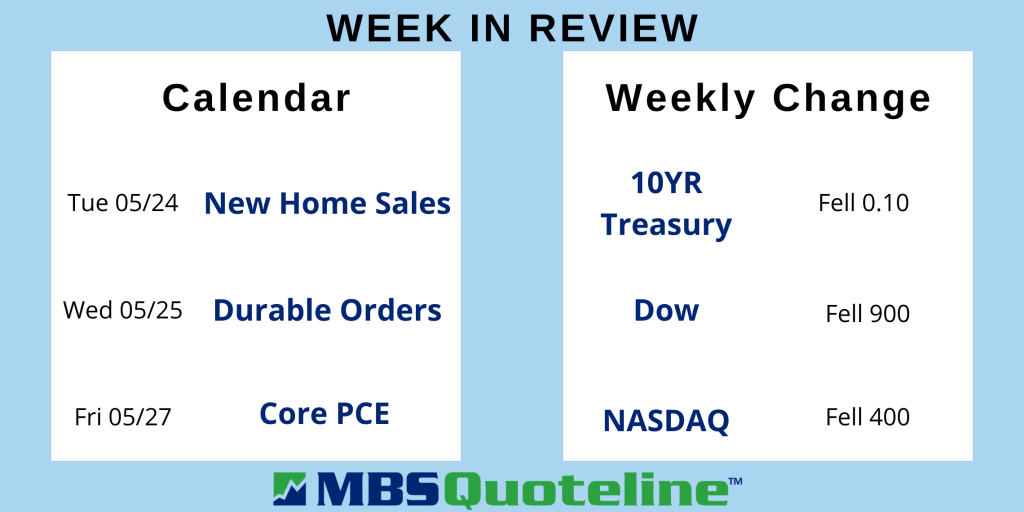 Stay connected with MBSQuoteline on social media by following us on Facebook, Twitter, and LinkedIn.
All material Copyright © Ress No. 1, LTD (DBA MBSQuoteline) and may not be reproduced without permission. To learn more about the MortgageTime™ newsletter, please contact MBSQuoteline at 800.627.1077 or info@mbsquoteline.com.