In a light week of reporting, March home sales fell as the real estate market grew increasingly aggressive. Meanwhile, Fed officials continued to "talk tough" on tightening monetary policy. As the war on inflation persists, mortgage rates climbed to their highest levels since 2010.
Home Sales Fall Amidst Aggressive Real Estate Market
First up, higher mortgage rates led March home sales to fall. However, the decline from February remained small, a 5% year-over-year drop. On the other hand, the ever-climbing median existing-home price soared 15% higher than last year at this time at a record $375,300.
In addition, inventory levels plagued the real estate market. Down 10% from a year ago, inventory levels hover at just a 1.7-month supply nationally.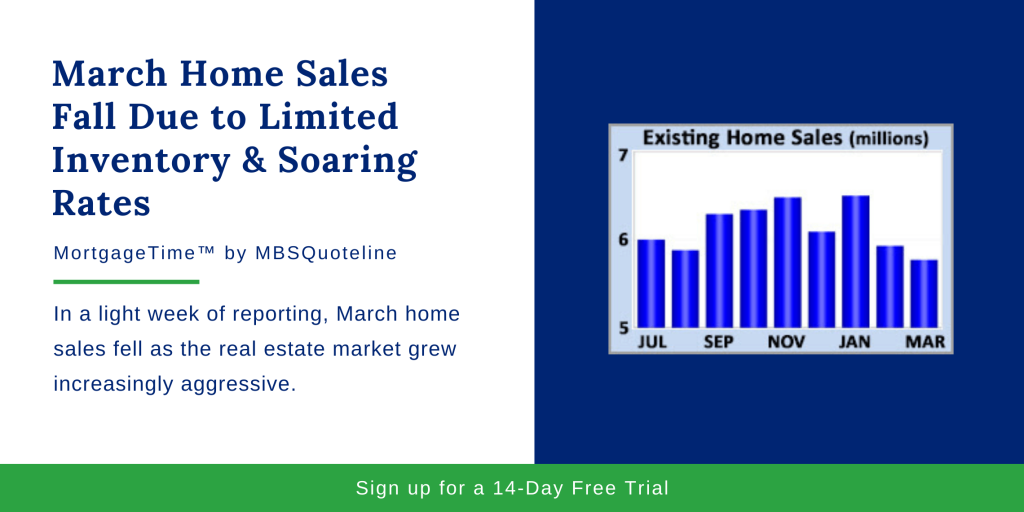 Housing Inventory Responsible for Fall of March Home Sales
Home buyers desperately need more inventory in many regions. Despite the fall in March home sales, inventory data struck an encouraging tone as overall housing starts increased slightly from February to the highest level since 2006. Multi-family units generated most of the increase.
While single-family starts declined a bit from February, they remained well above the levels seen prior to the pandemic. The number of single-family units under construction rose to 811,000, the most since 2006. Builders continued to cite higher prices and shortages for land, materials, and skilled labor as obstacles to a faster pace of construction.
Fed Stresses "Absolutely Essential" Price Stability
As March home sales fell, Fed Chair Powell again stressed that it is "absolutely essential" to maintain price stability for the economy to function properly. He expressed support for "front-end loading" the path to the appropriate level of monetary accommodation. Essentially, it would be better to reach the target level for the federal funds rate sooner rather than later.
According to Powell, a 50-basis point rate hike stays on the table as an option. Investors widely expect the rate hike to take place at the May 4th meeting.
Looking Ahead After March Home Sales Fall
After the March home sales fell, investors look for additional Fed guidance on the pace of future rate hikes and balance sheet reduction. Also, investors closely follow news on Ukraine. The next Fed meeting will take place on May 4th.
Beyond that, New Home Sales release on Tuesday. First quarter Gross Domestic Product (GDP), the broadest measure of economic activity, comes out on Thursday. Finally, the core PCE price index, the inflation indicator favored by the Fed, publishes on Friday.
---
With the latest report seeing March home sales fall, mortgage rates soared to 2010 levels. Never miss an update with MBSQuoteline. To receive by-the-minute updates on mortgage-backed securities, try our platform free for 14 days.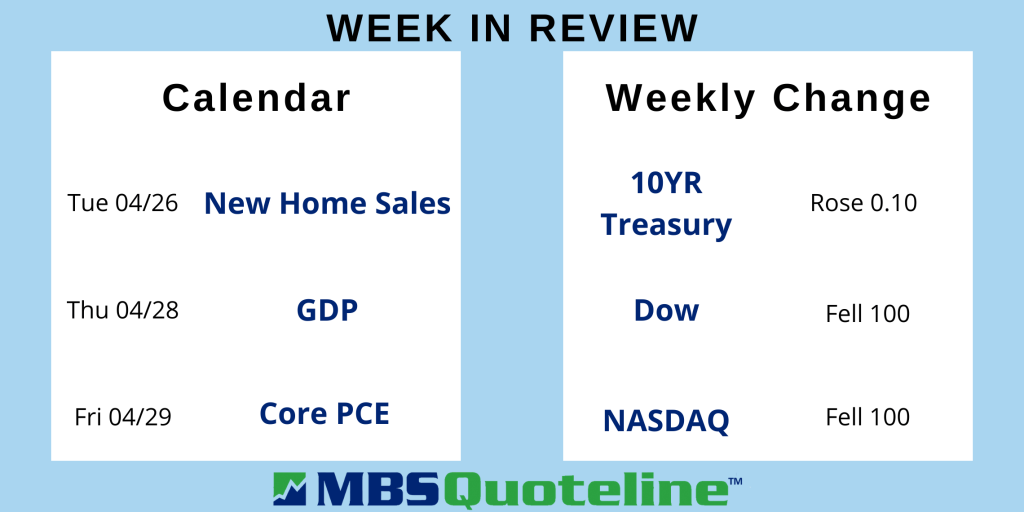 Stay connected with MBSQuoteline on social media by following us on Facebook, Twitter, and LinkedIn.
All material Copyright © Ress No. 1, LTD (DBA MBSQuoteline) and may not be reproduced without permission. To learn more about the MortgageTime™ newsletter, please contact MBSQuoteline at 800.627.1077 or info@mbsquoteline.com.