As investors eagerly awaited the European Central Bank meeting, the latest decision on inflation came as a blindside. Additionally, headlines about the conflict in Ukraine continued to cause volatility in mortgage markets this week. However, the headlines created a roughly neutral impact.
Instead, the analysts primarily focused on growing concern regarding rising inflation. Thus, mortgage rates ended the week higher.
European Central Bank Blindsides Investors
Faced with skyrocketing prices and the conflict in Ukraine, the European Central Bank meeting led to a very difficult decision. At Thursday's meeting, bank officials chose to prioritize lower inflation over economic growth. In doing so, they announced that it plans to end its bond purchase program in the third quarter.
Investors were left stunned as this is much earlier than expected. ECB President Lagarde acknowledged that the conflict in Ukraine will have "a material impact on economic activity." Having said that, President Lagarde also mentioned having little choice in tightening monetary policy to help bring down inflation.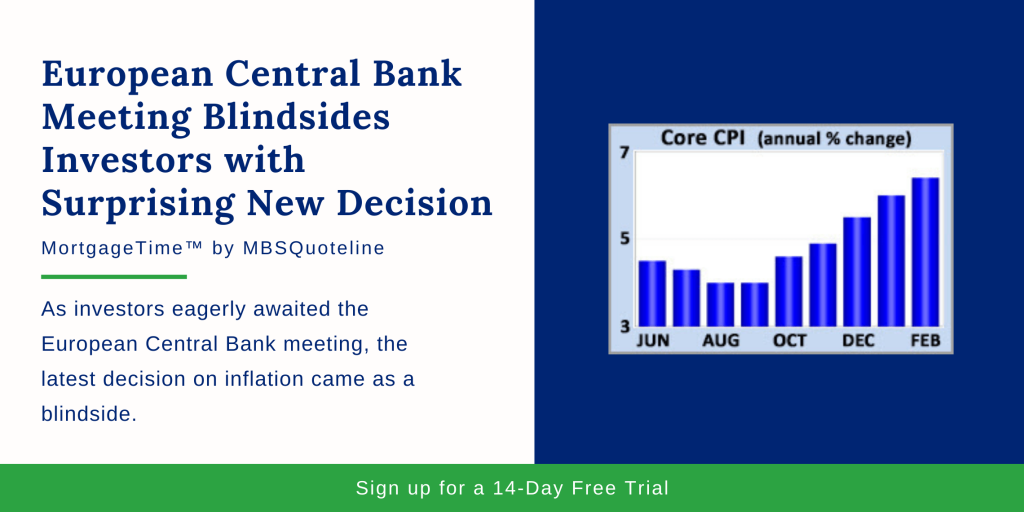 European Central Bank Meeting Decision Comes as Reaction to Inflation
Analysts closely watch the Consumer Price Index (CPI) as an inflation indicator. CPI looks at price changes for a broad range of goods and services. Core CPI excludes the volatile food and energy components and provides a clearer picture of the longer-term trend. In February, Core CPI rose 6.4% higher than a year ago. Not only did Core CPI jump up from an annual rate of increase of 6.0% last month, it achieved its highest level since 1982. This may lead investors to see the justification of the recent news from the European Central Bank meeting.
There are many reasons why the annual core inflation rate has jumped from the readings below 2.0% seen early in 2021. These include a tight labor market, strong consumer demand for goods, and supply chain disruptions. Shortages for many items caused enormous cost increases, such as used car prices which are 41% higher than a year ago. Fed officials and economists debate how much the recent spike in inflation will subside as temporary factors caused by the pandemic are resolved.
JOLTS Report Shows Massive Job Openings
Aside from the European Central Bank meeting and inflation updates, the latest JOLTS report came out. By definition, the JOLTS report measures job openings and labor turnover rates. In fact, the latest data indicated that the labor market remains very tight. At the end of January, the economy experienced massive 11.3 million job openings. While this is down slightly from last month's record high, February 2022 added over 4 million more compared to January 2020.
A high level of job openings reflects a strong labor market. as companies struggle to hire enough workers with the necessary skills. A very large number of employees also willingly left their jobs in January. Analysts view this as a sign of labor market strength. Typically, people usually quit only if they expect that they can find better jobs.
Looking Ahead After the European Central Bank Meeting
After the European Central Bank meeting, investors continue to closely follow news on Ukraine. Beyond that, the next Federal Reserve meeting will take place on Wednesday. Investors widely expect a 25-basis point rate increase. In addition, investors seek additional Fed guidance on the pace of future rate hikes and balance sheet reduction.
Retail Sales also releases on Wednesday. Consumer spending accounts for over two-thirds of U.S. economic activity. Therefore, the retail sales data indicates growth. Housing Starts comes out on Thursday.
---
Following this week's European Central Bank meeting, mortgage rates rose again. Never miss an update with MBSQuoteline. To receive by-the-minute updates on mortgage-backed securities, try our platform free for 14 days.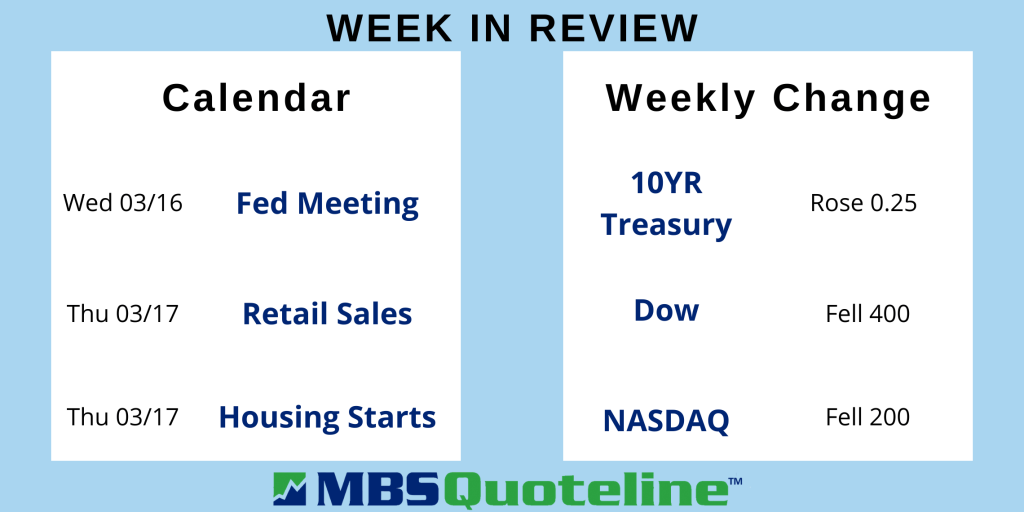 Stay connected with MBSQuoteline on social media by following us on Facebook, Twitter, and LinkedIn.
All material Copyright © Ress No. 1, LTD (DBA MBSQuoteline) and may not be reproduced without permission. To learn more about the MortgageTime™ newsletter, please contact MBSQuoteline at 800.627.1077 or info@mbsquoteline.com.