In a short week, core PCE shows inflation quickly soaring in time for the holiday season. While the latest inflation report matched expectations, investors grow concerned about persistent price increases. Ultimately, mortgage rates ended the week higher.
Core PCE Shows Inflation Quickly Soaring
The Fed utilizes the core PCE price index as an inflation indicator. In October 2021, the latest core PCE shows inflation quickly soaring. Core PCE climbed 4.1% higher than a year ago. Not only did this match the consensus forecast, core PCE also jumped 3.7% last month. Shockingly, core PCE hit its highest annual rate since 1990.
For comparison, readings fell below 2.0% during the first three months of 2021. Economists differ on the long-term impact of inflation. Some believe the higher inflation will be short-lived as pandemic-related disruptions resolve; others feel higher inflation will persist for years.
In response to core PCE showing quickly soaring inflation, investors moved forward with their expected timeline for the Fed to raise the federal funds rate. Now, investors forecast that there is about a 50% chance that the first rate increase takes place by May 2022. Additionally, investors anticipate that there is a 50% chance for the second rate hike to occur prior to the end of 2022.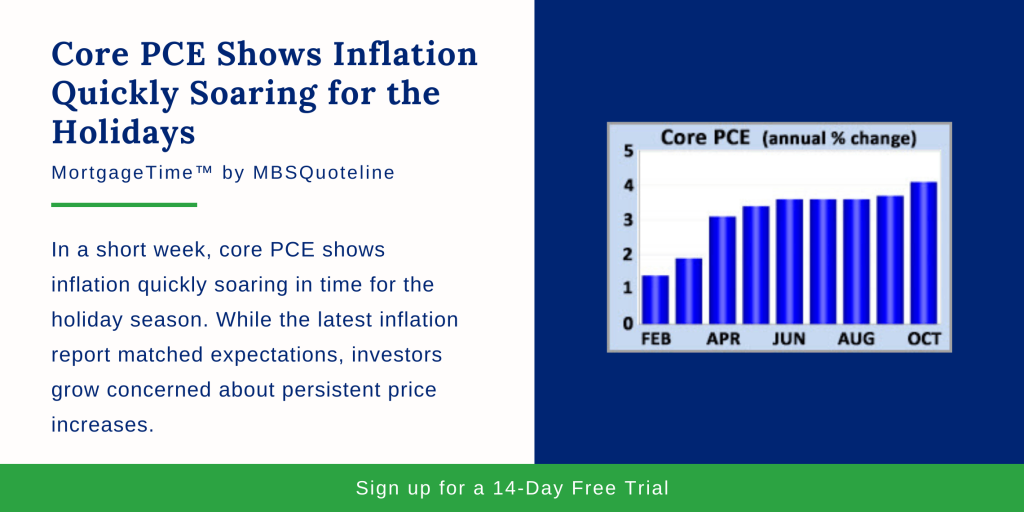 New Home Sales Remain Flat
Aside from the core PCE showing inflation quickly soaring in time for the holiday season, new home sales remained roughly flat. In October 2021, sales of new homes hover around September's annual rate of 745,000 units. Unfortunately, this result falls well below the consensus forecast of 800,000. Also, analysts revised September 2021's results to be lower still.
The median new home price of $407,700 increased 18% from a year ago, hitting a record high. In general, home supply dictates the pace of both new and previously owned sales.
Looking Ahead After Core PCE Shows Inflation Quickly Soaring
After the latest core PCE report shows inflation quickly soaring, investors closely watch COVID-19 case counts around the world, particularly in Europe.
The ISM national manufacturing index comes out on December 1st. Meanwhile, the ISM national services sector index comes out on December 3rd. Mortgage markets close on Thanksgiving. Also, mortgage markets close early at 2:00 EDT on Friday due to the Thanksgiving holiday.
Beyond that, the key Employment report releases December 3. These figures contain data on the number of jobs, the unemployment rate, and wage inflation. Analysts view the Employment report as the most highly anticipated economic data of the month.
---
Want to see why mortgage-backed securities rise as core PCE shows inflation quickly soaring for the holidays? Never miss an update with MBSQuoteline. To receive by-the-minute updates on mortgage-backed securities, try our platform free for 14 days.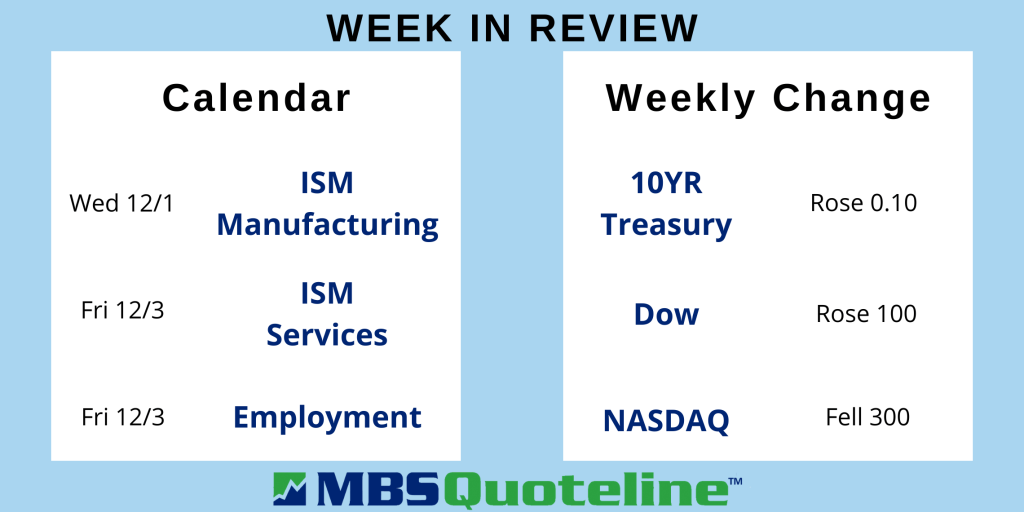 Stay connected with MBSQuoteline on social media by following us on Facebook, Twitter, and LinkedIn.
All material Copyright © Ress No. 1, LTD (DBA MBSQuoteline) and may not be reproduced without permission. To learn more about the MortgageTime™ newsletter, please contact MBSQuoteline at 800.627.1077 or info@mbsquoteline.com.