In light of breaking news, the investors are ready for the Fed tapering bond purchasing. This past week saw enormous daily volatility in mortgage-backed securities markets. However, the various influences balanced one another out. As a result, mortgage rates ended with minor change.
Fed Tapering Bond Purchasing
Investors attempt to gauge the impact of the coronavirus' latest mutation: Omicron. Not only is the mutation quickly spreading, investors worry about global economic growth. Overall, slower growth reduces future pressures. Thus, severe news reflects positively for mortgage rates, and vice-versa. Expect additional whiplash across mortgage-backed securities as added information about the Omicron variant comes out.
Along the vein of inflation, Fed Chair Powell surprised investors during his testimony to Congress on Tuesday. Notably, Fed Chair Powell changed his change in tone about inflation. For months, officials described current elevated levels of inflation as "transitory" due to short-term disruptions caused by the pandemic. Now, Powell, acknowledged that high inflation may remain for longer than anticipated, He went on it may be time to stop using that term.
As a result, he added, it may be appropriate to taper the massive bond purchase program at a faster pace than announced at the last meeting. With the Fed tapering bond purchasing, these comments created a negative impact for mortgage rates.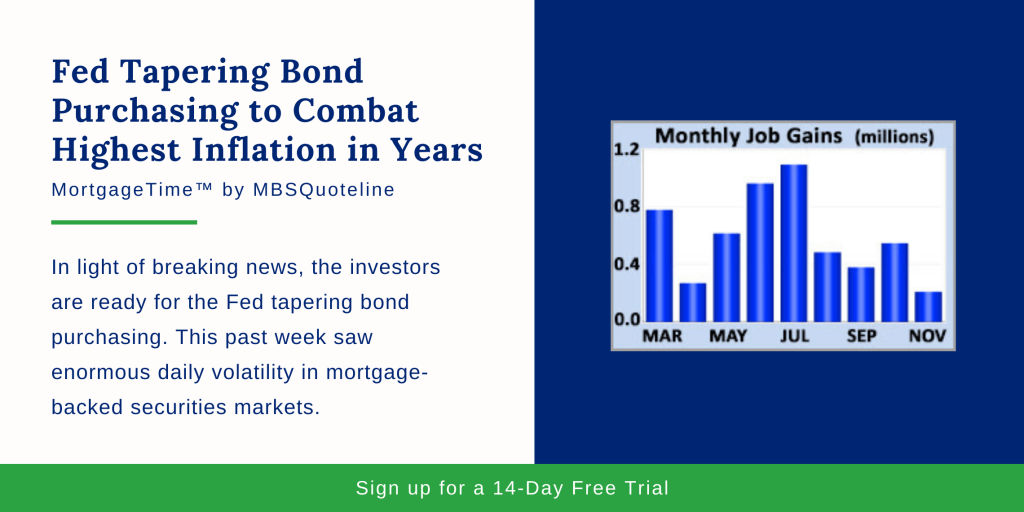 Employment & Housing Updates
Aside from the Fed tapering bond purchasing, the latest Employment report came out on Friday. It revealed mixed results for the labor market. Against a consensus forecast of 550,000, the economy added just 210,000 jobs in November 2021. This statistic dropped down from gains of over one million just a few months ago in July of this year. The professional and business services sectors demonstrated strength, while the retail sector lost jobs.
Despite the big miss in job gains, however, the unemployment rate declined from 4.6% to 4.2%. Not only is this far below the consensus forecast of 4.5%, the unemployment rate hit its lowest level since February 2020. These two components often paint a different picture because companies report the figures for job gains. Meanwhile, the unemployment rate is based on a separate survey of individuals. That said, this month displayed a large disparity between the two.
Finally, the Federal Housing Finance Agency (FHFA) announced an increase in the baseline conforming loan limit for Fannie Mae and Freddie Mac mortgages in 2022. Next year, the baseline conforming loan limit increases 18% from $548,250 to $647,200. This follows an increase of 7.5% in 2021. The new limit for most high-cost areas will be $970,800 or 150% of $647,200. With the continued strength in the housing market and rising home values, 2022 marks the sixth consecutive year of increases.
Looking Ahead After Fed Tapering Bond Purchasing
Looking ahead after news of the Fed tapering bond purchasing, investors closely follow news on the Omicron variant. Also, investors look for additional guidance from Fed officials on the timing for future policy changes.
Beyond that, the JOLTS report, which measures job openings and labor turnover rates, comes out on Wednesday. The Consumer Price Index (CPI) releases on Friday. Analysts widely follow as a monthly inflation indicator that looks at the price changes for a broad range of goods and services. The next Fed meeting takes place on December 15th.
---
Want to see how mortgage-backed securities change with the Fed tapering bond purchasing? Never miss an update with MBSQuoteline. To receive by-the-minute updates on mortgage-backed securities, try our platform free for 14 days.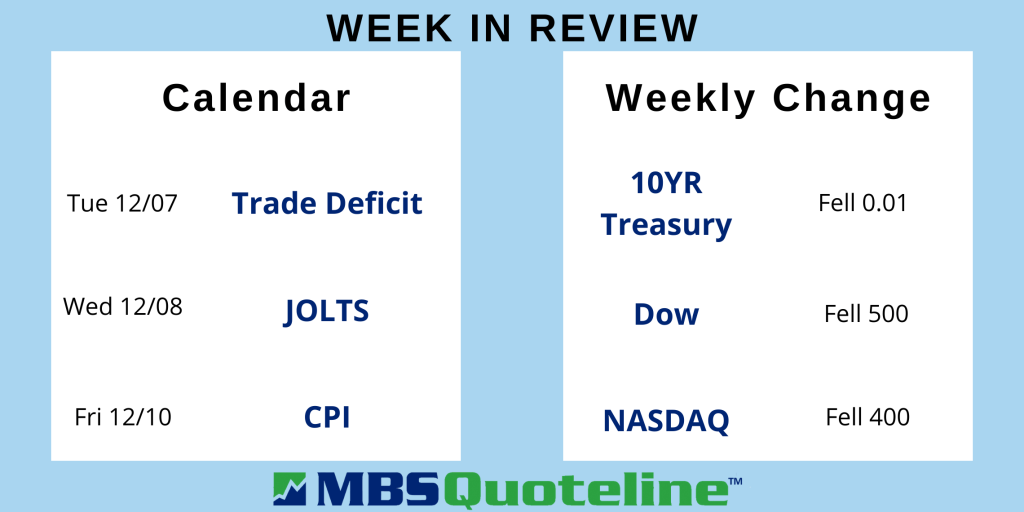 Stay connected with MBSQuoteline on social media by following us on Facebook, Twitter, and LinkedIn.
All material Copyright © Ress No. 1, LTD (DBA MBSQuoteline) and may not be reproduced without permission. To learn more about the MortgageTime™ newsletter, please contact MBSQuoteline at 800.627.1077 or info@mbsquoteline.com.