The theme of this week revolved around surprising consumer spending growth. As a result, retail sales saw an overall surge.
However, rising COVID-19 case counts outweighed much of the good news. Analysts noticed this trend was particularly prevalent in Europe. As a result, mortgage rates ended the week slightly lower.
Surprising Consumer Spending Growth
In spite of COVID-19 cases rising, the United States saw surprising consumer spending growth. Holistically, consumer spending accounts for over two-thirds of the United States' economic activity. Because of this, retail sales data represents a key growth indicator.
In October 2021, the economy saw a retail sales surge. Retail sales jumped 1.7% from September 2021. Thus, retail sales climbed above the consensus forecast. Additionally, retail sales rocketed an impressive 16% higher than a year ago. Notably, electronics and appliance sales witnessed strong sales activity. Despite supply chain shortages and ongoing COVID-19 cases, consumers showed few signs of slowing down.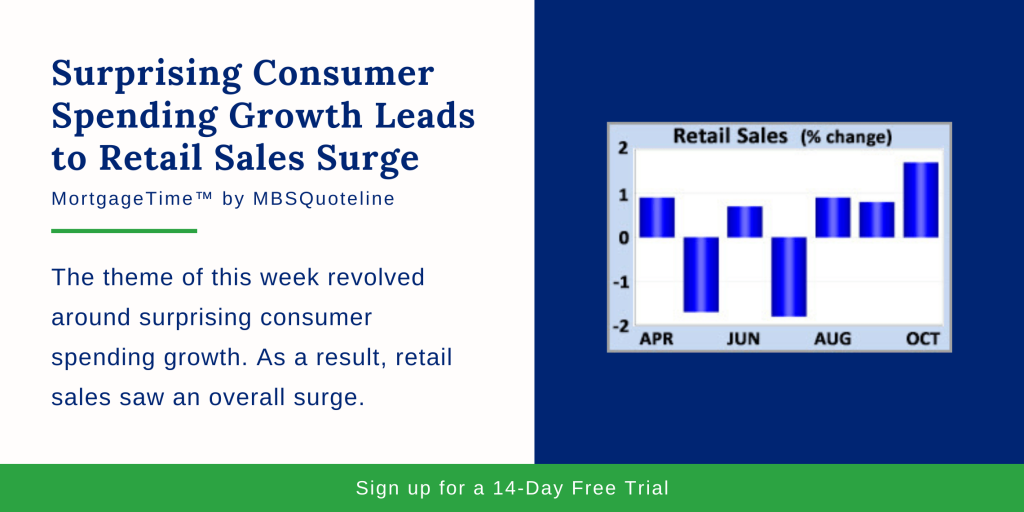 Home Inventory Faces Challenges Despite Surprising Consumer Spending Growth
While the retail front looks strong with surprising consumer spending growth, home sales do not share the same outlook. Currently, Americans face an ongoing need for larger home inventory. Because of this, the monthly housing starts report gained in importance. Overall, the latest housing starts results appeared to be mixed.
In October 2021, overall housing starts fell short of expectations. Housing starts displayed a modest decline from September 2021. Single-family starts fell 4% from the prior month to the lowest level since August 2020. Meanwhile, multi-family starts rose 7%.
On a brighter note, building permits posted solid gains for both single-family and multi-family units. Rising prices and shortages for materials, land, and skilled labor present challenges to builders.
Austria Undergoing COVID-19 Lockdown
Aside from the surprising consumer spending growth, other nations continue to battle COVID-19. On Friday, Austria announced that it plans to impose a national lockdown on Monday. Austrian officials intend to reduce the spread of COVID-19. This move raised investor concerns about slower global economic growth.
Naturally, lockdowns reduce future inflationary pressures. Conclusively, lockdowns reflect positively for mortgage rates. Time will tell whether other countries impose similar measures.
Looking Ahead After Surprising Consumer Spending Growth
Looking ahead, investors seek hints from Fed officials about the timing for future rate hikes. Also, investors closely watch COVID-19 case counts around the world.
Beyond that, Existing Home Sales releases on Monday. New Home Sales come out on Wednesday. Similarly, the Core PCE price index comes out on Wednesday. The Fed favors Core PCE as its go-to inflation indicator.
Mortgage markets close on Thursday for Thanksgiving. Moreover, mortgage markets close early at 2:00EDT on Black Friday.
---
Want to see how surprising consumer spending growth affects mortgage-backed securities? Never miss an update with MBSQuoteline. To receive by-the-minute updates on mortgage-backed securities, try our platform free for 14 days.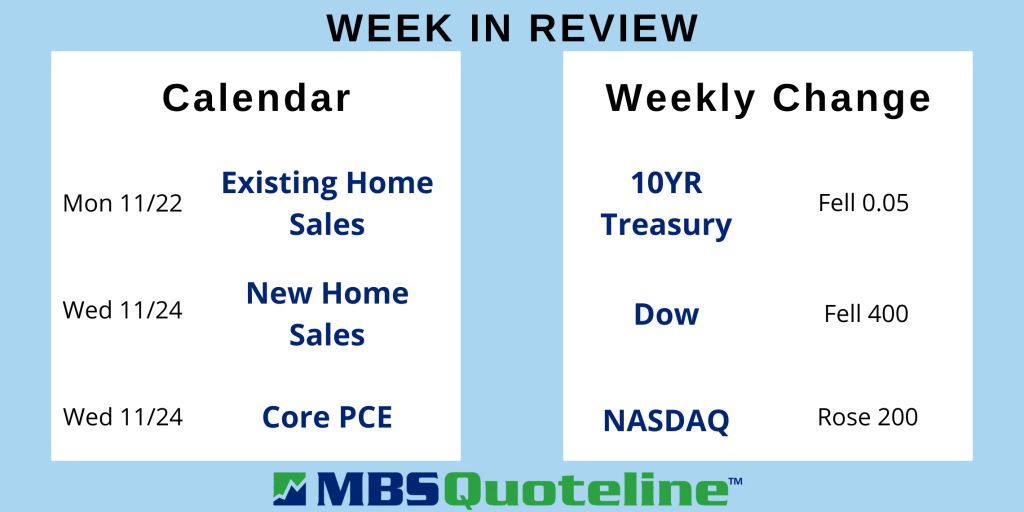 Stay connected with MBSQuoteline on social media by following us on Facebook, Twitter, and LinkedIn.
All material Copyright © Ress No. 1, LTD (DBA MBSQuoteline) and may not be reproduced without permission. To learn more about the MortgageTime™ newsletter, please contact MBSQuoteline at 800.627.1077 or info@mbsquoteline.com.