This past week, the 2021 mortgage rates trajectory continued its upward pace. Kicking off, 2021 rates reached their highest levels in months, inspired by rising inflation.
Investors are anticipating a surge in economic activity due to recent news. Primarily, the COVID-19 vaccine is moving forward, along with an additional government stimulus on the way. As a result, mortgage rates ended the week at their highest levels in months.
2021 Mortgage Rates & Rising Inflation
Due to rising inflation, bond yields soared upwards at a rapid pace. Both the government and the Fed are providing massive amounts of stimulus to boost the economy. In addition, economic analysts expect the coronavirus vaccine rollout to unleash enormous pent-up demand in hard-hit areas, such as travel.
This activity has led the Treasury to issue bonds as a way of funding the extra government spending, and this added supply causes yields to rise.
The reduced economic activity resulting from the pandemic caused a significant decline in inflation last year, which was one of the factors responsible for record-low mortgage rates. However, investors are now concerned that inflation may be heading higher.
In January, the core PCE price index was 1.5% higher than a year ago. This was above the consensus forecast, and up from an annual rate of increase of 1.4% last month.
Monetary Policy Going Forward
During his semi-annual testimony this week, Fed Chair Powell suggested that easy monetary policy will remain in place for a while since the economy is "a long way from our employment and inflation goals." In particular, he noted that the economy still needs to recover 10 million jobs lost due to the pandemic.
While investors are concerned about rising inflation, Powell appeared less worried. He said that we might see higher inflation later this year as a result of pent-up demand, but that most of the increase would be just temporary. According to Powell, Fed officials project that it could take three years for inflation to sustainably rise to their target levels.
Looking Ahead After the 2021 Mortgage Rates Trajectory
Looking ahead after the 2021 mortgage rates trajectory, investors plan to watch for the latest developments. Mainly, investors are watching COVID-19 case counts, vaccine distribution, and the size of the government stimulus spending bill.
New data came out for the ISM national manufacturing index yesterday. MBSQuoteline will share the findings next week. The ISM national services index data comes out on Wednesday.
Beyond that, the monthly Employment report will be released on Friday. These figures on the number of jobs, the unemployment rate, and wage inflation will be the most highly anticipated economic data of the month.
---
Never miss an update on 2021 mortgage rates with MBSQuoteline. To receive by-the-minute updates on mortgage-backed securities, try our platform free for 14 days.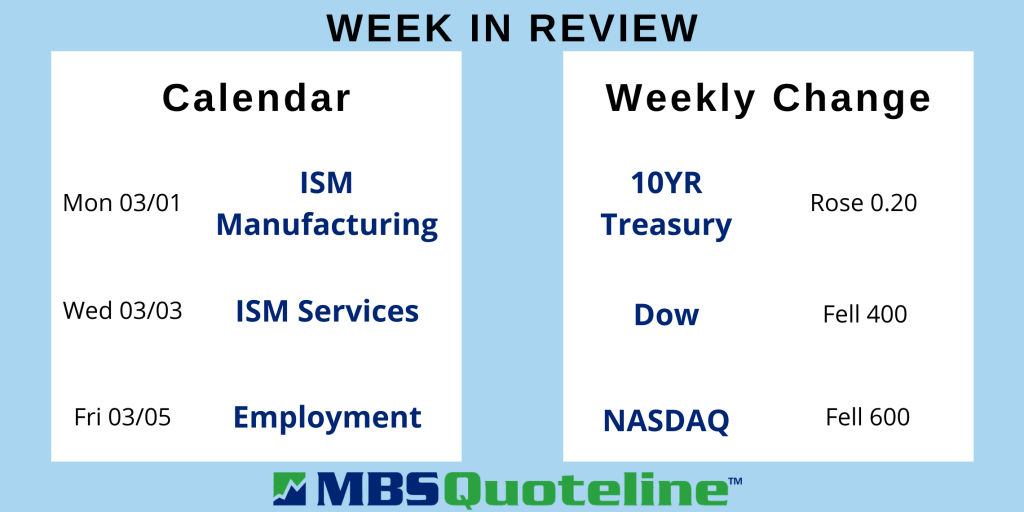 Stay connected with MBSQuoteline on social media by following us on Facebook and LinkedIn.
All material Copyright © Ress No. 1, LTD (DBA MBSQuoteline) and may not be reproduced without permission. To learn more about the MortgageTime™ newsletter, please contact MBSQuoteline at 800.627.1077 or info@mbsquoteline.com.