Facilitated by powerful job gains, mortgage rates have been on an upward path this year, potentially influencing rising inflation. Stronger-than-expected economic data caused the trend to continue this week.
In addition, Fed officials gave no indication that they intend to attempt to halt the recent rise in yields. As a result, mortgage rates ended the week at their highest levels in months.
Inflation & Mortgage Rates
Aside from the powerful job gains, long-term bond yields, including mortgage rates, have climbed roughly 50 basis points this year due to improving economic conditions. With the vaccine rollout and massive government stimulus, the outlook for economic activity looks extremely promising. This means that inflationary pressures could increase.
On Thursday, Chair Powell acknowledged the strength but did not give any indication that the Fed intends to attempt to restrain long-term bond yields. According to Powell, Fed officials recognize that stronger economic activity may lead to "transitory increases in inflation", but that the central bank will be "patient" before changing monetary policy.
Some investors had hoped that Powell might indicate that policy changes were under consideration to help contain the rise in long-term yields.
Powerful Job Gains
In February, the economy gained a solid 379,000 jobs. This result was roughly double the consensus forecast.
The leisure and hospitality sectors saw strong job growth. This is after these sectors were hit particularly hard by the pandemic.
From a level of 6.3% last month, the unemployment rate unexpectedly fell to 6.2%. Average hourly earnings, an indicator of wage growth, were an impressive 5.3% higher than a year ago, matching expectations.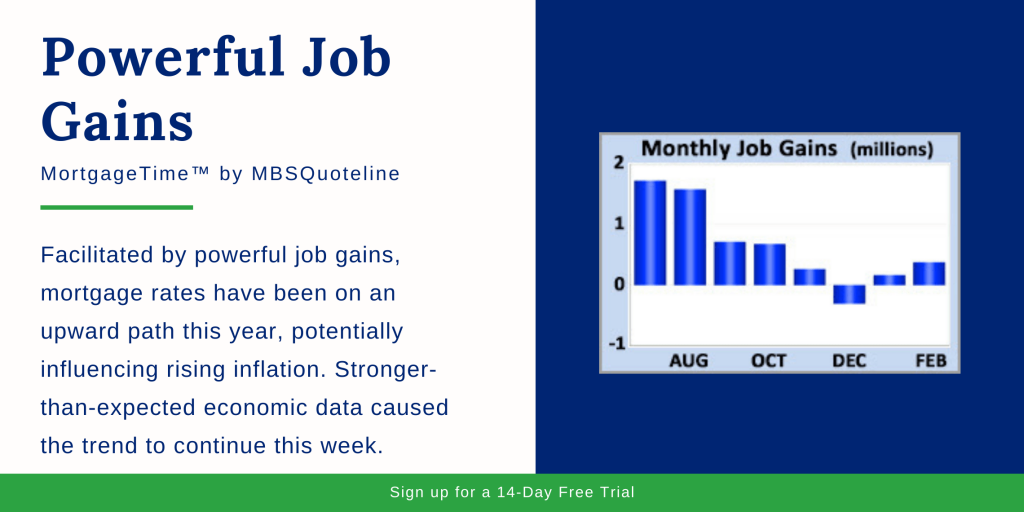 Manufacturing Results
Two other closely watched reports released this week contained mixed results. The ISM national manufacturing index rose to 60.8. Overall, this is above the consensus forecast of 59.0, up from a low of 41.5 in April, and matches the highest level since 2004.
By contrast, the ISM national services index declined to 55.3, well below the consensus forecast of 58.5, and the lowest level since May. Readings above 50 indicate an expansion, meaning that both sectors are growing, but at different speeds.
Looking Ahead After Powerful Job Gains
Looking ahead after the powerful job gains, investors will continue watching COVID-19 case counts, vaccine distribution, and the size of the government stimulus spending bill.
Beyond that, the Consumer Price Index (CPI) will come out on Wednesday. CPI is a widely followed monthly inflation report that looks at the price change for goods and services. The next European Central Bank meeting will take place on Thursday.
---
Want to see how powerful job gains affect mortgage-backed securities? Never miss an update with MBSQuoteline. To receive by-the-minute updates on mortgage-backed securities, try our platform free for 14 days.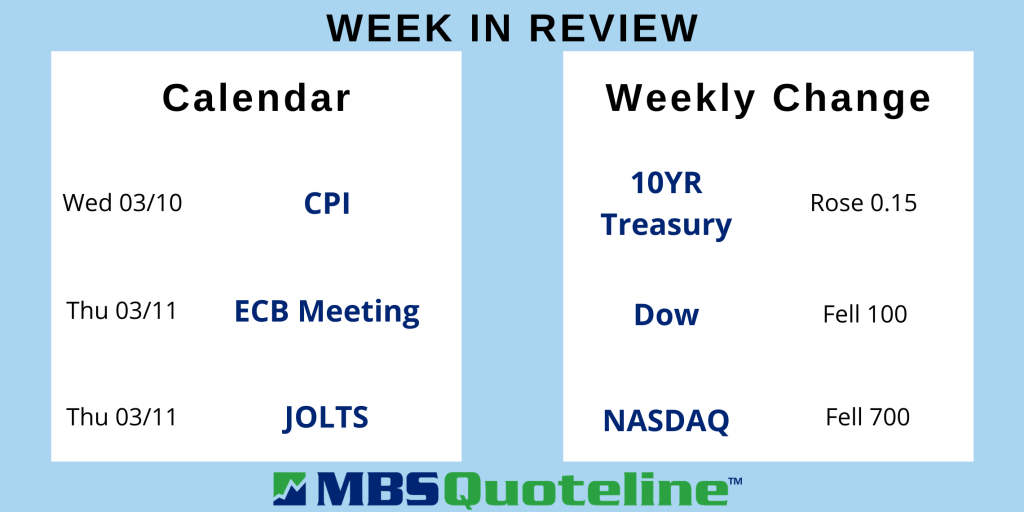 Stay connected with MBSQuoteline on social media by following us on Facebook and LinkedIn.
All material Copyright © Ress No. 1, LTD (DBA MBSQuoteline) and may not be reproduced without permission. To learn more about the MortgageTime™ newsletter, please contact MBSQuoteline at 800.627.1077 or info@mbsquoteline.com.