This week, the U.S. economy saw its highest mortgage rates in months. Characterized by extremely strong economic reports, impressive early 2021 retail sales kicked off the New Year.
In other news, the COVID-19 vaccine is gaining steam. Along that vein, news surrounding the next government stimulus package is picking up. Most investors anticipate that future data will be even more impressive.
Despite mortgage rates hitting their highest levels in months, the positive news negatively impacted mortgage markets.
Early 2021 Retail Sales Leading to Highest Mortgage Rates in Months
Consumer spending accounts for over two-thirds of all economic activity in the United States. Because of this, retail sales data is a key growth indicator.
Following three straight months of declines, early 2021 retail sales jumped sharply in the latest report. The $600 stimulus payments are the primary cause.
In January, retail sales increased a massive 5.3% from December. This result was far above the consensus forecast of 1.2%.
This influx of economic activity directly influenced mortgage markets, leading to the highest mortgage rates in months.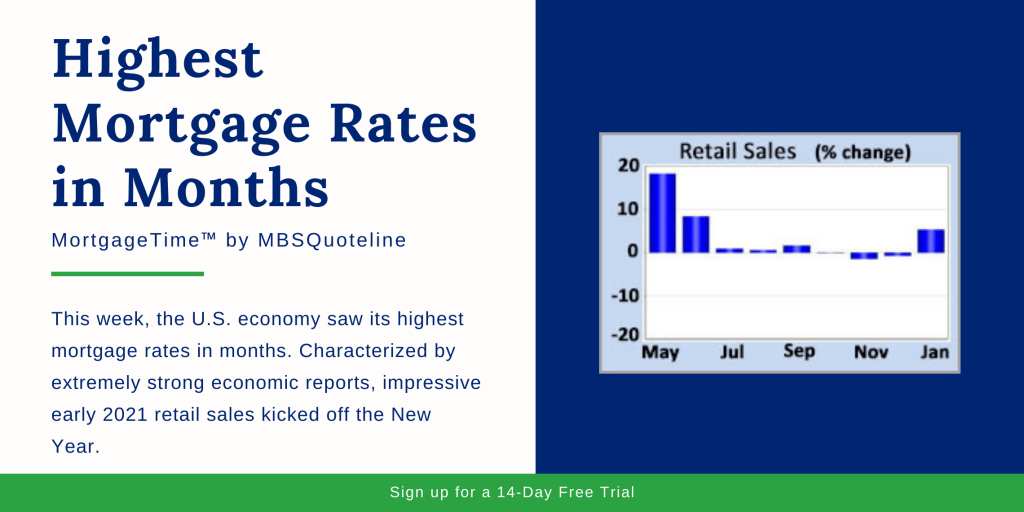 Housing Sector Contribution to Highest Mortgage Rates in Months
Aside from the impressive early 2021 retail sales data, the housing sector continued its spectacular rebound as well. That said, this is following a weaker season for real estate in the spring of 2020.
January existing-home sales unexpectedly increased from December. Existing-home sales were 24% higher than a year ago. This was consequently the best level since 2006.
Meanwhile, the median existing-home price was 14% higher than a year ago. Between existing-home sales and the rising home valuations, the U.S. economy saw its highest mortgage rates in months.
Inventory levels, however, were down 26% from a year ago. To date, home inventory levels remain the primary obstacle to stronger sales activity.
As a matter of fact, the number of homes for sale was at just a 1.9-month supply nationally. This is well below the 6.0-month supply. A 6.0-month supply is considered a healthy balance between buyers and sellers.
Pandemic Leading to Inflation Decline
The coronavirus pandemic led to a significant decline in inflation. Due to the inverse relationship, this facilitated the highest mortgage rates in months.
However, investors are concerned by the emerging signs that inflation may be rising. The Producer Price Index (PPI) is a widely followed monthly inflation report that looks at the price change for intermediate goods used for production. Investors view the PPI as an early indicator of building inflationary pressures throughout the economy.
In January, core PPI was 2.0% higher than a year ago. This was far higher than expected. It was also up from an annual rate of increase of just 1.2% last month.
Looking Ahead After Achieving the Highest Mortgage Rates in Months
Looking ahead after the impressive early results for 2021 retail sales, investors monitoring the market. Right now, investors are watching COVID-19 case counts, vaccine distribution, and the government stimulus spending bill. Investors are speculating about the final amount of the stimulus package.
Beyond that, it will be a light week for economic data. Of note, Personal Income will be released on Friday. The latest Core PCE data, the Fed's favored inflation indicator, will also be shared at the end of the week.
Overall, a week of strong economic activity inspired the American economy to witness the highest mortgage rates in months.
---
Never miss an update on 2021 mortgage rates with MBSQuoteline. To receive by-the-minute updates on mortgage-backed securities, try our platform free for 14 days.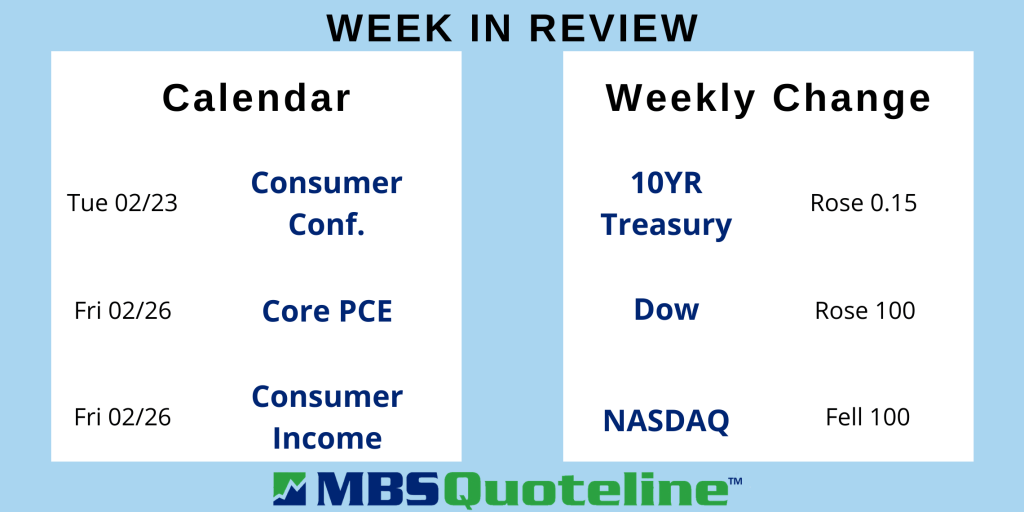 All material Copyright © Ress No. 1, LTD (DBA MBSQuoteline) and may not be reproduced without permission. To learn more MBSQuoteline, please contact our mortgage-backed securities company at 800.627.1077 or info@mbsquoteline.com.