As the inflation data from October came out, the November 2022 CPI report surprisingly fell below its consensus forecast. In doing so, Thursday's CPI data caused an enormous market reaction.
On the other end, the election results generated little impact on mortgage markets this week. However, the lower-than-expected inflation data led mortgage rates to a substantial decline.
November 2022 CPI Report Falls Far Below Consensus Despite Annual Increase
Analysts closely watch the Consumer Price Index (CPI) for inflation indications. Overall, the November 2022 CPI report looks at price changes for a broad range of goods and services. In October, CPI rose 7.7% higher than a year ago, far below the consensus forecast of 8.0%.
Core CPI excludes the volatile food and energy components. Also, Core CPI provides a clearer picture of the longer-term inflation trend. In October, Core CPI climbed 6.3% from a year ago, also well below the consensus forecast. Furthermore, Core CPI declined from 6.6% last month, the highest annual rate since 1982.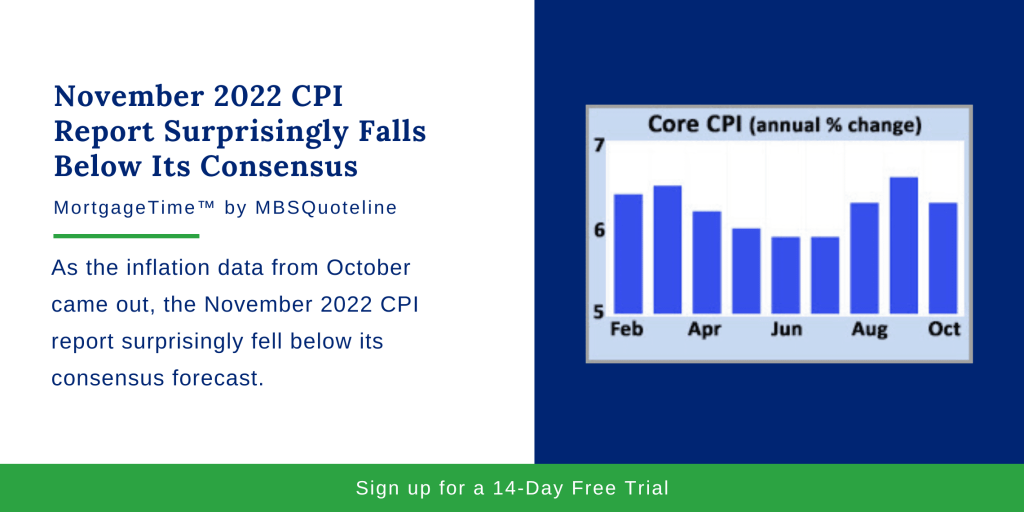 Sector Influence on November 2022 CPI Report
As investors react to the November 2022 CPI report, analysts point to various market sector activity. Helping the figures come in below the expected levels, used car prices dropped 2.4% in October. Apparel and medical care services also posted steep monthly declines.
Meanwhile, shelter (housing) costs, which account for roughly one-third of the CPI index, continued to post significant gains in October. However, shelter costs generally operate with a lag. Current indicators of shelter costs (such as newly signed rental agreements) suggest that this area will provide downward pressure on overall inflation readings in coming months.
Federal Reserve Plans for Future Hikes to the Federal Funds Rate
With the November 2022 CPI report, the Federal Reserve reaffirms their ongoing strategy. Currently, inflation remains far above the readings around 2.0% seen early in 2021. The Fed previously stated that 2.0% is still their target level.
To help reduce inflationary pressures and reach this goal, the Fed plans to raise the federal funds rate at future meetings. However, the magnitude of additional rate hikes anticipated by investors dropped sharply due to the CPI data. For example, investors nearly evenly split between 50 and 75-basis point increases before the report's release. Now, investors widely anticipate a 50-basis point jump at December's meeting.
Looking Ahead After the Latest Inflation Data
After the publication of the November 2022 CPI report, investors hope for more specific Fed guidance on the pace of future rate hikes and bond portfolio reduction. Next week, Retail Sales release on Wednesday. Consumer spending accounts for over two-thirds of U.S. economic activity. Thus, the retail sales data represents a key measure of the health of the economy.
Similarly, Import Prices come out on Wednesday. Later, the Housing Starts report publishes on Thursday. Finally, the latest Existing Home Sales is announced on Friday.
---
With the publication of the November 2022 CPI report, mortgage rates experienced a sharp decline by week's end. Never miss an update with MBSQuoteline. To receive by-the-minute updates on mortgage-backed securities, try our platform free for 14 days.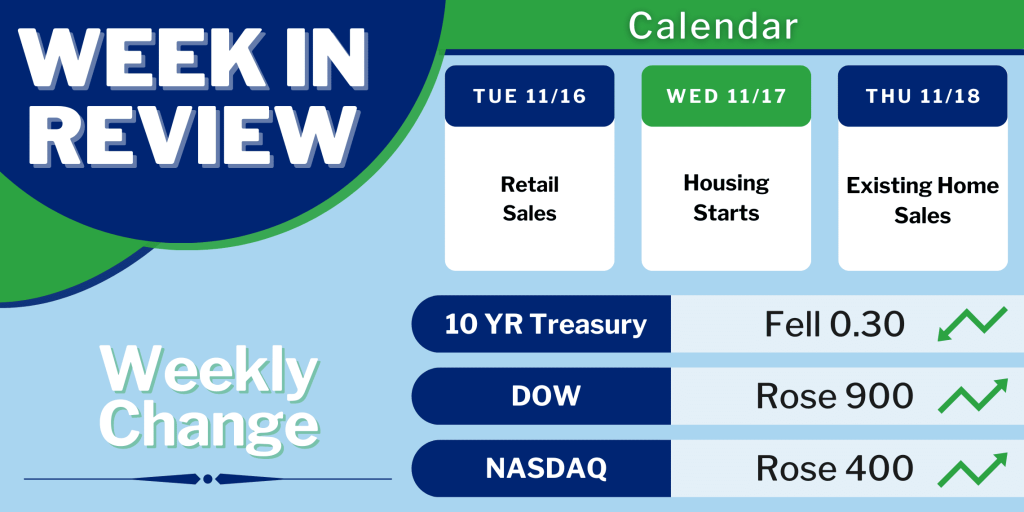 Stay connected with MBSQuoteline on social media by following us on Facebook, Twitter, and LinkedIn.
All material Copyright © Ress No. 1, LTD (DBA MBSQuoteline) and may not be reproduced without permission. To learn more about the MortgageTime™ newsletter, please contact MBSQuoteline at 800.627.1077 or info@mbsquoteline.com.