After the November 2022 Fed meeting, investors raised their outlook for monetary policy tightening heading into 2023. Despite the concurrent publication of labor market data, only the Fed meeting produced much reaction.
In the aftermath, investor reaction pushed bond yields higher. As a result, mortgage rates ended the week higher.
Investors Expect Interest Rates to Exceed 5.0% After November 2022 Fed Meeting
At the November 2022 Fed meeting, officials predictably raised the federal funds rate by another 75 basis points. Now, the federal funds rate rose to a target range of 3.75% to 4.00%. Thus, the federal funds rate achieved its the highest level since January 2008. Initially, investors felt encouraged because the meeting statement noted that the pace of future increases considers the long lag in the effects of monetary policy on economic activity. Clearly, this suggests a smaller magnitude for future rate hikes.
Later, Chair Powell rained on the parade during his press conference. In the conference, Powell alluded to a higher peak for the federal funds rate. In other words, investors expect federal funds rate hikes to slow down. However, investors also believe the Fed plans for a higher total increase prior to stopping. As a result, investors expect that the federal funds rate to exceed 5.0% early in 2023. Beyond that, investors anticipate that the rate stays at that level for most of 2023.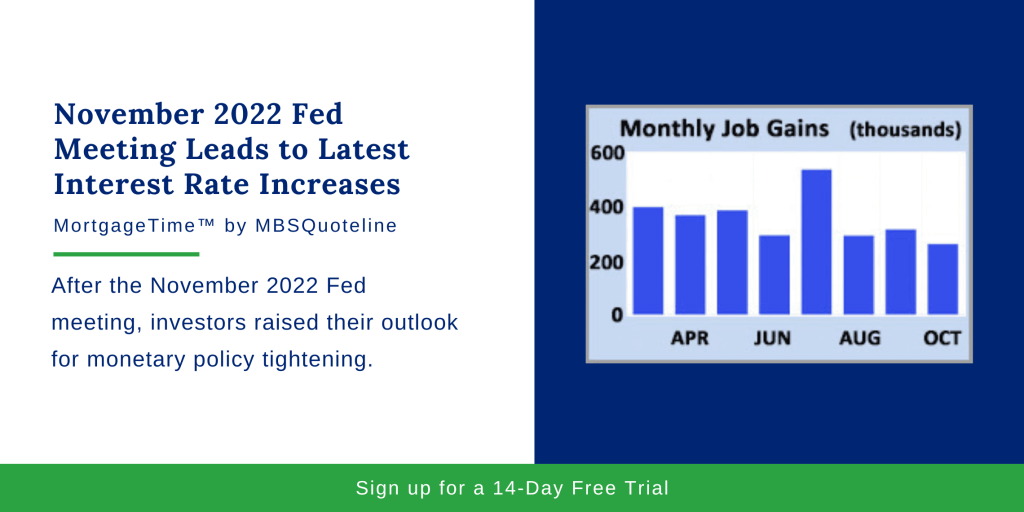 October 2022 Labor Market Data Falls Close to Analyst Expectations
Despite the massive reaction following the November 2022 Fed meeting, the monthly Employment report failed to create the same impact. Against a consensus forecast of 205,000, the economy gained 261,000 jobs in October 2022. Thus, job gains saw their smallest monthly increase since December 2020. Leisure, hospitality, professional services, and healthcare reflected the best-performing sectors. Meanwhile, the unemployment rate rose more than expected to 3.7% from 3.5%. That said, this marks the lowest level in decades. Average hourly earnings, an indicator of wage growth, improved 4.7% higher year-over-year. Holistically, average hourly earnings dropped from an annual rate of 5.0% last month.
Aside from the Employment data, the Institute of Supply Management (ISM) published its latest findings. These reports hinted at slower economic growth. First, the ISM national services sector index fell to 54.4. On the other hand, the ISM national manufacturing index decreased to 50.2. Both readings plunged to their lowest levels since May 2020. Despite the declines, levels above 50 still indicate sector expansion.
Looking Ahead After the November 2022 Fed Meeting
After the November 2022 Fed meeting, investors for more specific Fed guidance on the pace of future rate hikes and bond portfolio reduction. Next week, Thursday's Consumer Price Index (CPI) inflation holds the largest economic weight. Analysts and investors widely follow CPI because it looks at the price changes for a broad range of goods and services.
Economic reporting aside, surprises in Tuesday's election hold influence over mortgage markets. Mortgage markets close on Friday in observance of Veterans Day.
---
Following the November 2022 Fed meeting, mortgage rates rose higher by week's end. Never miss an update with MBSQuoteline. To receive by-the-minute updates on mortgage-backed securities, try our platform free for 14 days.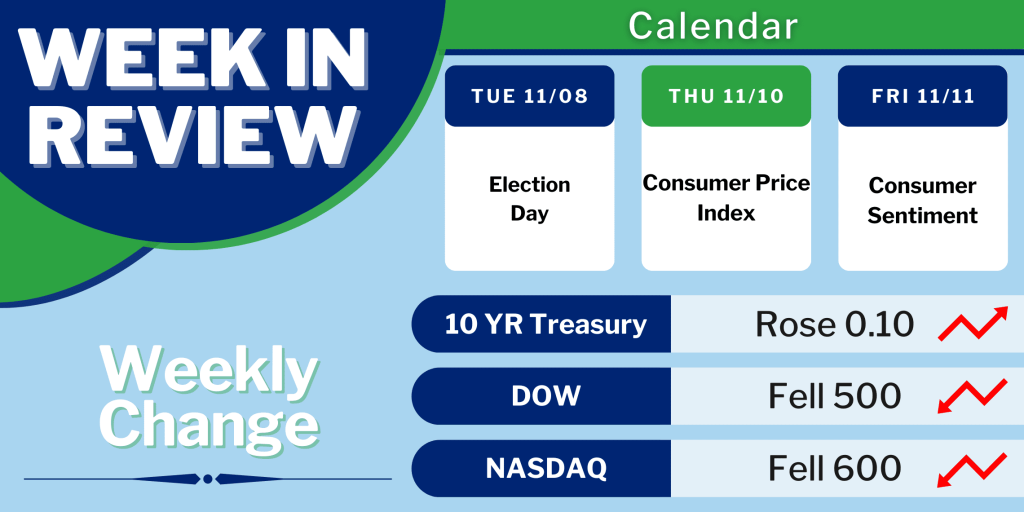 Stay connected with MBSQuoteline on social media by following us on Facebook, Twitter, and LinkedIn.
All material Copyright © Ress No. 1, LTD (DBA MBSQuoteline) and may not be reproduced without permission. To learn more about the MortgageTime™ newsletter, please contact MBSQuoteline at 800.627.1077 or info@mbsquoteline.com.