In another extremely volatile week, the latest news saw mortgage rates hit 2007 highs. Although events in the United Kingdom largely offset volatility, mortgage markets faced a small impact. With the latest Freddie Mac survey, mortgage rates rose a shocking 3.70% from one year ago.
Housing Market Remains Sensitive as Mortgage Rates Hit 2007 Highs
As mortgage rates hit 2007 highs, home buyers remain sensitive to the latest figures. In fact, a brief August 2022 mortgage rate dip caused an unexpected surge in sales activity. After peaking in January 2021 at an annualized rate of 993,000, sales of new homes in July fell to just 511,000, the lowest level since January 2016.
However, August new home sales jumped 29% from July to 685,000, far above the consensus forecast for a slight decline. The median price of a new home climbed 8% higher than a year ago at $436,800, the smallest annual rate of increase since November 2020. Unfortunately, mortgage rates soared significantly higher in September. We'll likely see the impact of this on next month's report.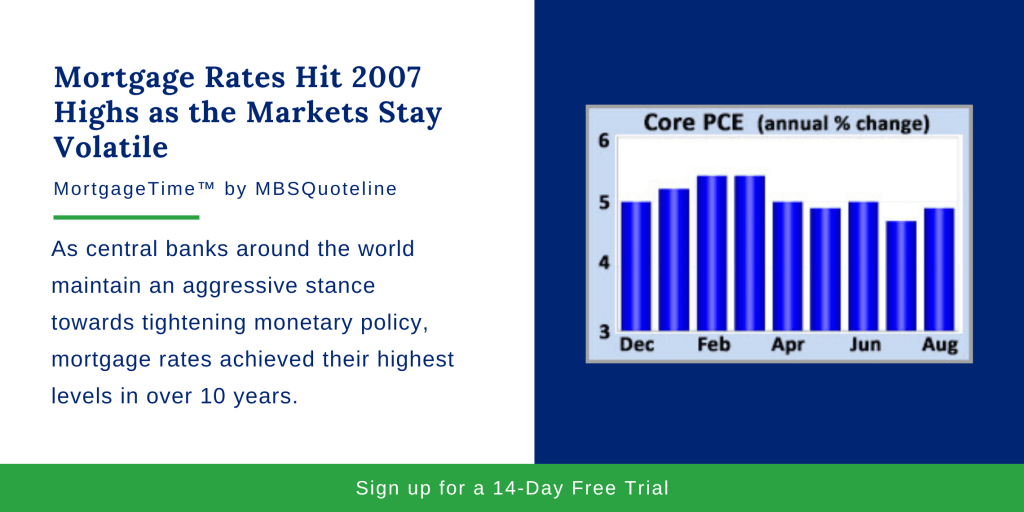 United Kingdom Passes New Tax Cuts and Spending Measures
While the United States deals with mortgage rates hitting 2007 highs, the United Kingdom faces inflationary pressures of their own. With the conflict in Ukraine driving energy costs upward and most prices rapidly rising, the UK government passed new tax cuts and spending measures.
Investors reacted to the inflationary implications of this increased deficit spending by pushing global bond yields higher. On Wednesday, the Bank of England announced its plans to temporarily purchase bonds in an effort to stabilize financial markets. This unexpected increase in demand for bonds caused yields to fall back to roughly the levels seen prior to the fiscal policy change.
PCE Price Index Rose 4.9% Year-Over-Year
Notably, the Federal Reserve favors the PCE price index as its inflation indicator. Overall, the PCE price index adjusts for changes in consumer preferences over time. In August 2022, core PCE increased 4.9% from a year ago. While this statistic exceeded the consensus, it also dropped from a peak of 5.4% in February.
For comparison, the annual rate of increase dipped below the Fed's target level of 2.0% during the first three months of 2021. Now, investors question how quickly the Fed's aggressive monetary policy tightening will bring down inflation.
Looking Ahead After Mortgage Rates Hit 2007 Highs
After mortgage rates hit 2007 highs, investors hope for more specific guidance from the Fed on the pace of future rate hikes. In addition, investors seek insights into the Fed's bond portfolio reduction.
Next week, the ISM national manufacturing sector index comes out on Monday. Later, the ISM national services sector index releases on Wednesday. Finally, the key Employment report publishes on Friday. The Employment report's figures on the number of jobs, the unemployment rate, and wage inflation represent the most highly anticipated economic data of the month.
---
Despite the United Kingdom generated a slight net effect for mortgage markets, mortgage rates hit 2007 highs. Never miss an update with MBSQuoteline. To receive by-the-minute updates on mortgage-backed securities, try our platform free for 14 days.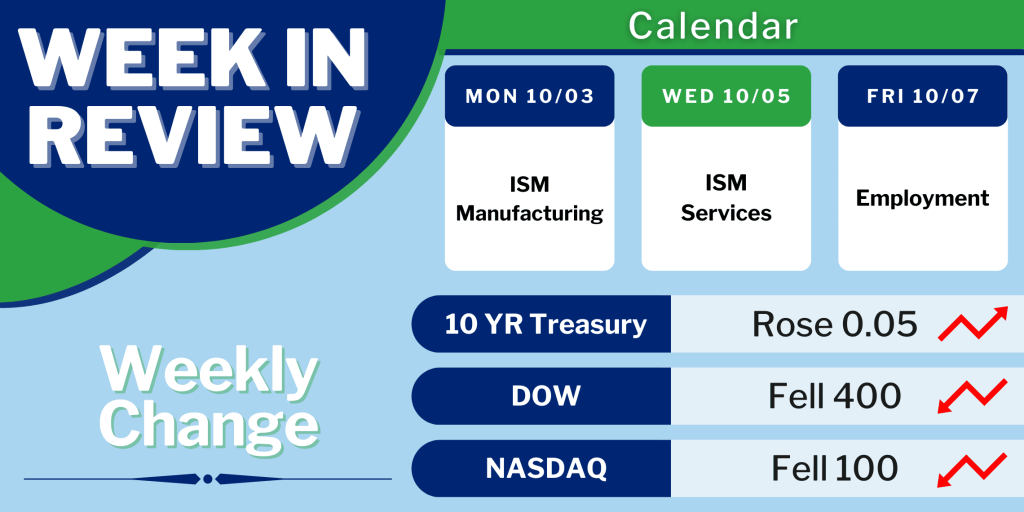 Stay connected with MBSQuoteline on social media by following us on Facebook, Twitter, and LinkedIn.
All material Copyright © Ress No. 1, LTD (DBA MBSQuoteline) and may not be reproduced without permission. To learn more about the MortgageTime™ newsletter, please contact MBSQuoteline at 800.627.1077 or info@mbsquoteline.com.