This week, Wednesday's CPI inflation report display stronger than expected results. Meanwhile, the other major economic data reflected mixed feedback. As a result, mortgage rates ended the week slightly higher.
Wednesday's CPI Inflation Report Showed 9.1% Gain
Analysts closely watch the Consumer Price Index (CPI) report for inflation indications. Overall, Wednesday's CPI inflation report looks at price changes for a broad range of goods and services.
In June 2022, CPI rose 9.1% higher than a year ago. Not only did this jump up from 8.6% last month, it marks the biggest annual rate of increase since 1981. Annual food and energy price reflected the largest gains in decades.
Core CPI excludes the volatile food and energy components and provides a clearer picture of the longer-term trend. In June, Core CPI increased 5.9% higher than a year ago. While Core CPI declined from an annual rate of increase of 6.0% last month, it remains far above the readings around 2.0% seen early in 2021.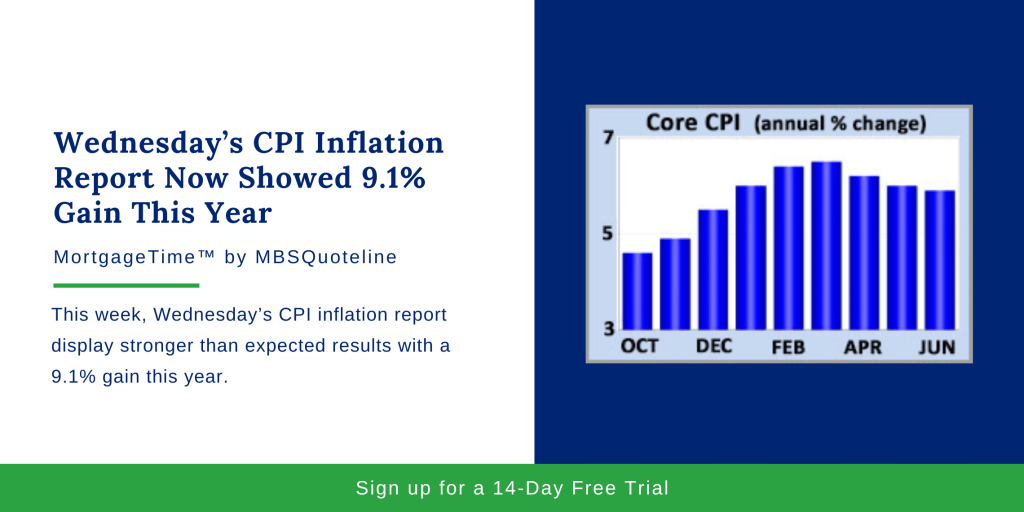 Understanding Wednesday's CPI Inflation Report
As the economy steadily recovered from the pandemic, Wednesday's CPI inflation report showed the impact of numerous circumstances. As a matter of fact, strong consumer demand, supply constraints, and surging commodity prices pushed prices much higher for a wide range of goods and services.
More so, the conflict in Ukraine and COVID-induced shutdowns in China worsened shortages for many key items. Over time, analysts expect that supply chain disruptions will ease.
Additionally, the Federal Reserve plans to continue tightening its economic policy. Thus, inflationary pressures should lighten up. However, experts remain unclear on the timeframe. Of note, energy and commodity prices declined sharply in recent weeks, which will be reflected in the July data.
Examining Consumer Spending & the Federal Reserve Comments
Aside from Wednesday's CPI inflation report, the latest retail sales data came out. Since consumer spending accounts for over two-thirds of U.S. economic activity, it is an important indicator of the health of the economy. In June 2022, retail sales rose 1.0% from May, a little higher than expected.
The furniture industry, bars, and restaurants showed particular strength. Note that retail sales are not adjusted for inflation, so higher prices accounted for some of the gains seen in June.
This week, comments from Federal Reserve officials ignited a debate about the size of the next federal funds rate increase. When asked if a 100-basis point rate hike was possible at the next meeting on July 27, the Fed's Bostic replied that "everything is in play." However, other officials expressed reluctance for a rare move of that magnitude. Now, investors split nearly evenly between expecting a 75 or a 100-basis point increase.
Looking Ahead After the Latest CPI Report
After Wednesday's CPI inflation report, investors continue to look for additional Federal Reserve guidance on the pace of future rate hikes. Also, investors seek feedback on the next moves towards the reduction of the Federal Reserve's bond portfolio.
Beyond that, Housing Starts release Tuesday. Later Existing Home Sales come out on Wednesday. Lastly, the next European Central Bank meeting takes place on Thursday while the next U.S. Federal Reserve meeting occurs on July 27th.
---
With the release of Wednesday's CPI inflation report, mortgage rates ended the week slightly higher. Never miss an update with MBSQuoteline. To receive by-the-minute updates on mortgage-backed securities, try our platform free for 14 days.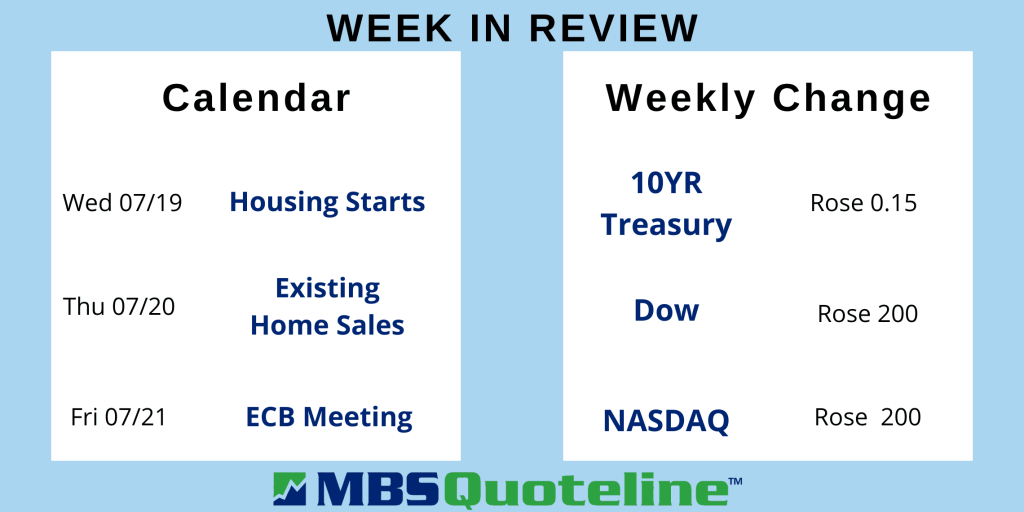 Stay connected with MBSQuoteline on social media by following us on Facebook, Twitter, and LinkedIn.
All material Copyright © Ress No. 1, LTD (DBA MBSQuoteline) and may not be reproduced without permission. To learn more about the MortgageTime™ newsletter, please contact MBSQuoteline at 800.627.1077 or info@mbsquoteline.com.