With the release of the April 2022 Core CPI data, inflation began to ease. Falling roughly in line with expectations, the modest inflation decline allowed mortgage rates to stabilize.
After rising steadily for months, mortgage rates paused this week. Later, rates moved a little lower. Although rates decreased slightly, the effect may be temporary.
April 2022 Core CPI Heads Downwards
Analysts closely watch the Consumer Price Index (CPI). CPI looks at price changes for a broad range of goods and services. Core CPI excludes the volatile food and energy components. Also, Core CPI provides a clearer picture of the longer-term trend.
As of the latest report, April 2022 Core CPI rose 6.2% higher than a year ago. However, this declined from an annual rate of increase of 6.5% last month (the highest level since 1982). Overall, April 2022's data remained far above the readings around 2.0% seen early in 2021.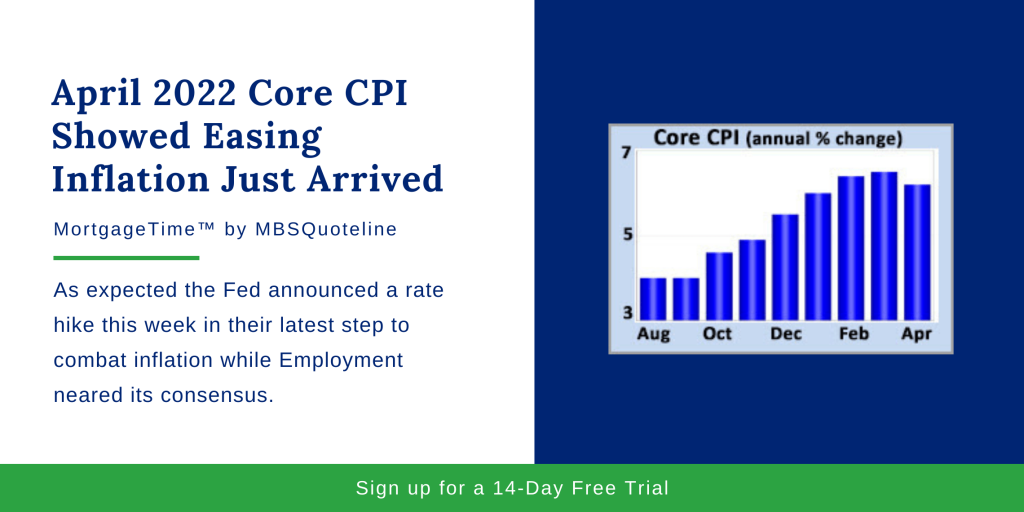 April 2022 Core CPI Signifies Easing Inflationary Pressures
As the economy steadily recovered from the pandemic, strong consumer demand, supply constraints, and surging commodity prices have pushed prices much higher for a wide range of goods and services. On the other hand, the ongoing conflict in Ukraine worsened item shortages. In addition, the recent economic shutdowns in China further exhausted the supply chain many key items.
As seen in the April 2022 Core CPI report, inflation decreased in its annual rate of growth. Over time, supply chain disruptions will ease. Moreover, the Federal Reserve tightened its balance sheet to counteract inflationary pressures. That said, investors debate how quickly this will occur.
MBA Forecasts 35% Decline in Total Mortgage Originations
Higher mortgage rates took a large toll on mortgage application volumes this year. According to the latest data from the Mortgage Bankers Association (MBA), average 30-year fixed rates jumped over 2.0% higher than a year ago. Although purchase applications climbed slightly from last week, they declined 8% from last year at this time. Beyond that, loan refinance applications plunged a shocking 72% from one year ago.
While the April 2022 Core CPI data showed easing inflation, the Mortgage Bankers Association forecasts lower originations in 2022. As a matter of fact, the MBA anticipates a massive 35% decline in total mortgage originations this year. Analysts attribute this to the lack of refinancing activity.
Looking Ahead After April 2022 Core CPI Data
After the release of the April 2022 Core CPI data, investors look for additional guidance from the Federal Reserve. Specifically, investors seek insight on the pace of future rate hikes and bond portfolio reduction. Of course, investors also continue to closely follow news on Ukraine and COVID-19 case counts in China.
Next week, Retail Sales comes out on Tuesday. Consumer spending accounts for over two-thirds of the United States' economic activity. Thus, retail sales indicate economic health. Later, Housing Starts releases on Wednesday and Existing Home Sales publishes on Thursday.
---
As the April 2022 Core CPI reporting reflected an easing of inflation, mortgage rates dropped slightly lower. Never miss an update with MBSQuoteline. To receive by-the-minute updates on mortgage-backed securities, try our platform free for 14 days.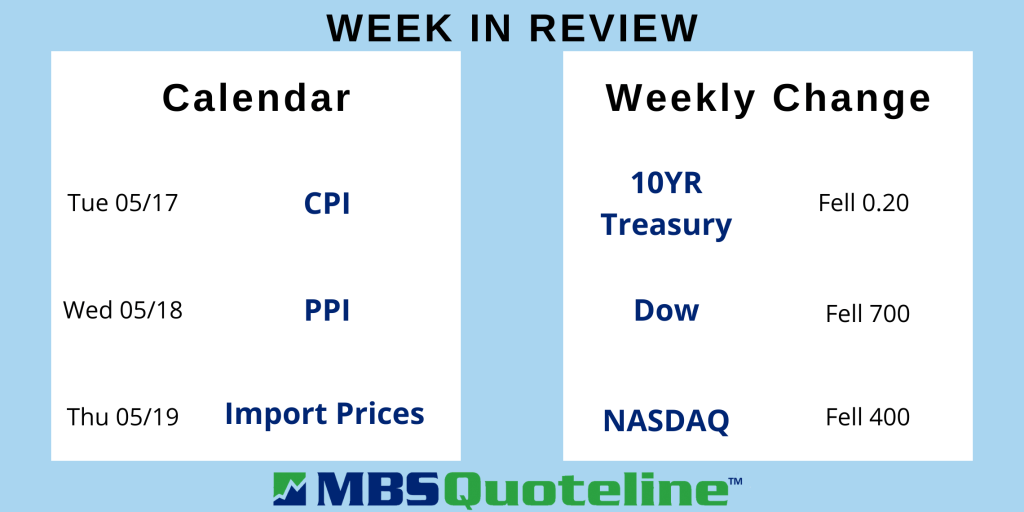 Stay connected with MBSQuoteline on social media by following us on Facebook, Twitter, and LinkedIn.
All material Copyright © Ress No. 1, LTD (DBA MBSQuoteline) and may not be reproduced without permission. To learn more about the MortgageTime™ newsletter, please contact MBSQuoteline at 800.627.1077 or info@mbsquoteline.com.