This week, the key Employment report revealed enormous job gains for the United States labor market. After stronger than expected labor market data and the latest European bank meetings, mortgage rates faced a negative impact. As a result, rates climbed to the highest levels since early 2020.
Enormous Job Gains Headline Friday's Employment Report
Investors closely watch the monthly Employment report. And the latest did not disappoint. Friday's Employment report exceeded expectations in nearly every area, headlined by enormous job gains.
Against a consensus forecast of 150,000, the economy gained 467,000 jobs in January. Also, revisions added a massive 709,000 jobs to the figures for prior months. Despite the surge in COVID-19 cases, the leisure and hospitality sector realized particular strength, gaining 151,000 jobs.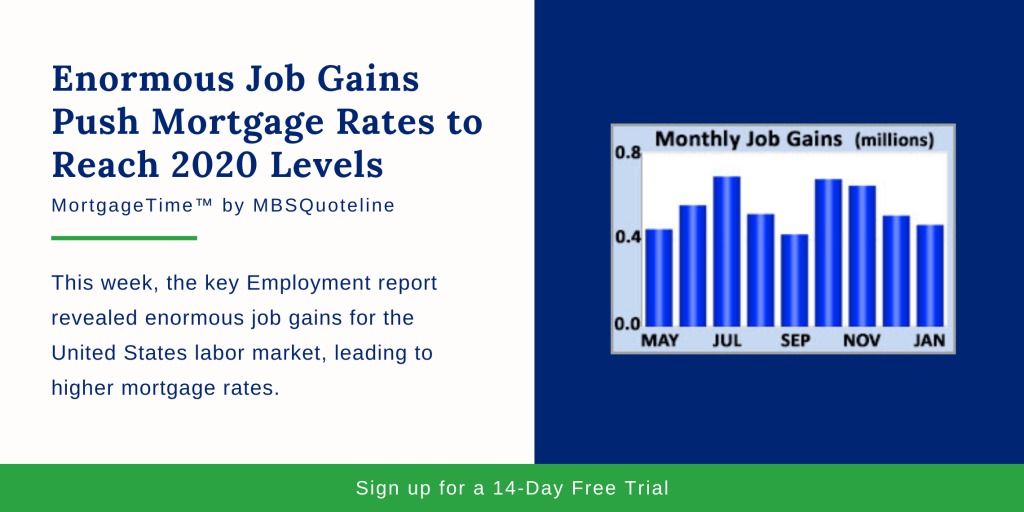 Enormous Job Gains Accompany Higher Average Hourly Earnings
In addition to the enormous job gains, the Employment report revealed the latest figures for the unemployment rate and average hourly earnings. First, the unemployment rate unexpectedly increased from 3.9% to 4.0%. However, analysts mostly attribute this to a huge number of people returning to the labor force in January, a sign of strength.
Secondly, average hourly earnings rose an 5.7% higher than a year ago, up from 5.0% last month. Overall, average hourly earnings act as an indicator for wage growth throughout the U.S. labor market. In short, the labor market remains extremely tight, and analysts anticipate a short-term impact from the Omicron variant. Since stronger economic growth raises the outlook for future inflation, this report generated an unfavorable impact on mortgage rates.
Institute of Supply Management Posts Declines Due to Supply Chain
While the labor market saw enormous job gains, the manufacturing sector posted declines. In the latest news from the Institute of Supply Management (ISM), the manufacturing sector saw declines, but remained at historical high levels.
The National Service Sector Index came in at 59.9. Simultaneously, the National Manufacturing Index hit 57.6. Levels above 50 indicate that the sectors are expanding, and readings above 60 are rare. Conclusively, supply chain disruptions due to the pandemic create a greater impact for manufacturing companies than on service providers.
European Central Bank
Beyond that enormous job gains and manufacturing declines, the latest European bank meetings took place on Thursday. While their actions were different, both leaned more strongly in favor of tighter monetary policy than expected. Following its first 25 basis point rate hike in December, the Bank of England (BOE) raised rates by 25 basis points again this week.
By contrast, the European Central Bank (ECB) held rates steady, despite record high inflation in January. However, comments made during the press conference caused investors to anticipate a rate hike as soon as the next meeting in March, much earlier than the outlook prior to the meeting. Global bond yields, including US mortgage rates, moved higher on Thursday due to the prospect of tighter monetary policy in Europe.
Looking Ahead After Labor Market Sees Enormous Job Gains
After the labor market saw enormous job gains, investors continue to closely follow news related to the Omicron variant. Additionally, investors look for additional Fed guidance on the pace of future rate hikes and balance sheet reduction.
Beyond that, next week features few new reports. Thus, investors concentrate their attention on Thursday's Consumer Price Index (CPI) data. Because CPI looks at the price changes for a broad range of goods and services, investors see it as the highlight of the week.
---
After the enormous job gains, mortgage rates hit their highest levels since 2020. Never miss an update with MBSQuoteline. To receive by-the-minute updates on mortgage-backed securities, try our platform free for 14 days.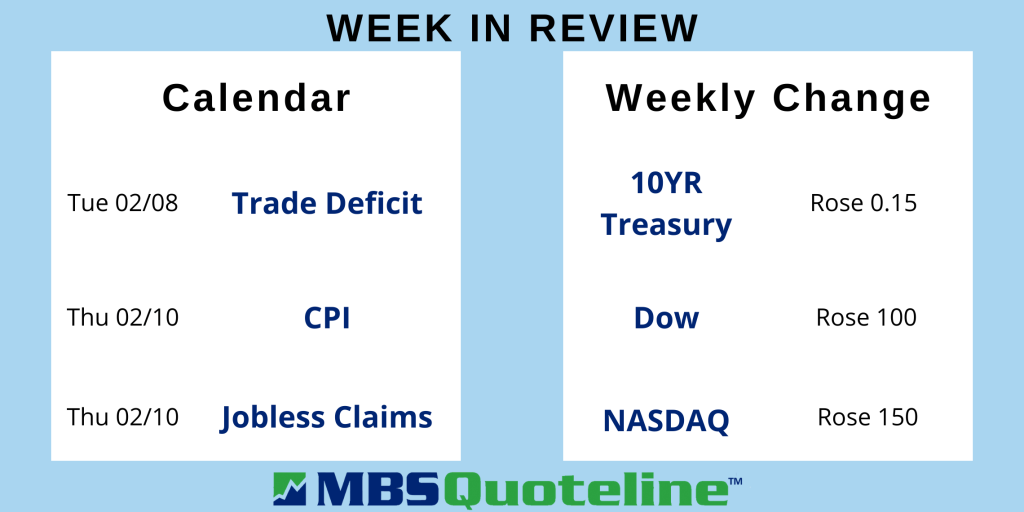 Stay connected with MBSQuoteline on social media by following us on Facebook, Twitter, and LinkedIn.
All material Copyright © Ress No. 1, LTD (DBA MBSQuoteline) and may not be reproduced without permission. To learn more about the MortgageTime™ newsletter, please contact MBSQuoteline at 800.627.1077 or info@mbsquoteline.com.