Capping off last year, the United States experienced strong 2021 home sales. After 2020's onset of the coronavirus pandemic, home sales notoriously plummeted in a sluggish real estate year. That said, 2021 represented a return to form for the real estate market.
Aside from that, last week did not reveal any major economic news. Thus, investor outlook remained the same regarding growth and inflation. While mortgage markets experienced daily volatility, mortgage rates ended the week with little change.
Strong 2021 Home Sales Led U.S. to Best Year Since 2006
After three impressive months, sales of existing homes unexpectedly dipped in December 2021. Overall, existing home sales fell 5% from November. However, the year still reflected strong 2021 home sales. In fact, existing home sales rose 8.5% higher than their 2020 numbers. In doing so, existing home sales achieved their best year since 2006.
On an optimistic note, the median existing-home price increased 16% higher than last year at this time, reaching $358,000. Also notable, the home sales mix changed. Sales of homes priced between $100,000 and $250,000 declined 23% lower than a year ago. As previously mentioned, rising home prices and stiff investor-induced competition increased the difficulty for prospective home buyers. Analysts noted this trend to be especially true at the lower end of the market. By contrast, sales of homes priced between $750,000 and $1,000,000 jumped 32% during that same period.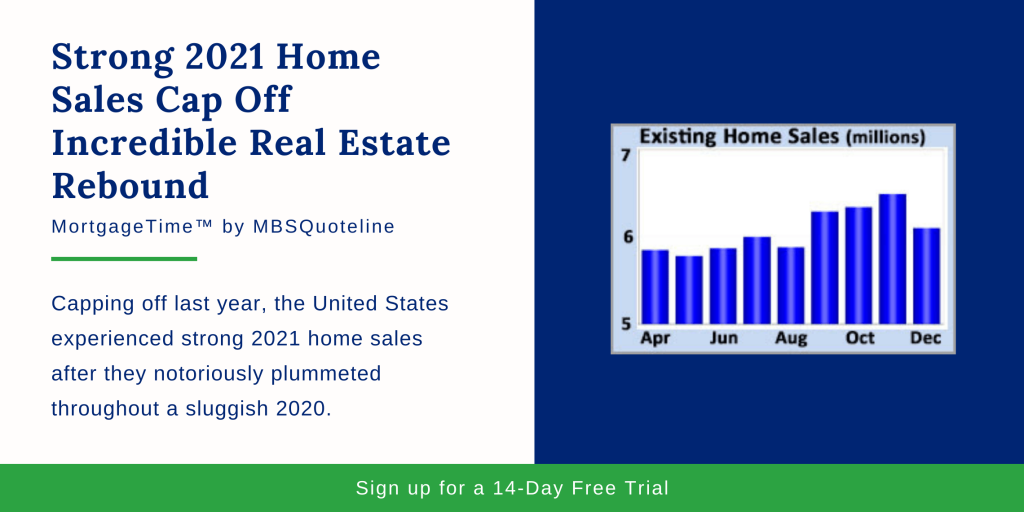 Strong 2021 Home Sales Still Faced Limited Housing Inventory
Aside from the strong 2021 home sales, the U.S. real estate market still faces limited housing inventory. Home inventory levels declined 14% from the prior year in December 2021. Currently, home inventory sits at just a 1.8-month supply. Analysts consider a 6-month supply to indicate a healthy balance between buyers and sellers. With home inventory dropping to 1.8 months, inventory plummeted to a record-low level.
With the shortage of available homes in many areas, investors closely examined the monthly reports on housing starts. Overall, the most recent data came off as encouraging. In December 2021, housing starts unexpectedly increased from November to the best level since March. Not only that, housing starts reached their strongest year since 2006.
In addition, the number of single-family housing units under construction skyrocketed to its highest level in almost 15 years. Building permits indicate future home construction activity. As a matter of fact, December's building permits beat the consensus forecast, rising to their best level since January 2021. Looking forward, prices and shortages for land, materials, and skilled labor presented obstacles to a faster pace of construction.
Looking Ahead
After the strong 2021 home sales, investors closely follow news on the Omicron variant. Next week's big event comes in the form of Wednesday's Federal Reserve meeting. Investors look for additional guidance on the timing for future rate hikes and balance sheet reduction.
Beyond that, Fourth-Quarter Gross Domestic Product (GDP) comes out on Thursday. GDP displays the broadest measure of economic activity. Finally, the Core PCE price index releases on Friday. Conclusively, the Federal Reserve favors the Core PCE as its go-to inflation indicator.
---
After strong 2021 home sales, mortgage rates saw some daily volatility. Never miss an update with MBSQuoteline. To receive by-the-minute updates on mortgage-backed securities, try our platform free for 14 days.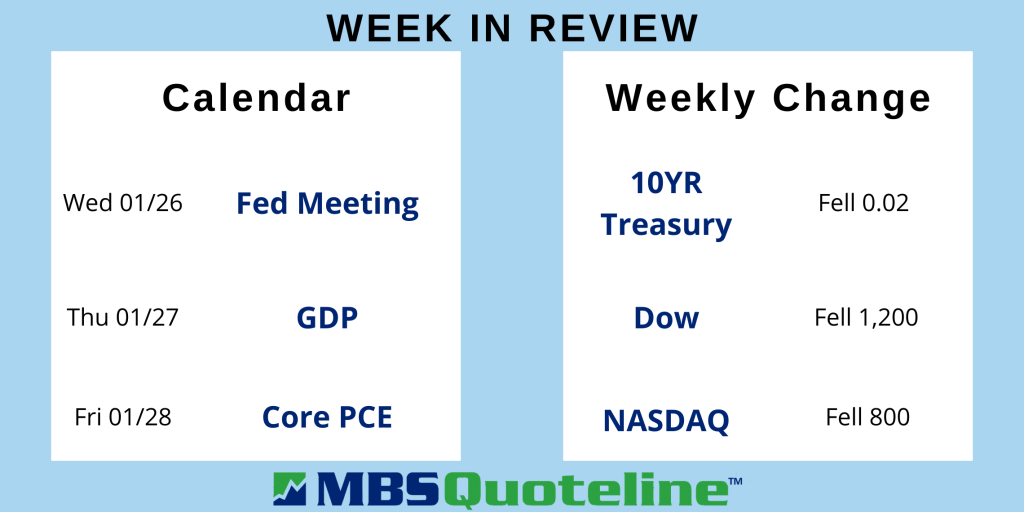 Stay connected with MBSQuoteline on social media by following us on Facebook, Twitter, and LinkedIn.
All material Copyright © Ress No. 1, LTD (DBA MBSQuoteline) and may not be reproduced without permission. To learn more about the MortgageTime™ newsletter, please contact MBSQuoteline at 800.627.1077 or info@mbsquoteline.com.