This week, mortgage rates fluctuate unbelievably in the wake of Wednesday's Fed meeting. This fluctuation included their largest movement in sometime. Thursday noticeably presented major losses in mortgage-backed securities after a delayed reaction to the week's Fed meeting and comments. Basically, stocks soared, while bonds and mortgage-backed securities plummeted.
Despite this development, the rest of the week showed no significant surprises. Ending the week, bonds received a negative reaction to the Fed meeting, overall. Thus, mortgage rates ended the week higher.
Mortgage Rates Fluctuate Unbelievably
To help ease the impact of the pandemic, the Fed placed extraordinary monetary policy measures. These policy measures included last year's bond purchases and rate cuts. With the solid economic recovery, officials said it is almost time to remove the stimulus. Essentially, the Fed wants to scale back to curb rising inflation.
Against this backdrop, investors primarily sought guidance in two areas. First, when will the Fed taper its massive bond purchase program? Based on the meeting, investors expect that it will begin to scale back (taper) its bond buying in either November or December of this year. According to the meeting statement, "a moderation in the pace of asset purchases may soon be warranted."
Second, when will the Fed begin to raise the federal funds rate? Doing so represents a more significant policy change than tapering. Of the eighteen officials, nine currently think that the first rate hike will take place in 2022 and nine in 2023. This is a slightly faster timeline on average than in the prior set of projections.
After Wednesday's Fed meeting, these comments saw mortgage rates fluctuate unbelievably. Again, the fluctuation included the largest MBS losses in sometime before ending the week on a higher note.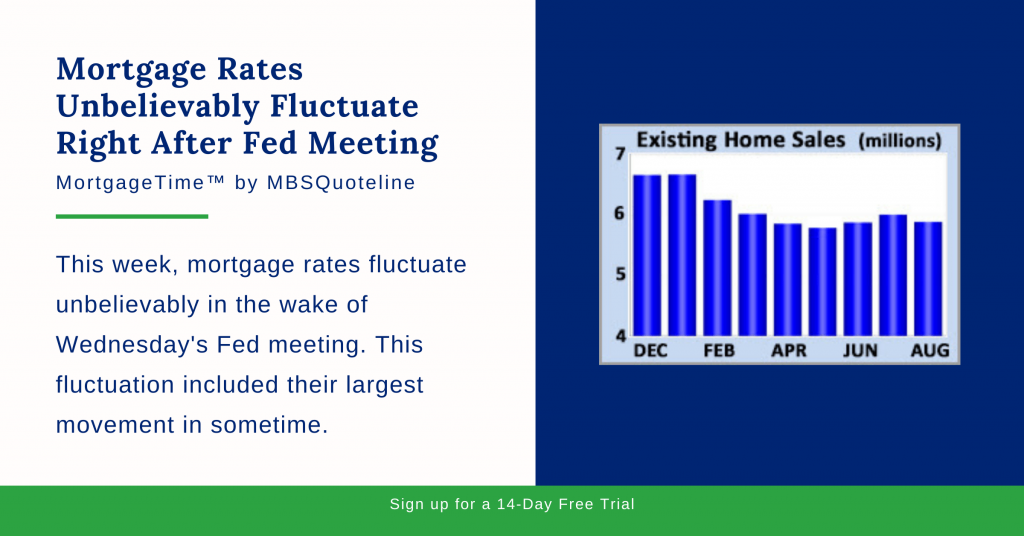 Multi-Family Units Strengthen Housing Starts
In August 2021, existing home sales fell 2% from July, matching expectations. The median existing-home price ($356,700) rose 15% higher than last year at this time. Inventory levels dropped 13% from a year ago. Housing inventory sits at just a 2.6-month supply nationally, well below the 6-month supply. Analysts consider a 6-month supply to be a healthy balance between buyers and sellers.
Given the critical need for more homes in many areas, investors closely watched the monthly reports on housing starts. The latest data contained mixed news. In August 2021, overall housing starts rose 4% from July, well above the consensus forecast. However, housing start strength stemmed entirely in multi-family units. Single-family starts declined from July. Rising prices and shortages for land, materials, and skilled labor remained obstacles to a faster pace of construction.
Looking Ahead After Mortgage Rates Fluctuate Unbelievably
Looking ahead after mortgage rates fluctuate unbelievably, investors closely monitor global COVID-19 cases. They also look for hints from Fed officials about the timing for changes in monetary policy.
Beyond that, Durable Orders come out on Monday. Also, the core PCE price index releases on Friday. Generally, the Fed favors core PCE as its go-to inflation indicator. The ISM national manufacturing index, Personal Income, and Construction Spending also comes out on Friday. The key Employment report releases on October 8th.
---
Want to see how mortgage-backed securities are impacted when mortgage rates fluctuate unbelievably? Never miss an update with MBSQuoteline. To receive by-the-minute updates on mortgage-backed securities, try our platform free for 14 days.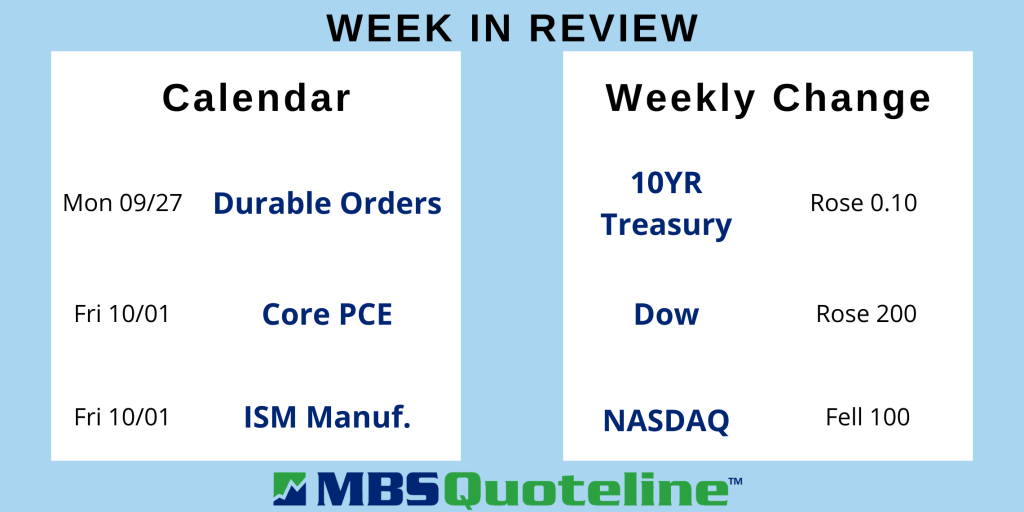 Stay connected with MBSQuoteline on social media by following us on Facebook, Twitter, and LinkedIn.
All material Copyright © Ress No. 1, LTD (DBA MBSQuoteline) and may not be reproduced without permission. To learn more about the MortgageTime™ newsletter, please contact MBSQuoteline at 800.627.1077 or info@mbsquoteline.com.