In a really surprising week, analysts saw retail sales jump far above the consensus. On the other hand, Consumer Price Index failed to reach the consensus for another significant surprise.
Overall, the stronger-than-expected consumer spending modestly outweighed lower-than-expected inflation. Thus, mortgage rates ended the week a little higher.
Retail Sales Jump with Back-to-School Consumer Spending
Consumer spending accounts for over two-thirds of U.S. economic activity. Therefore, retail sales data is a key indicator of growth.
August 2021 saw retail sales jump 0.7% from July. This result far exceeded the consensus for a decline of -0.8%. However, analysts revised July 2021's retail sales results to be lower. Additionally, sales surged an impressive 15% higher than a year ago.
Economically, analysts noticed particular strength in department store and furniture sales. Meanwhile, auto sales appeared weak. The consensus attributes weak auto sales to a lack of inventory resulting from chip shortages.
Investors grew increasingly concerned in recent months about the effect of the spread of COVID-19 on consumer behavior. Having said that, the latest consumer spending report suggests that there is plenty of firepower available for shopping during the key back-to-school season.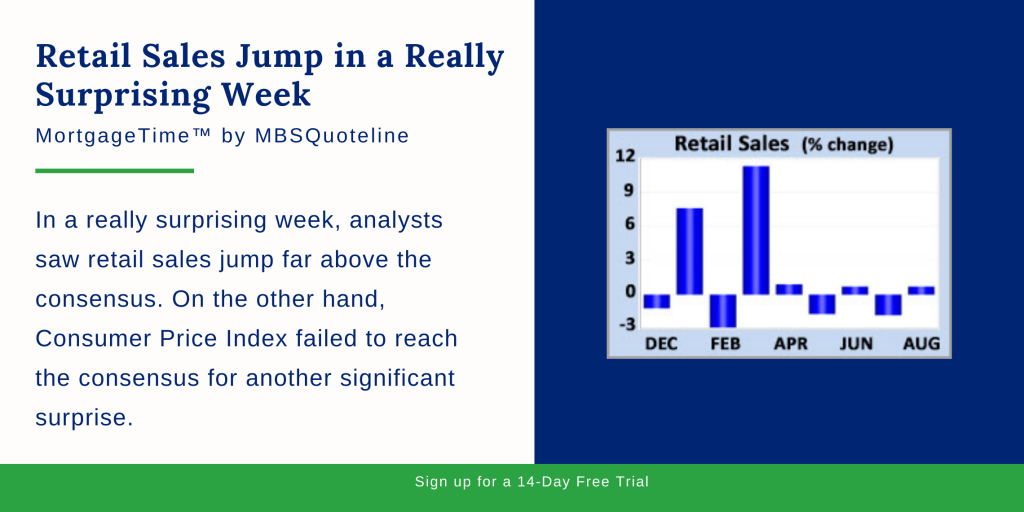 Consumer Price Index Reflects Slower Growth Pace
Aside from the retail sales jump, investors closely watched Consumer Price Index (CPI). Generally, CPI indicates inflation, looking at price changes for a broad range of goods and services. Core CPI excludes the volatile food and energy components. Also, core CPI provides a clearer picture of the longer-term trend.
In August 2021, Core CPI rose 4.0% higher than a year ago. That said, the 4.0% growth actually climbs less than anticipated. In addition, core CPI fell from an annual rate of increase of 4.5% in June 2021. June 2021's 4.5% annual rate of increase has not been seen 1991.
Fed officials and economists are divided about the inflation outlook. Some believe the recent spike in the annual inflation rate is mostly due to temporary factors caused by the pandemic. Others feel that the higher inflation will last for a long time. The latest report supports the former view.
Looking Ahead After Retail Sales Jump
Looking ahead after retail sales jump, investors closely watch global COVID-19 cases. Beyond that, Housing Starts release on Tuesday. Existing Home Sales comes out on Wednesday. New Home Sales publish on Friday.
Finally, the next Fed meeting takes place on Wednesday. Investors search for guidance about the timing for changes in monetary policy.
---
Want to see how mortgage-backed securities are impacted when retail sales jump? Never miss an update with MBSQuoteline. To receive by-the-minute updates on mortgage-backed securities, try our platform free for 14 days.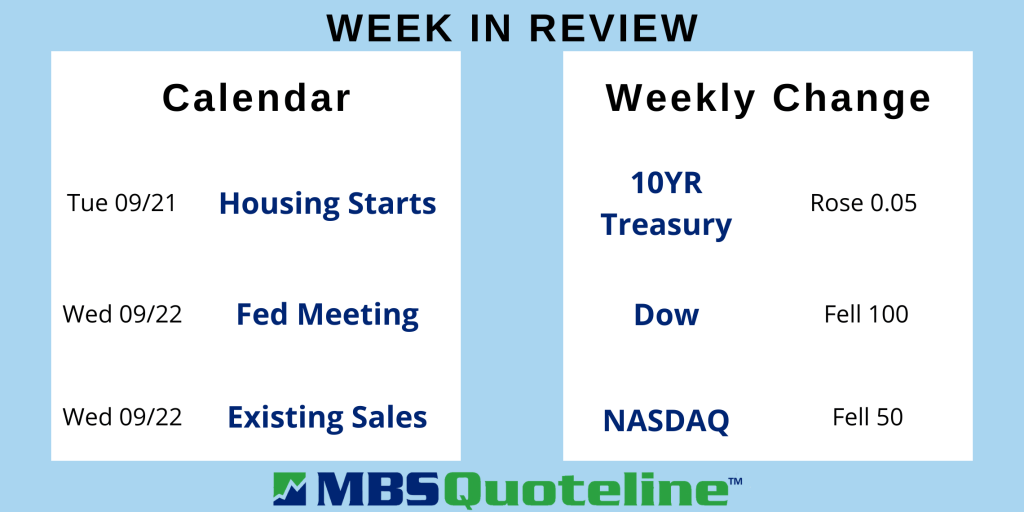 Stay connected with MBSQuoteline on social media by following us on Facebook, Twitter, and LinkedIn.
All material Copyright © Ress No. 1, LTD (DBA MBSQuoteline) and may not be reproduced without permission. To learn more about the MortgageTime™ newsletter, please contact MBSQuoteline at 800.627.1077 or info@mbsquoteline.com.