The latest data shows that inflation continues its epic climb while home sales rapidly recover across the country. However, there was little economic news this week. As a result, the outlook on economic growth and future Fed policy remains stagnant. Thus, mortgage rates ended the week nearly unchanged.
Inflation Continues Its Epic Climb
As stated before, the Fed favors the core PCE price index as its go-to inflation indicator. The latest core PCE data shows that inflation continues its epic climb, alongside the economic rebound.
The Fed stated that their core PCE target is 2.0%. In May 2021, core PCE rose 3.4% higher than a year ago. While this is slightly below the consensus forecast, core PCE jumped up from an annual rate of increase of 3.1% in April.
Conclusively, core PCE realized its highest annual rate since 1992. Economists expected readings of this magnitude throughout the recovery process. Ultimately, economists differ on whether higher inflation will be a temporary spike or persist for years.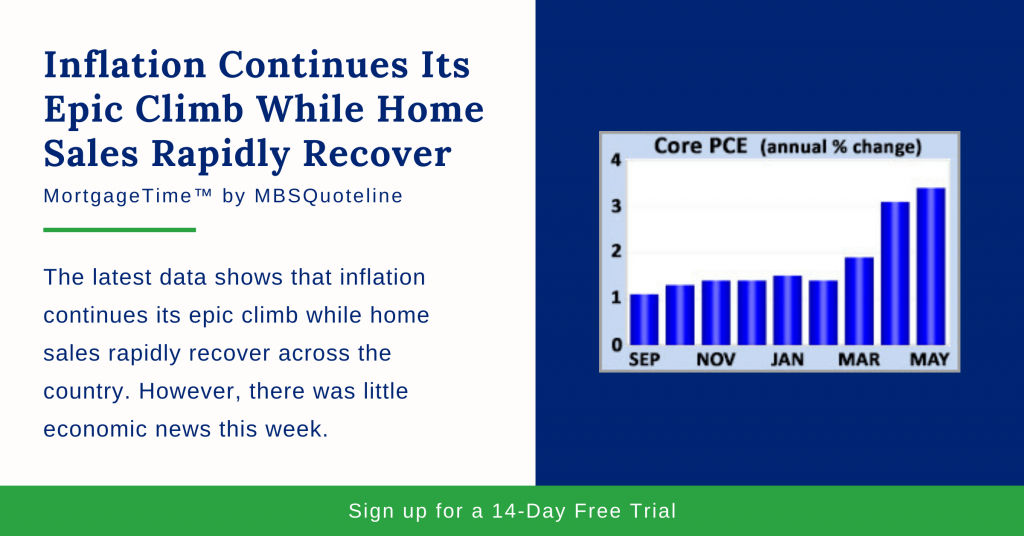 Home Sales Rapidly Recover
Home sales rapidly recover after last year's partial economic shutdown. The current pace exceeds expectations as home sales remain at extremely high levels.
However, they home sales saw several straight months of small declines from their peak. Analysts primarily attribute this performance to a lack of inventory in many regions.
In May, existing home sales fell 1% from April. That said, home sales stayed 45% higher than a year ago during the pandemic.
The median existing-home price was 24% higher than last year at this time, hitting a new record of $350,300. Inventory levels dropped 21% from a year ago, at just a 2.5-month supply nationally. A 2.5-month supply is notoriously below the 6-month supply (a healthy balance between buyers and sellers).
New home sales also faced a tough month. In May, new home sales fell 6% from April to the lowest level since May of last year. In general, home supply dictates the pace the pace of both new and existing sales.
Looking Ahead as Inflation Continues Its Epic Climb
Looking ahead as inflation continues its epic climb, investors closely watch for Fed comments hinting at monetary policy changes. Meanwhile, the ISM national manufacturing index will come out on Thursday.
Beyond that, the monthly Employment report releases on Friday. The monthly employment figures contain data on the number of jobs, the unemployment rate, and wage inflation. Investors and analysts highly eagerly await the latest results.
---
Want to see how mortgage-backed securities change as inflation continues its epic climb? Never miss an update with MBSQuoteline. To receive by-the-minute updates on mortgage-backed securities, try our platform free for 14 days.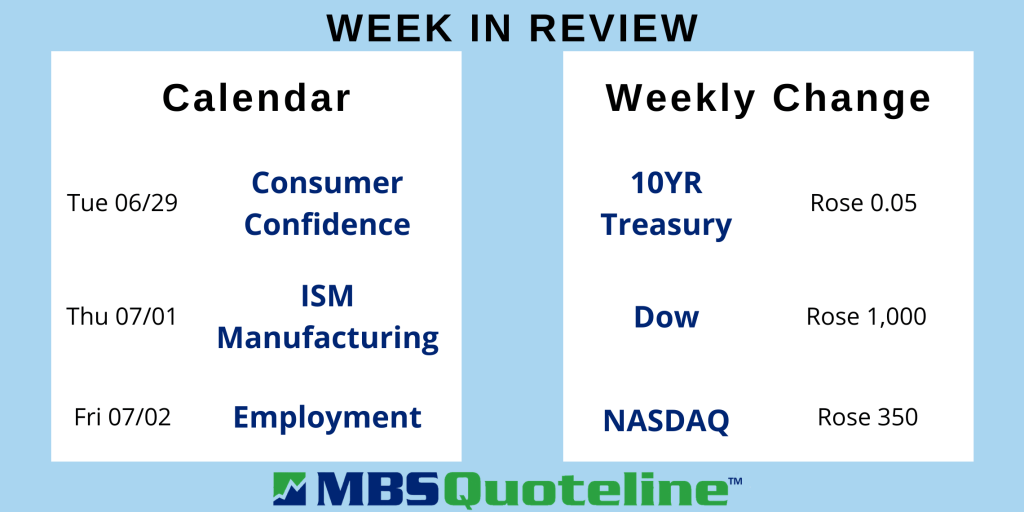 Stay connected with MBSQuoteline on social media by following us on Facebook and LinkedIn.
All material Copyright © Ress No. 1, LTD (DBA MBSQuoteline) and may not be reproduced without permission. To learn more about the MortgageTime™ newsletter, please contact MBSQuoteline at 800.627.1077 or info@mbsquoteline.com.