This week, the Fed surprised investors with a new projection, driving rising mortgage rates. Coming into the week, investors laser-focused on Wednesday's Fed meeting.
During the discussion, the Fed released an unexpectedly hawkish statement. The meeting culminated in a lengthy period of extreme volatility. When the dust settled, mortgage rates ended moderately higher.
The Fed Surprised Investors
As expected, the Fed did not change the federal funds rate. Also, The Fed did not adjust the size of its monthly bond purchases.
However, many officials changed their projections on the outlook for future monetary policy. The rapid economic improvement and resulting inflation rise fueled this change. In doing so, the Fed surprised investors.
Thirteen out of eighteen officials anticipate that the Fed will begin raising the federal funds rate before the end of 2023. This number soared upwards from just seven in the prior set of forecasts in March.
Ultimately, this unexpected time frame shift for rate hikes caught investors off guard. Last year, loose monetary policy helped mortgage rates decline to record-low levels. Comparably, the news of tighter policy spiked an increase in mortgage rates.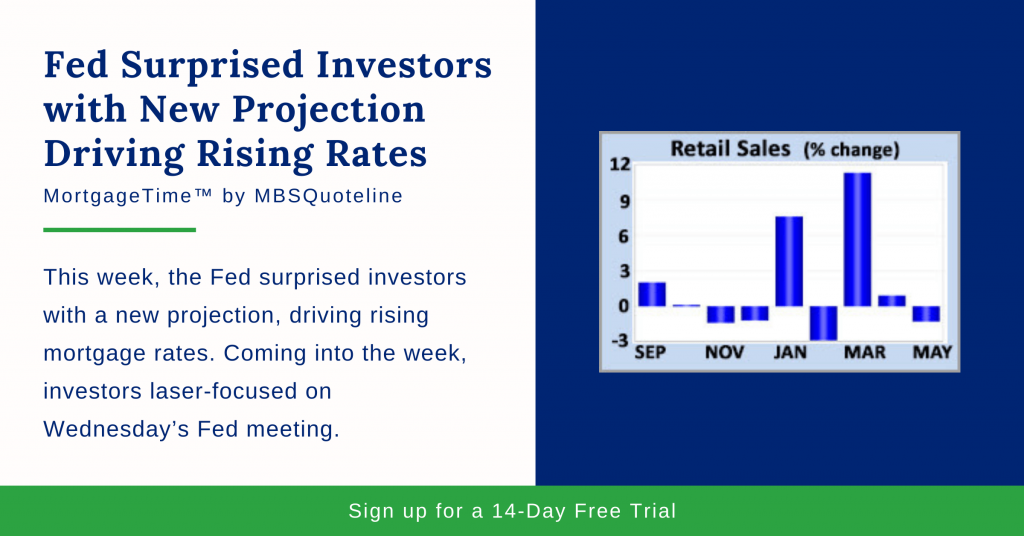 Bullard's Thoughts on How the Fed Surprised Investors
The first Fed official to speak publicly after the meeting was James Bullard. His comments on Friday also were more hawkish than expected.
Bullard emphasized that the reopening of the economy has been stronger than he anticipated. Of course, this is great news.
"If that's what you think is going to happen, then by the time you get to the end of 2022, you'd already have two years of two-and-a-half to 3% inflation," he said. "To me, that would meet our new framework where we said we're going to allow inflation to run above target for some time, and from there we could bring inflation down to 2% over the subsequent horizon."
However, he noted that with this comes increased inflationary pressures. Thus, the Fed may need to tighten sooner. He said that he thinks the first rate hike possibly could take place by the end of 2022.
Retail Sales Met Expectations
Before the Fed surprised investors, the monthly Retail Sales report released on Tuesday. Overall, analysts viewed the Retail Sales report as the most significant economic data released this week. The report met expected levels. In conclusion, retail sales made little impact.
In May, retail sales fell 1.3% from April. This statistic dropped below the consensus forecast. However, analysts revised April results to be higher. This offset the May retail sales shortfall.
May's retail sales decline does not reflect a drop in overall consumer spending. Rather, consumers shifted their spending habits. Spending habits transitioned from goods, which are included in retail sales, to services such as dining out and travel, which are not.
Looking Ahead After the Fed Surprised Investors
Looking ahead after the Fed surprised investors, analysts still watch global COVID-19 case counts and vaccine distribution. Beyond that, Existing Home Sales comes out on Tuesday. New Home Sales releases on Wednesday.
Finally, the core PCE price index comes out on Friday. The Fed favors core PCE as their go-to inflation indicator.
---
Want to see how the Fed surprising investors impacts mortgage-backed securities? Never miss an update with MBSQuoteline. To receive by-the-minute updates on mortgage-backed securities, try our platform free for 14 days.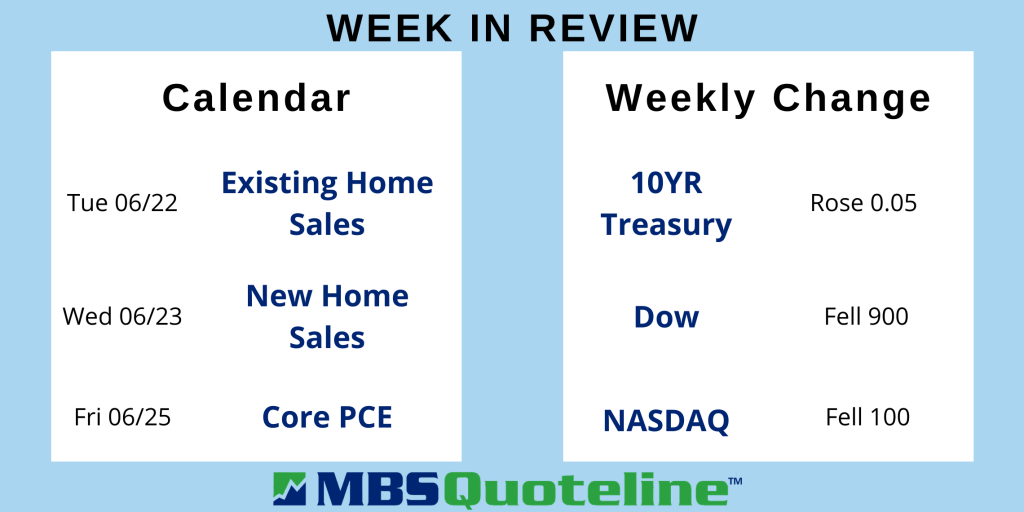 Stay connected with MBSQuoteline on social media by following us on Facebook and LinkedIn.
All material Copyright © Ress No. 1, LTD (DBA MBSQuoteline) and may not be reproduced without permission. To learn more about the MortgageTime™ newsletter, please contact MBSQuoteline at 800.627.1077 or info@mbsquoteline.com.