Friday's labor report illustrated good hospitality job gains after a rough 2020. Overall, this continues to fuel hope in what's quickly becoming a promising mortgage market.
However, the job gains fell in line with current expectations. As a result, mortgage rates ended the week nearly unchanged.
Good Hospitality Job Gains
In May, the economy gained 559,000 jobs. Thus, May's job gains fell a little below the consensus forecast of 650,000.
Not only were there good hospitality job gains, the leisure sector realized economic strength as well. Again, this is after the economic nightmare of 2020. When the coronavirus pandemic struck, both the hospitality and the leisure sectors saw limited activity. Simultaneously, both sectors saw countless layoffs while the American economy spiraled. For now, it appears that the worst is over.
The unemployment rate fell to 5.8%. In conclusion, this dropped slightly below the consensus of 5.9%. On the other hand, average hourly earnings rose 2.0% higher than a year ago. In addition, the most recent average hourly earnings jumped up from an annual rate of increase of 0.4% last month. Generally, analysts view average hourly earnings as an indicator of wage growth.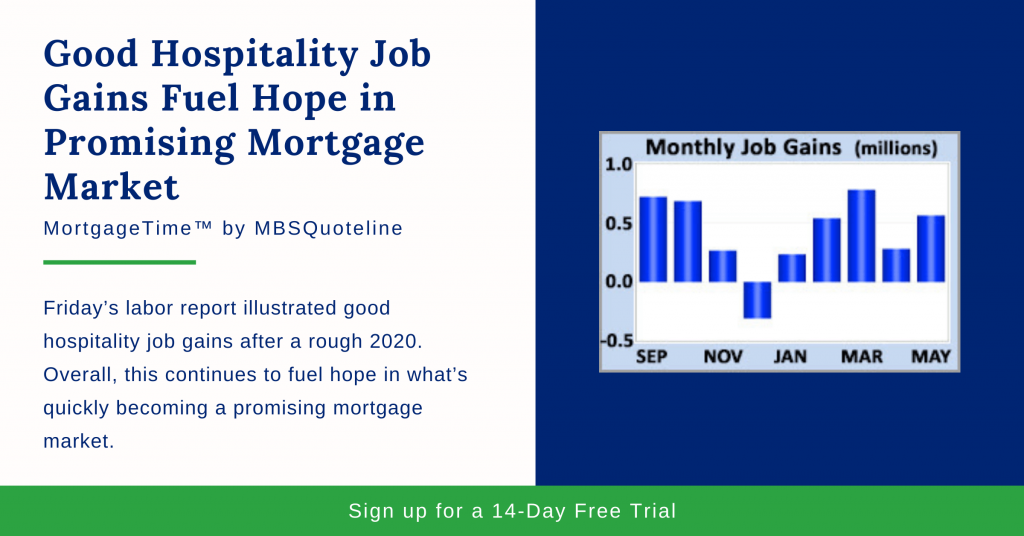 Economic Prospects Aside from the Good Hospitality Job Gains
Even with another month of good hospitality job gains, the economy still has a long way to go. 2020 accounted for countless financial losses due to the global COVID-19 pandemic.
While the economy faces a path to recovery, it has about seven million fewer jobs than it did early last year. Therefore, Fed officials desire to move slowly before tightening monetary policy.
Manufacturing Sector Update
Aside from the job gains spearheaded by the hospitality and leisure sectors, last week showed other economic news. The Institute of Supply Management (ISM) remained at very high levels, as expected.
The national manufacturing index rose to 61.2. Also, the national services index increased to 64.0. This is a record high.
Levels above 50 indicate that the sectors are expanding. Of note, a large number of companies reported difficulties in hiring enough workers to keep up with growing demand.
Looking Ahead After the Good Hospitality Job Gains
Looking ahead after the good hospitality job gains, investors monitor global COVID-19 case counts and the vaccine distribution. Meanwhile, the next European Central Bank meeting takes place on Thursday.
Beyond that, the Consumer Price Index (CPI) also comes out on Thursday. Analysts widely follow CPI. In essence, CPI looks at the price change for goods and services.
---
Want to see how good hospitality job gains impact mortgage-backed securities? Never miss an update with MBSQuoteline. To receive by-the-minute updates on mortgage-backed securities, try our platform free for 14 days.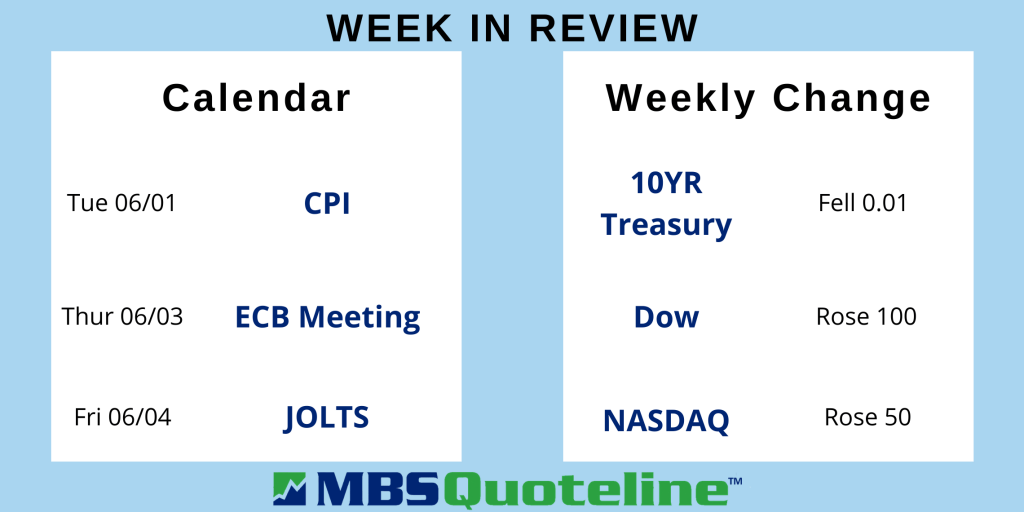 Stay connected with MBSQuoteline on social media by following us on Facebook and LinkedIn.
All material Copyright © Ress No. 1, LTD (DBA MBSQuoteline) and may not be reproduced without permission. To learn more about the MortgageTime™ newsletter, please contact MBSQuoteline at 800.627.1077 or info@mbsquoteline.com.