After another exciting month, the data showed that April 2021 inflation continued its monumental climb. Again, this is after 2020's inflation decline, largely caused by the coronavirus pandemic. Last year's low inflation levels simultaneously resulted in record-low mortgage rates.
However, as the coronavirus vaccine continues distribution, investors worry about rising inflation. The latest data reinforced this viewpoint. That said, both inflation and durable goods roughly met expectations. Mortgage rates ended nearly unchanged.
April 2021 Inflation Made a Monumental Climb
The Feds notoriously favor core PCE price index as their go-to inflation indicator. Last month, core PCE rose 3.1% higher than a year ago. This reinforces the perspective that April 2021 inflation continued its climb.
In addition, April 2021 inflation matched the consensus forecast. Thus, it also jumped up from an annual rate of increase of 1.9% in March 2021.
Investors have one question: Is this temporary or long-term? Temporary factors entail the economic reopening. Meanwhile, long-term factors include more persistent societal issues. Regardless, the answer greatly impacts future mortgage-backed securities.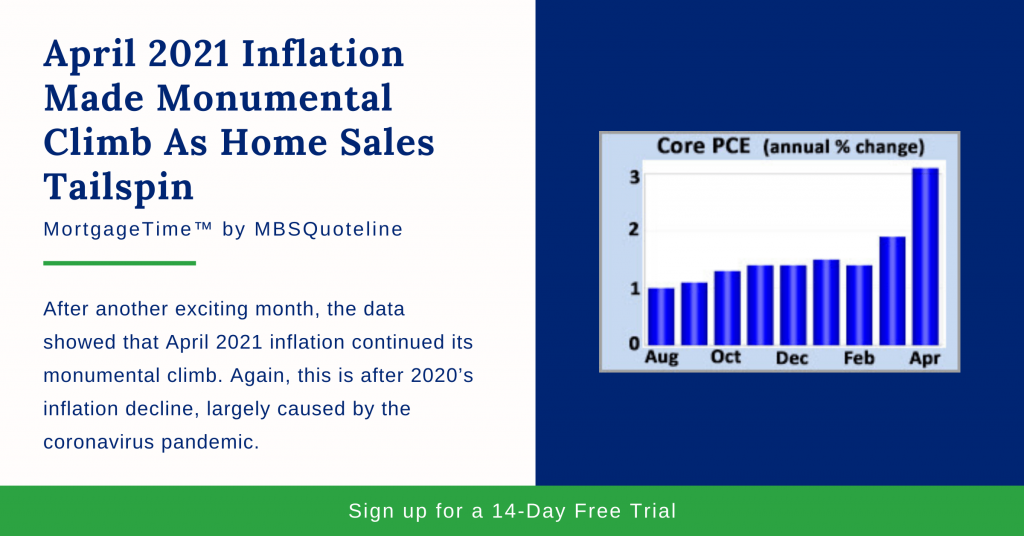 Update on Durable Goods
Aside from April 2021 inflation levels, durable goods actually declined. In economic terms, durable goods are items which last three years or longer. Durable goods tend to be expensive, though purchased infrequently. For example, large appliances and vehicles fall under "durable goods".
In April, new orders of durable goods fell 1.3% from March. In conclusion, durable goods plummeted far below the consensus forecast for a moderate increase. However, new orders exceeded expectations with an increase of 1.0% from March. This excludes the transportation category, which contains highly volatile aircraft orders.
In addition, analysts increased March figures during revisions. As a result, investors view this report as being neutral for mortgage rates.
Home Sales Tailspin Despite April 2021 Inflation Levels
Similar to last week's report on existing home sales, home sales fell short of expectations. In April, new home sales declined 6% from March. The revised March results indicated lower metrics.
The limited housing inventory poses a major obstacle. Analysts find this to be especially true for lower priced properties. Overall, the median new home price of $372,400 increased 20% higher compared to this time period in 2020.
Looking Ahead After April 2021 Inflation Climb
Looking ahead after the April 2021 inflation climb, investors monitor global COVID-19 cases, alongside vaccine distribution. Mortgage markets close on Monday for Memorial Day.
Beyond that, the monthly employment report releases on Friday. These figures incorporate number of jobs, the unemployment rate, and wage inflation. Investors highly anticipate the monthly employment data.
Concurrently, the ISM national manufacturing index comes out on Tuesday. Later, the ISM national services index publishes on Thursday.
---
Want to see how April 2021 inflation levels affect mortgage-backed securities? Never miss an update with MBSQuoteline. To receive by-the-minute updates on mortgage-backed securities, try our platform free for 14 days.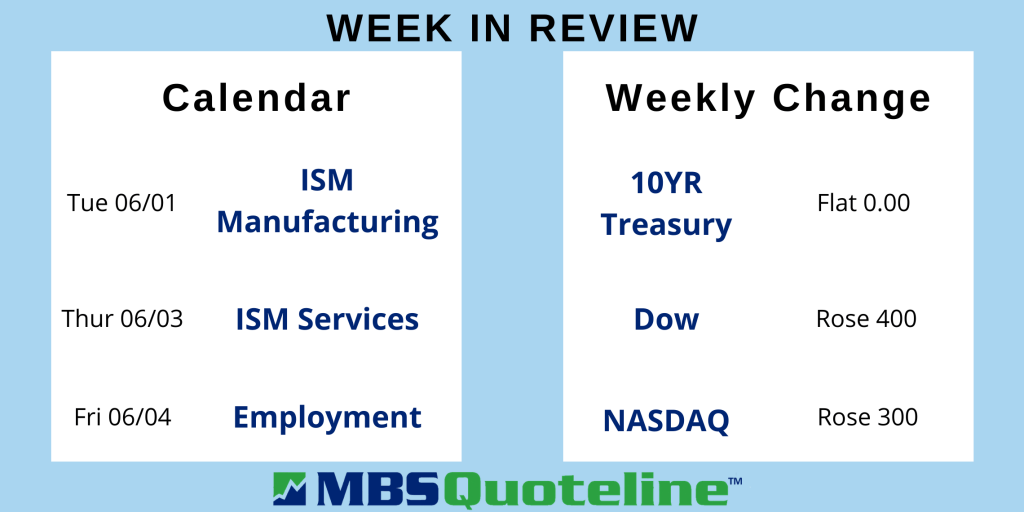 Stay connected with MBSQuoteline on social media by following us on Facebook and LinkedIn.
All material Copyright © Ress No. 1, LTD (DBA MBSQuoteline) and may not be reproduced without permission. To learn more about the MortgageTime™ newsletter, please contact MBSQuoteline at 800.627.1077 or info@mbsquoteline.com.