Inflation spiked this week leading to a new mortgage rate reckoning. Primarily, investors focused on inflation. Moreover, the data was much stronger than anticipated. As a result, mortgage rates ended the week higher.
Meanwhile, the Retail Sales report was roughly in line with expectations. Thus, it caused little reaction.
Inflation Spiked This Week
Inflation reduces the value of future cash flows. Because of this, inflation maintains a negative relationship with mortgage-backed securities (MBS), and thus, for mortgage rates.
Throughout the coronavirus pandemic, there was a significant caused a significant decline in inflation. The inflation decline led to 2020's record-low mortgage rates.
With the reopening of the economy, investors wory about rising inflation. The latest report certainly justified these concerns as inflation spiked this week.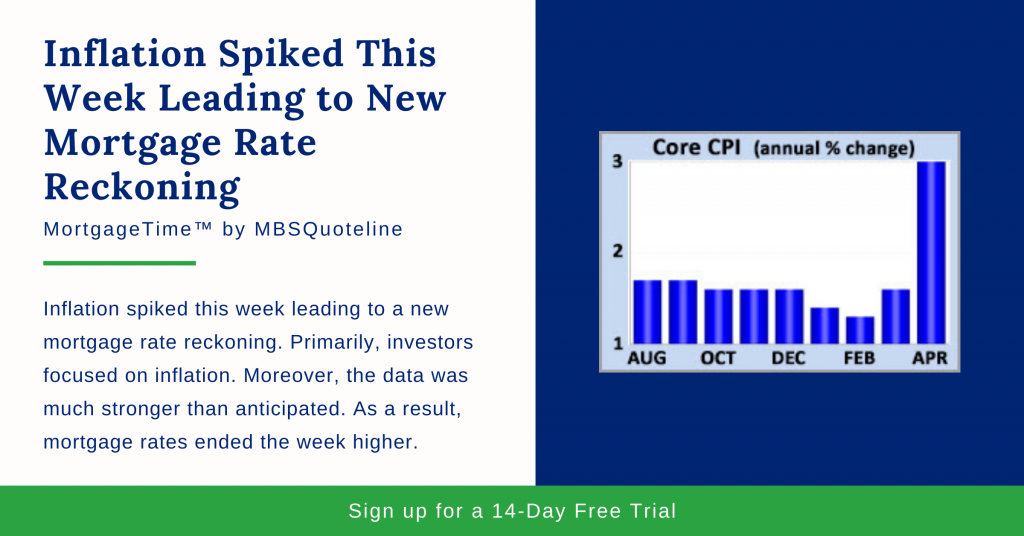 CPI Shows Inflation Spiked This Week
The Consumer Price Index (CPI) is a widely followed monthly inflation report. CPI looks at the price change for goods and services. In April 2021, core CPI, which excludes the volatile food and energy components, jumped 0.8% from March. This statistic is well above the consensus forecast for an increase of just 0.2%. In conclusion, CPI reflects the news that inflation spiked this week.
Core CPI was 3.0% higher than a year ago, up from an annual rate of increase of 1.6% last month. Investors and analysts now debate the cause for the inflation spike. Whereas some believe the rising inflation is due to temporary factors, others feel that it is reflective of longer-term influences.
Consumer Spending & Retail Sales Data
Consumer spending accounts for over two-thirds of U.S. economic activity. Because of this, the retail sales data is a key indicator of growth. This month displayed mixed retail sales results.
In April 2021, retail sales stayed flat from March. Therefore, retail sales fell below the consensus forecast for a gain of 1.0%.
However, analysts revised the amazing March results even higher. March 2021 data increased from 9.8% to 10.7%. This roughly offset the shortfall in the April figures.
Looking Ahead After Inflation Spiked This Week
Looking ahead after inflation spiked this week, investors continue watching global COVID-19 case counts and vaccine distribution.
Beyond that, it will be a very light week for economic data. However, the focus will be on the housing sector. Housing Starts release on Tuesday. Existing Home Sales come out on Friday.
---
Want to see how mortgage-backed securities are affected when inflation spikes? Never miss an update with MBSQuoteline. To receive by-the-minute updates on mortgage-backed securities, try our platform free for 14 days.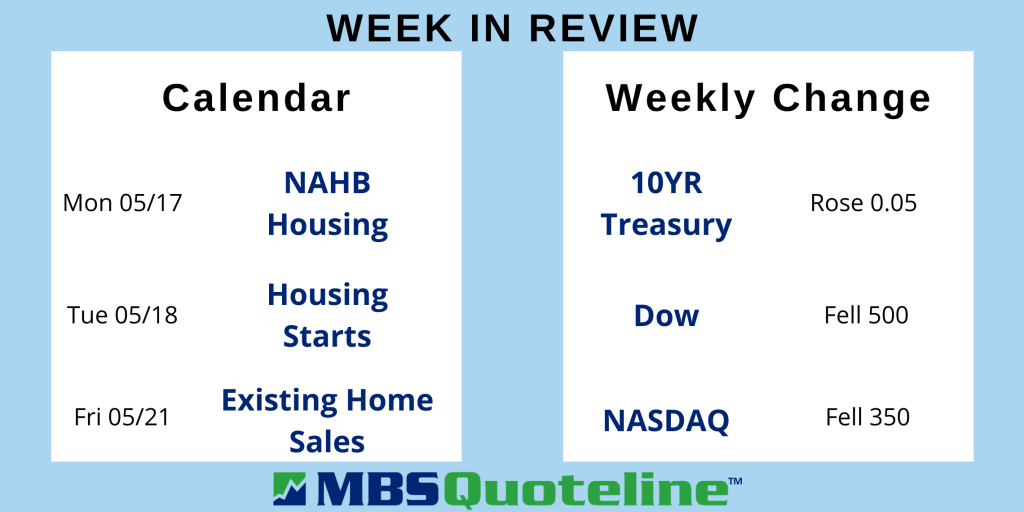 Stay connected with MBSQuoteline on social media by following us on Facebook and LinkedIn.
All material Copyright © Ress No. 1, LTD (DBA MBSQuoteline) and may not be reproduced without permission. To learn more about the MortgageTime™ newsletter, please contact MBSQuoteline at 800.627.1077 or info@mbsquoteline.com.