While it was a relatively quiet week for mortgage markets, rising inflation concerns increase as analysts see promising results. However, there were no significant surprises from the inflation data, the GDP report, or the Fed meeting.
Rising Inflation Concerns Increase
Most of 2020 saw reduced economic activity due to the coronavirus pandemic. This led to a large decline in inflation last year. Overall, the inflation decline contributed to record-low mortgage rates. But the winds of change are quickly approaching.
Over the past several months, the U.S. economy saw several efforts to reopen. This includes the continual distribution of the coronavirus vaccine and many sectors of the economy lifting COVID-19 regulations. As a result, increasing rising inflation concerns among investors and analysts. In addition, the latest economic data reinforced this fear.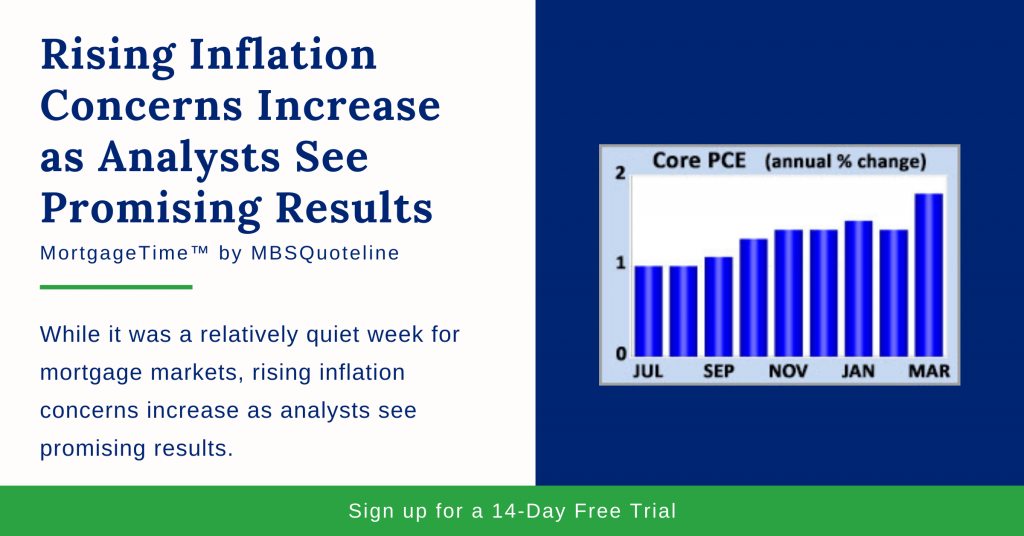 How Core PCE Contributes to Increasing Concerns Over Rising Inflation
The Fed favors the core PCE price index as their go-to inflation indicator. In March 2021, core PCE rose 1.8% higher than a year ago. This statistic matched the consensus forecast. However, it also soared above the annual rate of increase of just 1.4% last month.
While Fed officials and economists share increasing concerns over rising inflation, there are differing views over its permanence. Some believe the inflation spike is temporary, whereas others worry about it persisting for years to come.
What GDP Contributes to Increasing Concerns Over Rising Inflation
Gross Domestic Product (GDP) is the broadest measure of economic activity. During the first quarter, GDP rose at an annualized rate of 6.4%. This result neared the consensus forecast.
Also, this was the second-best GDP reading since 2003. Since 2003, the best GDP reading remains the 2020 third-quarter result, when the U.S. economy began reopening efforts.
Consumer spending realized particular strength. Overall, the vaccine rollout and stimulus check distribution drove boosted consumer spending. As a result of the positive economic activity, there are increasing concerns over rising inflation.
Update on Fed Goals
Wednesday's Fed meeting contained no surprises and caused little reaction. There were no policy changes and the statement released after the meeting was very similar to the prior one.
Fed officials repeated that they would like to see "substantial further progress" toward their employment and inflation goals before tightening monetary policy. In short, there was no reason for investors to alter their outlook for future Fed actions. This includes how the outlook relates to rising inflation concerns increasing.
Looking Ahead
Looking ahead, investors watch COVID-19 case counts and vaccine distribution. Beyond that, the monthly Employment report will be released on Friday, and these figures on the number of jobs, the unemployment rate, and wage inflation will be the most highly anticipated economic data of the month. Before that, the ISM national manufacturing index will come out on Monday and the ISM national services index on Wednesday.
---
Want to see how mortgage-backed securities are affected as rising inflation concerns increase? Never miss an update with MBSQuoteline. To receive by-the-minute updates on mortgage-backed securities, try our platform free for 14 days.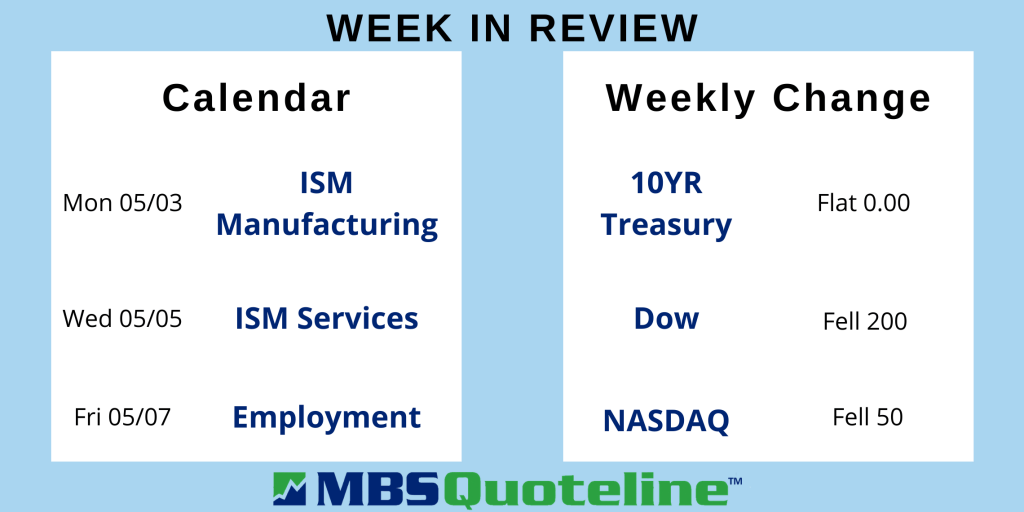 Stay connected with MBSQuoteline on social media by following us on Facebook and LinkedIn.
All material Copyright © Ress No. 1, LTD (DBA MBSQuoteline) and may not be reproduced without permission. To learn more about the MortgageTime™ newsletter, please contact MBSQuoteline at 800.627.1077 or info@mbsquoteline.com.