Looking at the recent data, new home sales skyrocket though mortgage markets barely changed. Mixed economic data and a proposed tax increase caused little reaction. Overall, it was a quiet week for mortgage-backed securities.
New Home Sales Skyrocket
Accounting for 10% of the real estate market, this past week saw new home sales skyrocket. In March 2021, new home sales jumped 21% from February. As a result, new home sales hit their highest level since 2006.
In general, the pace of both new and existing sales is being dictated by the supply of homes available each month. Overall, new home sales posted enormous gains.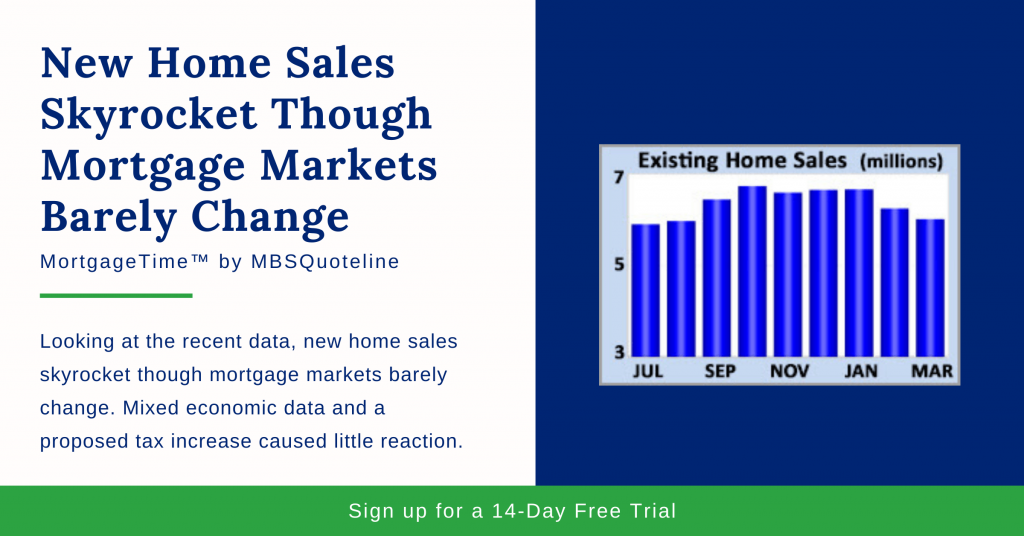 Existing Home Sales Slow in Spite of the New Home Sales Skyrocket
While new home sales skyrocket, meanwhile, existing home sales slowed down a bit. Making up 90% of the real estate market, existing home sales bounced back from last spring's economic shutdown. Not only that, existing home sales rebounded far more quickly than expected and remain at very high levels.
Analysts chalk up the slowdown to the limited housing inventory. Concurrently, many regions of the country battled severe weather conditions. Thus, the existing home sales declined in February and March of 2021.
In March, existing home sales fell 4% from February. However, the existing home sales still notched 2% higher than a year ago. Simultaneously, the median existing home price rose 17% compared to this time last year. Subsequently, the price for existing homes set a new record of $329,100.
Ultimately, housing inventory endures as one of the primary obstacles to higher existing home sales, in spite of the jump in new home sales. Inventory levels plummeted 28% from a year ago. Therefore, they remained near their lowest level since 1982.
Comprehensively, the number of homes for sale stayed at just a 2.1-month supply nationally. As our regular readers know, this statistic falls well below the 6-month supply. Generally, a 6-month supply recognizes a healthy balance between buyers and sellers.
Unemployment Insurance Claims Drop
Aside from the skyrocketing new home sales and sluggish existing home sales, unemployment insurance claims dropped.
The Department of Labor releases the total number of new claims for unemployment insurance each week. The latest reading showed 547,000 unemployment insurance claims. Therefore, unemployment insurance claims declined to their lowest level in over a year.
The early months of the pandemic represented inflated unemployment insurance figures. Currently, the 547,000 statistic is lower than those earlier claims. Having said that, unemployment insurance claims still hover well above typical 2019 readings of around 250,000. As the economy reopens, jobless claims should continue to decline.
Proposed Capital Gains Tax Hike
On Thursday, the Biden administration announced a proposed increase in the capital gains tax rate. This proposal targets high-earning individuals.
Economists forecast that this could slow economic growth. Accordingly, investors viewed the news as slightly positive for mortgage rates.
However, mortgage markets barely changed this past week in spite of this news and the skyrocketing new home sales.
Looking Ahead After New Home Sales Skyrocket
Looking ahead after new home sales skyrocket, investors monitor COVID-19 case counts and vaccine distribution.
Beyond that, the next Fed meeting takes place on Wednesday. Analysts do not anticipate a change in the federal funds rate. In the meantime, investors seek guidance on the pace of future bond purchases.
First-quarter GDP releases on Thursday. GDP dictates the broadest measure of economic activity.
Also, the core PCE price index releases on Friday. The Fed favors core PCE as its go-to inflation indicator.
---
Want to see how the skyrocketing new home sales impact mortgage-backed securities? Never miss an update with MBSQuoteline. To receive by-the-minute updates on mortgage-backed securities, try our platform free for 14 days.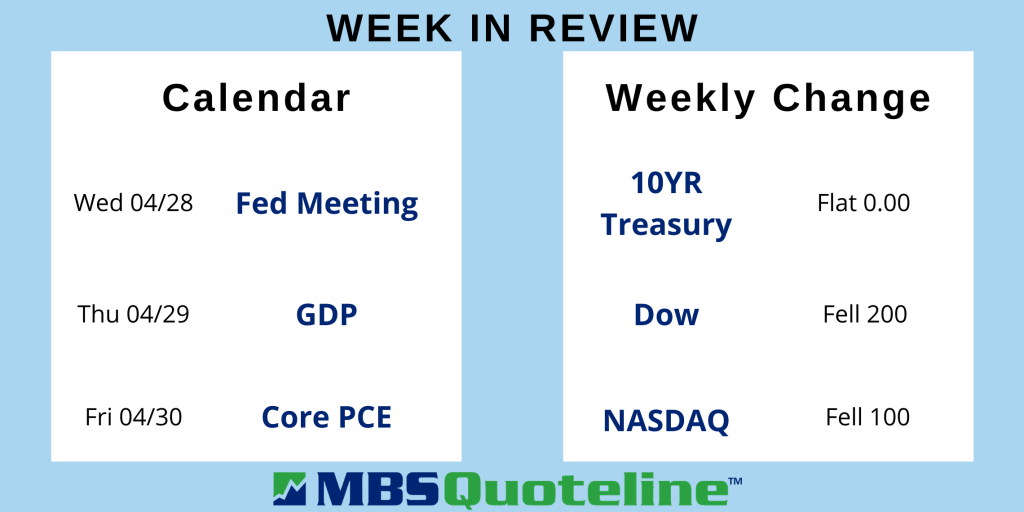 Stay connected with MBSQuoteline on social media by following us on Facebook and LinkedIn.
All material Copyright © Ress No. 1, LTD (DBA MBSQuoteline) and may not be reproduced without permission. To learn more about the MortgageTime™ newsletter, please contact MBSQuoteline at 800.627.1077 or info@mbsquoteline.com.