This week, investors kept a close eye on the conflict in Ukraine, though Federal Reserve news awaited investors. However, the majority primarily focused on rising inflation. As the primary influencing factor for mortgage markets, inflation quickly became a hot-button issue.
Heading into Wednesday's meeting, investors eagerly awaited the Federal Reserve response. Ultimately, they announced plans to tighten monetary policy as expected. Thus, mortgage rates ended the week higher.
Federal Reserve Raises Federal Funds Rate by 25 Basis Points
For months, the Federal Reserve indicated plans to reverse the extremely accommodative policy measures put in place to boost the economy during the pandemic. As expected, the Fed began the process by raising the federal funds rate by 25 basis points, the first hike since 2018.
This caught no one by surprise, and investors instead focused on the projections from officials for the future path of the fed funds rate. On average, officials forecasted that there will be six additional 25 basis point rate increases by the end of the year. However, the forecast hovers towards the high end of investor expectations. In addition, the forecast represents a much faster pace than anticipated just a few months ago.
Investors also sought precise guidance on the plans for reducing the Fed's massive holdings of Treasuries and mortgage-backed securities (MBS). Having said that, current expectations indicate that the framework may be finalized at the next meeting in May. During his press conference following the meeting, Chair Powell emphasized that future policy would be adjusted based on incoming economic data.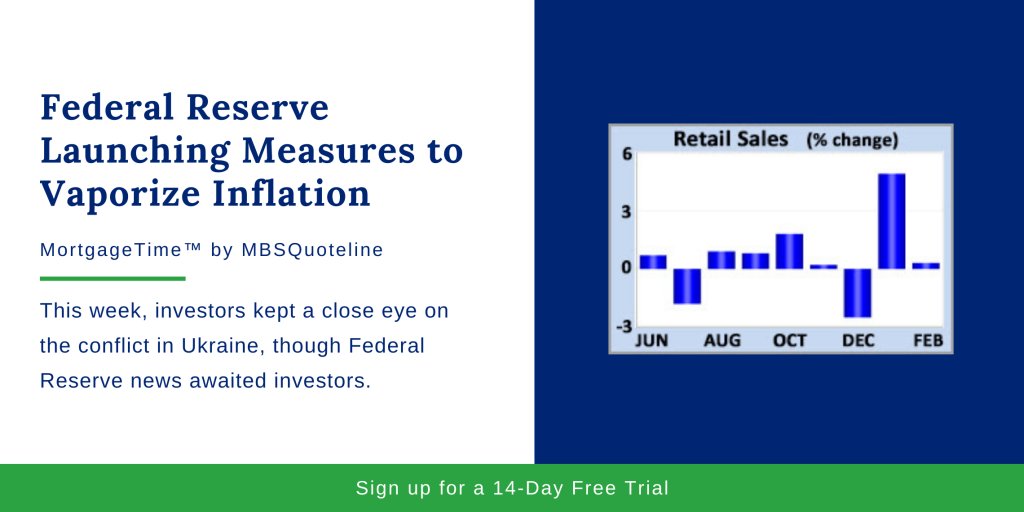 Economic Reporting Shows Promising Future
Aside from the Federal Reserve news, retail sales and existing home sales came out this week. Since consumer spending accounts for over two-thirds of the United States economic activity, it indicates economic health. In February 2022, retail sales rose a weaker than expected 0.3% from January. However, analysts revised the enormous increase of 3.8% seen in January to an even more impressive monthly gain of 4.9%. Despite rising prices, consumer spending displayed extremely strong so far in 2022.
On the other hand, existing-home sales disappointed in February 2022, dropping 7% from January. Inventory levels plummeted 16% from a year ago, at just a 1.7-month supply nationally. In conclusion, inventory levels fell well below the 6-month supply, a healthy balance between buyers and sellers. While inventory levels near the record-low statistic, median existing-home prices jumped 15% higher than last year at this time at $357,300.
With the shortage of available homes in many areas, investors watch the monthly reports on housing starts. Moreover, the most recent data contained encouraging news. In February 2022, housing starts unexpectedly increased 7% from January to the highest level since 2006. Higher prices and shortages for land, materials, and skilled labor remained obstacles to a faster pace of construction.
Looking Ahead After Federal Reserve Policy Updates
After the latest Federal Reserve policy updates, investors continue to closely follow news on Ukraine. Additionally, they look for additional Fed guidance on the pace of future rate hikes and balance sheet reduction.
Beyond that, next week reflects limited economic data. New Home Sales release on Wednesday. Durable Orders, an important indicator of economic activity, will come out on Thursday.
---
Following this week's Federal Reserve meeting, mortgage rates rose again. Never miss an update with MBSQuoteline. To receive by-the-minute updates on mortgage-backed securities, try our platform free for 14 days.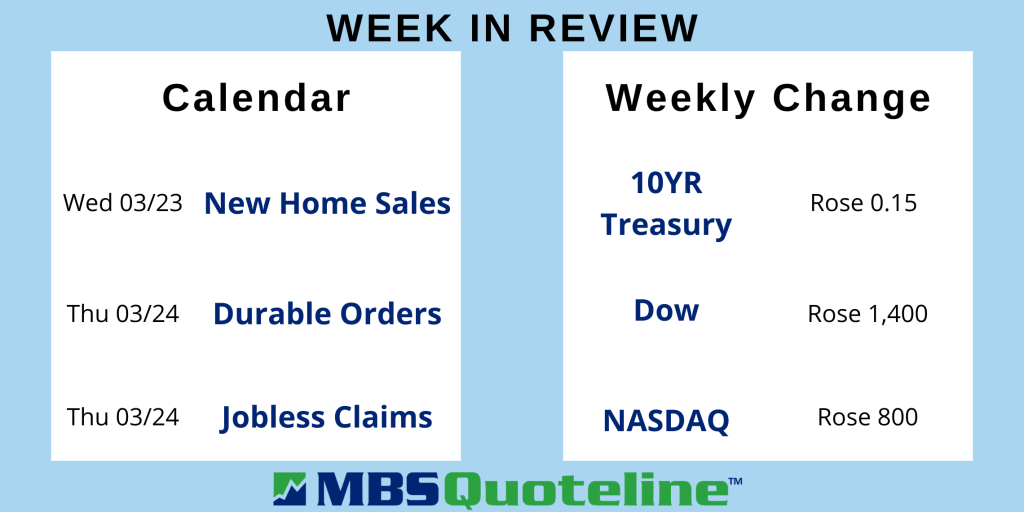 Stay connected with MBSQuoteline on social media by following us on Facebook, Twitter, and LinkedIn.
All material Copyright © Ress No. 1, LTD (DBA MBSQuoteline) and may not be reproduced without permission. To learn more about the MortgageTime™ newsletter, please contact MBSQuoteline at 800.627.1077 or info@mbsquoteline.com.