Key labor market data revealed mixed results, including dampened job gains missing the mark. However, a better unemployment rate counterbalanced those job gains.
Economists viewed the data as roughly neutral. The other major economic news contained no surprises. Therefore, mortgage rates ended the week with little change.
Dampened Job Gains
Analysts closely watched Friday's employment report. The latest report suggested that COVID-19 dampened job gains. Unfortunately, the leisure and hospitality sectors experienced this impact the most. Against a consensus forecast of 720,000, the economy added just 235,000 jobs in August 2021. Job gains greatly declined from over one million in July 2021.
However, there were some offsetting factors. First, upward revisions which added 134,000 jobs to the results for prior months. In addition, education jobs sharply underperformed expectations. Having said that, analysts likely attribute the distortions to seasonal adjustment caused by the pandemic. Analysts adjust data to reflect historical seasonal trends, such as the start of the school year. Also, many of the usual hiring and firing patterns changed during the pandemic.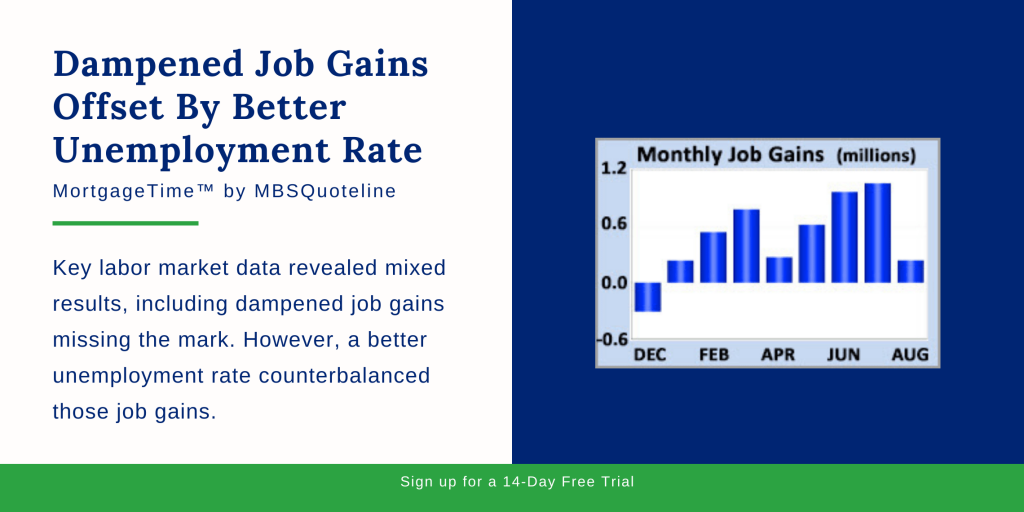 Better Unemployment Rate Despite Dampened Job Gains
The unemployment rate declined from 5.4% to 5.2%, matching expectations. Simultaneously, unemployment hit its lowest level since prior to the pandemic. Average hourly earnings, an indicator of wage growth, rose 0.6% from July. As a result, average hourly earnings climbed well above the consensus of 0.3%. In addition, average hourly earnings jumped 4.3% higher than a year ago, up from 4.1% last month.
To summarize, job gains fell short partly due to seasonal issues related to the pandemic. Meanwhile, wage gains came in very strong. In conclusion, the report provided little net effect on mortgage rates.
ISM Hiring News
Aside from dampened job gains, a couple of other significant economic reports released this week. Overall, the Institute of Supply Management (ISM) revealed the expected strong results. The national services index fell to 61.7, down from a record high last month.
Subsequently, the national manufacturing index came in at 59.9. Levels above just 50 indicate that the sectors are expanding. Readings above 60 are rare. Of note, a large number of companies reported difficulties in hiring enough workers to keep up with growing demand.
Looking Ahead After Dampened Job Gains
Looking ahead after dampened job gains, investors closely watch global COVID-19 cases. Investors also will look for hints from Fed officials about the timing for changes in monetary policy.
Beyond that, the JOLTS report comes out on Wednesday. JOLTS measures job openings and labor turnover rates. The next European Central Bank meeting takes place on Thursday. Due to the Labor Day holiday, this is a very light week in terms of economic data. Finally, PPI inflation releases on Friday.
---
Want to see how dampened job gains impact mortgage-backed securities? Never miss an update with MBSQuoteline. To receive by-the-minute updates on mortgage-backed securities, try our platform free for 14 days.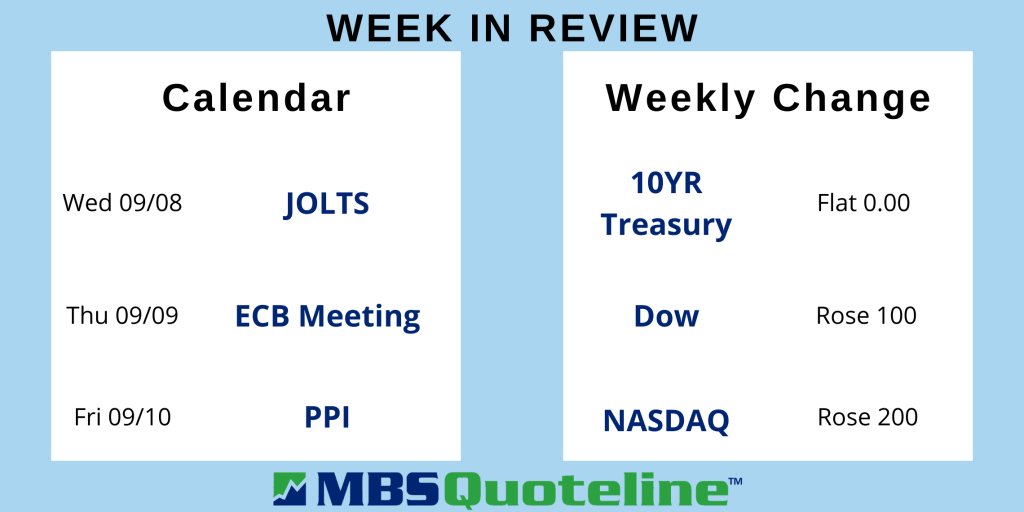 Stay connected with MBSQuoteline on social media by following us on Facebook, Twitter, and LinkedIn.
All material Copyright © Ress No. 1, LTD (DBA MBSQuoteline) and may not be reproduced without permission. To learn more about the MortgageTime™ newsletter, please contact MBSQuoteline at 800.627.1077 or info@mbsquoteline.com.