Investors focus on targeted MBS buying as Fed nears goals. However, Fed Chair Powell did not provide an updated timeline for policy changes. As a result, mortgage rates ended the week slightly higher.
Investors Focus on Targeted MBS Buying
Near the start of the pandemic, the economy needed additional support. To assist the support effort, the Fed began buying $120 billion of Treasuries and mortgage-backed securities (MBS) on a monthly basis.
Friday's meeting saw investors focus on targeted MBS buying. As the recovery has progressed, Fed officials said that the need for this additional stimulus has declined. Overall, investors looked for an updated timeline on tapering back MBS and bond purchases. Many expect the scale-back to occur before the end of 2021. To date, numerous, officials expressed support for the tapering to start very soon given elevated levels of inflation.
At a highly anticipated speech on Friday, however, Fed Chair Powell emphasized the "near-term risk" to the economy posed by the spread of COVID-19. He also repeated the reasons that the recent spike in inflation likely could be transitory due to temporary factors related to the pandemic. Fed Chair Powell said that he would like to see further progress in lowering the unemployment rate before removing stimulus. In short, there remains a wide range of opinions among officials on the proper time to taper. Although investors focused on targeted MBS buying, they did not receive the precise guidance they were seeking.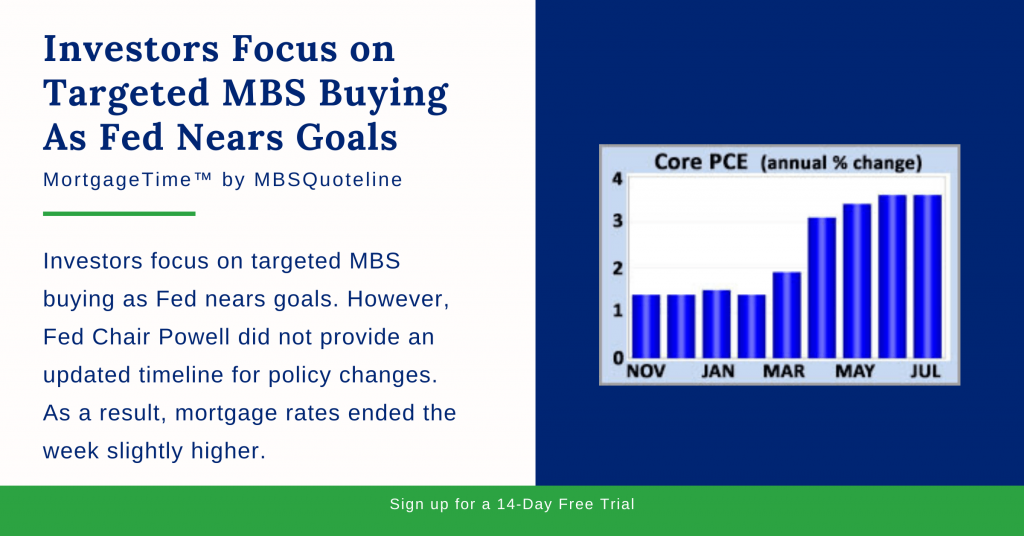 Inflation & Housing Updates
As investors focus on targeted MBS buying, the core PCE price index and housing data came out. First, the Fed favors core PCE as its go-to inflation indicator. In July 2021, core PCE rose 3.6% higher than a year ago. Therefore, core PCE matched the consensus forecast.
The rate of increase remained the same as June 2021. While it's up from just 1.5% in February, July's rate of increase represents the highest annual rate since 1991. Economists expected readings of this magnitude during the economic reopening. However, economists differ on whether higher inflation will be a temporary spike or persist for years.
On the housing end, sales of existing homes rose 2% from June 2021 to July 2021. Also, existing home sales jumped slightly higher than a year ago. Meanwhile, inventory levels dropped 12% from last year at this time. Currently, home inventory levels remain at just a 2.6-month supply nationally. 2.6 falls well below the 6-month supply, a healthy balance between buyers and sellers. The median existing-home price was $359,900, increasing 18% from a year ago.
Looking Ahead After Investor Focus on Targeted Buying
Looking ahead after the investors focused on targeted MBS buying, they closely watch global COVID-19 case counts. Investors also look for hints from Fed officials about the timing for changes in monetary policy.
Beyond that, the key Employment report releases on Friday. These figures on the number of jobs, the unemployment rate, and wage inflation represent the most highly anticipated economic data of the month. The ISM national manufacturing index comes out on Wednesday.
---
Want to see how mortgage-backed securities are affected as investors focus on targeted MBS buying? Never miss an update with MBSQuoteline. To receive by-the-minute updates on mortgage-backed securities, try our platform free for 14 days.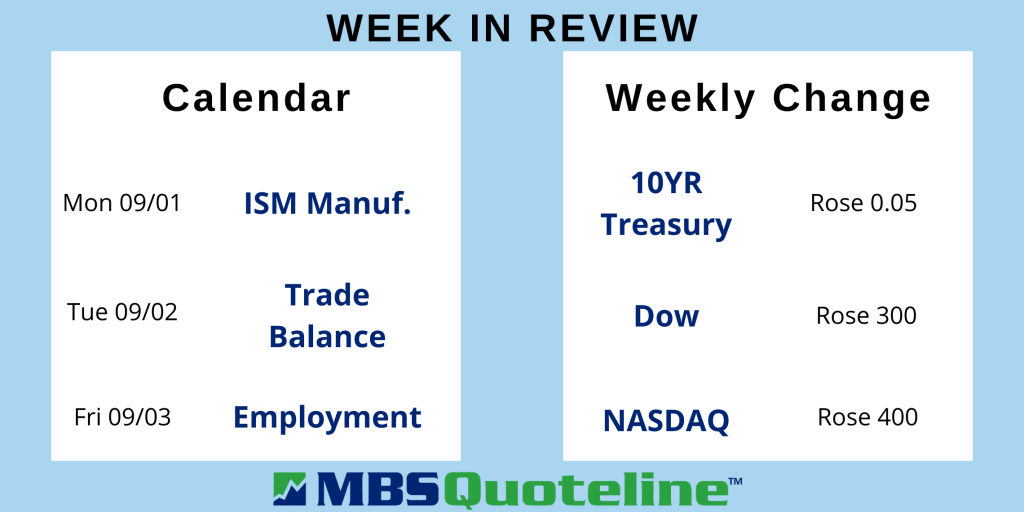 Stay connected with MBSQuoteline on social media by following us on Facebook, Twitter, and LinkedIn.
All material Copyright © Ress No. 1, LTD (DBA MBSQuoteline) and may not be reproduced without permission. To learn more about the MortgageTime™ newsletter, please contact MBSQuoteline at 800.627.1077 or info@mbsquoteline.com.