This past week, the United States realized impressive market growth despite the decline in mortgage rates. Overall, investors anticipate enormous economic growth this year. Vaccine delivery continues to increase and the U.S. saw three stimulus check distributions.
Market Growth Contributes to Rising Inflation
As a result of the impressive market growth, the future inflation outlook rose significantly. This expectation generated a sharp increase in mortgage rates from the record low levels seen last year.
Ultimately, this past week revealed stronger-than-forecasted growth and inflation data. As impressive as the reports were, however, investors had expected even better growth figures. Because of this expectation, mortgage rates ended the week lower.
With the vaccine rolling forward, the economy reopening, and the impressive market growth, investors are worried that inflation may be heading higher, and this week's data reinforced those concerns. The Consumer Price Index (CPI) is a widely followed monthly inflation report that looks at the price change for goods and services.
In March, CPI was 2.6% higher than a year ago, up from 1.7% last month, and the largest annual rate of increase since August 2018. Higher gas prices were a major factor in the increase, however.
Core CPI, which excludes the volatile food and energy components, was 1.6% higher than a year ago, up from 1.3% last month, but still well below the level of 2.3% seen in February 2020 before the pandemic.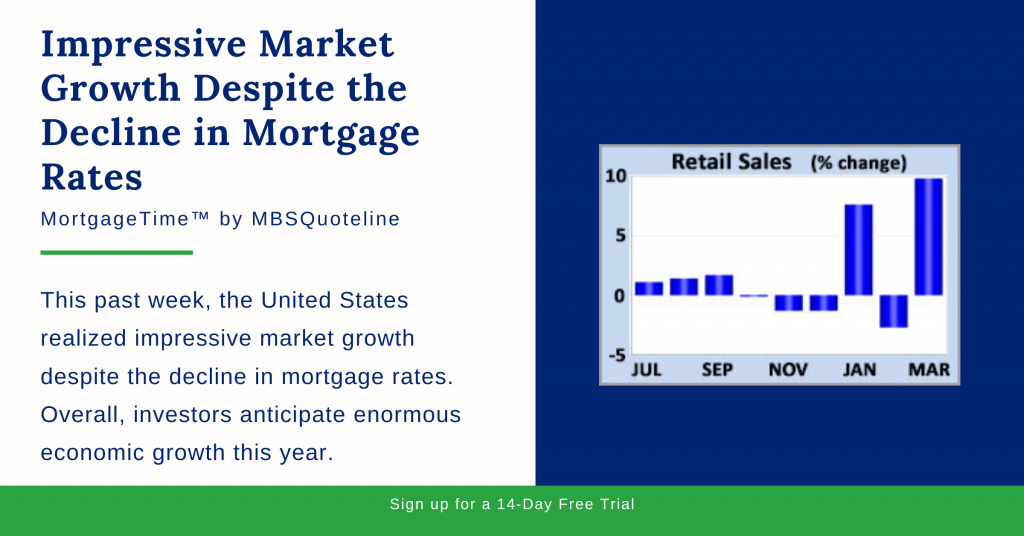 Retail Sales Surge with Market Growth
Severe weather in many regions negatively affected consumer spending in February. However, the data for March released this week revealed exceptional strength.
In March, Retail Sales jumped an amazing 9.8% from February. This is well above the consensus forecast of 6.0%. Retail Sales saw the strongest gains in areas helped by the reopening of the economy, such as restaurants, clothing, and sporting goods. Similar to other sectors, the surge in retails sales is also indicative of the impressive market growth from March.
Housing Market Benefits from Economic Activity
The housing market also has benefited from increased economic activity and impressive market growth. Builders race to construct desperately needed new homes.
In March, housing starts jumped a stronger than expected 19% from February. This is the fastest pace since 2006. Rising costs for labor and materials are pushing up prices, though.
Looking Ahead After the Market Growth
Looking ahead after the impressive market growth, investors monitor COVID-19 case counts and vaccine distribution. Beyond that, this is a light week for economic data.
Existing Home Sales data releases on Thursday. Also, the next European Central Bank meeting takes place on Thursday. Lastly, New Home Sales comes out on Friday.
---
Want to see how the impressive market growth impacts mortgage-backed securities? Never miss an update with MBSQuoteline. To receive by-the-minute updates on mortgage-backed securities, try our platform free for 14 days.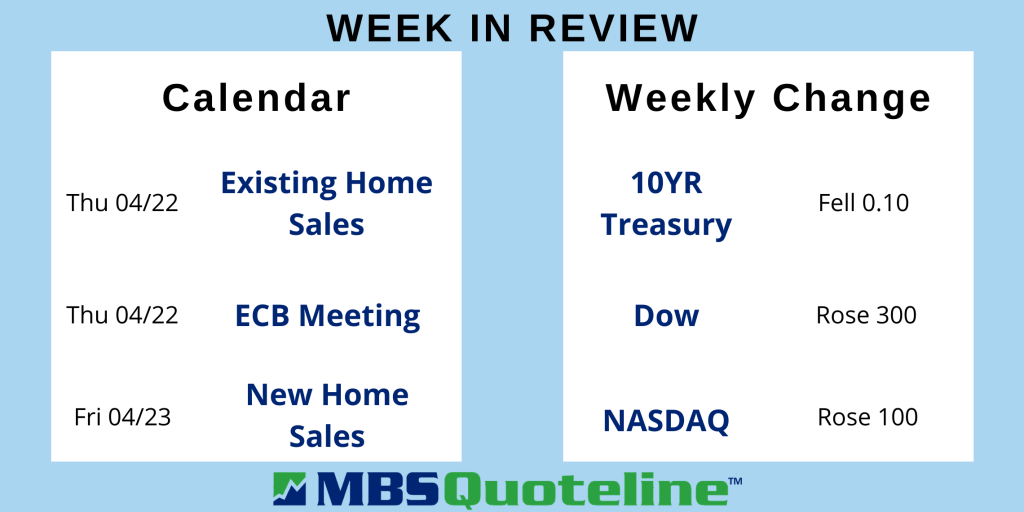 Stay connected with MBSQuoteline on social media by following us on Facebook and LinkedIn.
All material Copyright © Ress No. 1, LTD (DBA MBSQuoteline) and may not be reproduced without permission. To learn more about the MortgageTime™ newsletter, please contact MBSQuoteline at 800.627.1077 or info@mbsquoteline.com.