January 2021 inflation remains low, capping off a relatively quiet week for mortgage-backed securities. Overall, investors are divided on the inflation outlook for later in the year. Mortgage rates ended the week nearly unchanged.
January 2021 Inflation Remains Low
The reduced economic activity resulting from the pandemic has caused January 2021 inflation to decline. Inflation is one of the key factors influencing the record-low mortgage rates. The latest figures reveal lower than expected inflation levels.
Economic analysts follow the Consumer Price Index (CPI) to understand the price change for goods and services. In January, Core CPI was just 1.4% higher than a year ago. This is down from an annual rate of increase of 1.6% last month and 2.3% in February 2020.
Despite this tame report, investors are fearful of a significant inflation increase later in 2021. Logically speaking, it isn't surprising that inflation remained low while COVID-19 restrained holiday economic activity.
However, the progressing vaccine rollout can lead to pent-up demand in certain economic areas, such as travel. This could lead to spiking prices.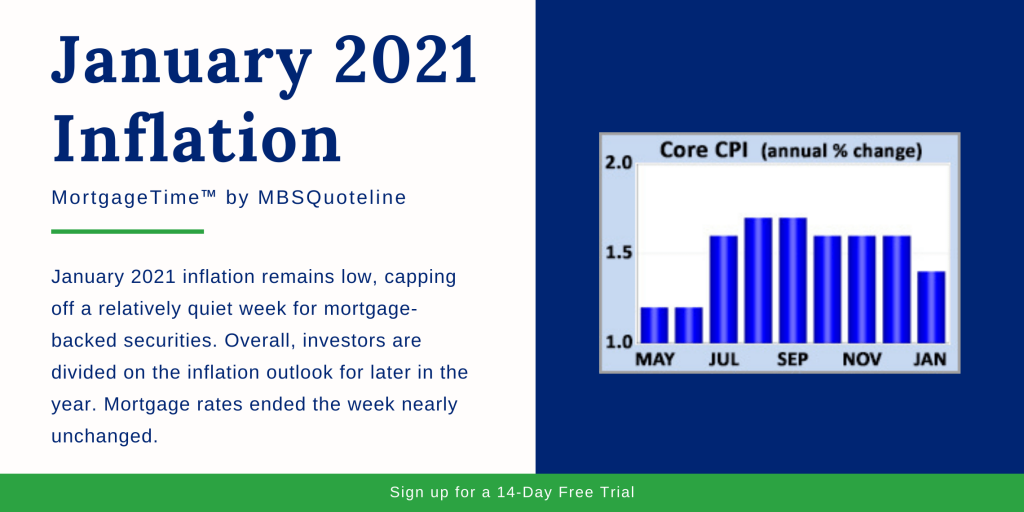 Fed Updates
Aside from the January 2021 inflation data, Fed Chair Powell said that Fed policy will remain accommodative until substantial progress is made in reaching full employment. According to Powell, the unemployment rate by some measures is closer to 10% than to the 6.3% reading seen in the latest Employment report.
While there is broad agreement that the government should provide more assistance to individuals and businesses harmed by the pandemic, lawmakers continue to negotiate the details.
President Biden proposed a $1.9 trillion package. Some investors expect that the final size will be smaller.
Increased government spending trends negatively for mortgage-backed securities. The Feds must issue additional Treasury bonds to fund spending. In turn, this causes a rise in yields, including mortgage-backed securities.
Looking Ahead After January 2021 Inflation Decline
Looking ahead after the January 2021 inflation decline, investors will continue watching COVID-19 case counts, vaccine distribution, and the size of the government stimulus spending bill.
Beyond that, Retail Sales will be released on Wednesday. Since consumer spending accounts for over two-thirds of all economic activity in the US, the retail sales data is a key indicator of growth.
Housing Starts will come out on Thursday and Existing Home Sales on Friday. Mortgage markets are closed for Presidents Day today.
---
Never miss an update with MBSQuoteline. To receive by-the-minute updates on mortgage-backed securities, try our platform free for 14 days.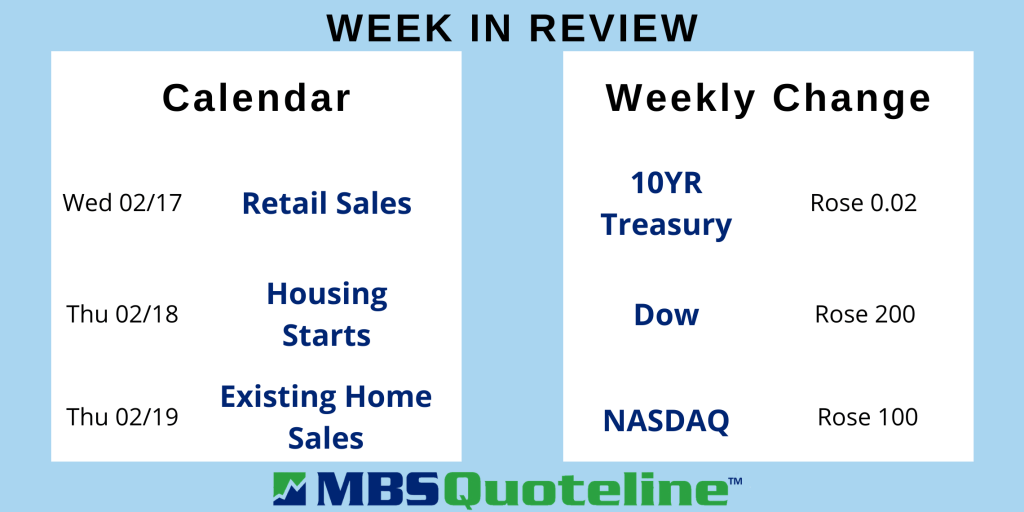 Stay connected with MBSQuoteline on social media by following us on Facebook and LinkedIn.
All material Copyright © Ress No. 1, LTD (DBA MBSQuoteline) and may not be reproduced without permission. To learn more about the MortgageTime™ newsletter, please contact MBSQuoteline at 800.627.1077 or info@mbsquoteline.com.