This past week saw mixed labor market data. However, it was a relatively quiet week for mortgage-backed securities overall.
Friday's key labor market data caused some volatility, but its lasting impact was minor. Rates ended the week a little higher.
Mixed Labor Market Data
The highly anticipated monthly Employment report contained mixed news, but it is clear that the spread of the coronavirus has slowed the pace of labor market improvement in recent months. In January, the economy gained 49,000 jobs, which was very close to expectations. However, revisions subtracted 159,000 jobs from the results for prior months. The hospitality sector again was hit particularly hard.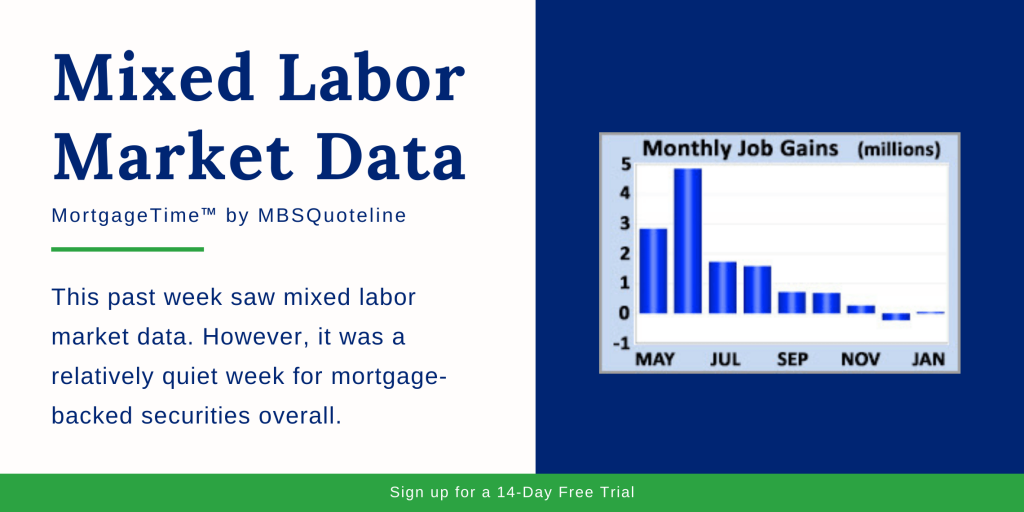 Mixed Labor Market Data & Unemployment
Reviewing the mixed labor market data, the biggest surprise was the sharp drop in the unemployment rate to 6.3%, far below the consensus forecast of 6.7%. The decline was due to two factors. Firstly, the economy faced hiring gains, a sign of strength. Conversely, the economy lost 406,000 workers, a sign of weakness.
The data on job gains comes from actual figures provided by large companies. Meanwhile, the unemployment rate is based on a household survey conducted by the Labor Department.
Although these two sources show similar results in the long run, it is common for them to display different levels of strength from month to month.
Manufacturing Reports
A couple of other significant economic reports released this week from the Institute of Supply Management (ISM) suggested that job gains may improve in coming months. The ISM national services index unexpectedly rose to 58.7, the highest level in about two years.
The ISM national manufacturing index fell to 58.7 in January, just a little below December's reading which was the best since August 2018. Levels above 50 indicate that the sectors are expanding.
Looking Ahead After Mixed Labor Market Data
Looking ahead after mixed labor market data, investors will continue monitoring the economy. Investors are currently watching COVID-19 case counts, vaccine distribution, and the size of the government stimulus spending bill. Beyond that, it will be a very light week for economic reports.
Of note, the Consumer Price Index (CPI) will come out on Wednesday. CPI is a widely followed monthly inflation report that looks at the price change for goods and services.
---
Never miss an update with MBSQuoteline. To receive by-the-minute updates on mortgage-backed securities, try our platform free for 14 days.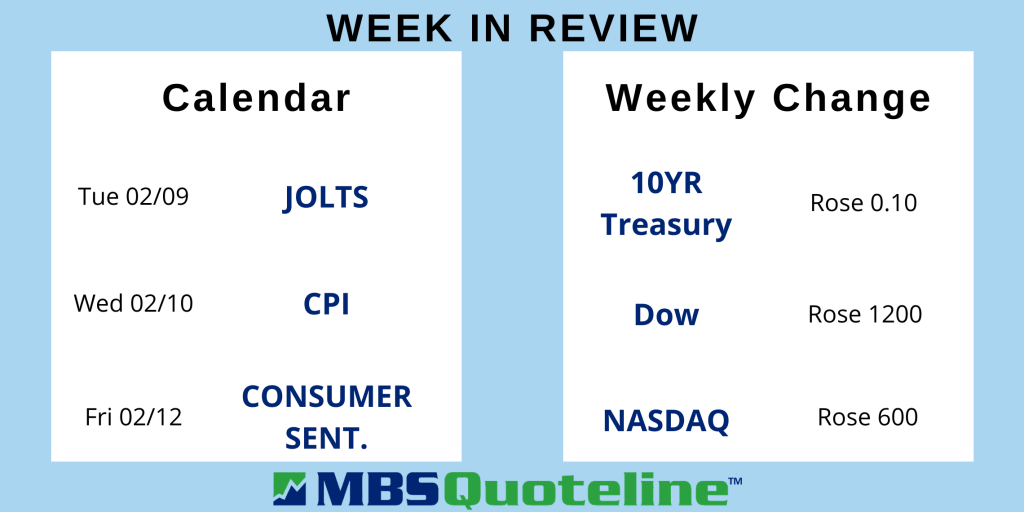 Stay connected with MBSQuoteline on social media by following us on Facebook and LinkedIn.
All material Copyright © Ress No. 1, LTD (DBA MBSQuoteline) and may not be reproduced without permission. To learn more about the MortgageTime™ newsletter, please contact MBSQuoteline at 800.627.1077 or info@mbsquoteline.com.