It was another relatively quiet week for mortgage markets, seeing low inflation. The major economic data and the European Central Bank meeting were in line with expectations. Rates remained near record low levels.
The coronavirus caused reduced economic activity, resulting in an inflation decline. This has kept mortgage rates low.
Consumer Price Index & Low Inflation
The Consumer Price Index (CPI) is a widely followed monthly inflation report that looks at the price change for goods and services. In November, the core PCE price index was just 1.6% higher than a year ago. As a result, that number is down from an annual rate of increase above 2.0% in the months prior to the coronavirus pandemic.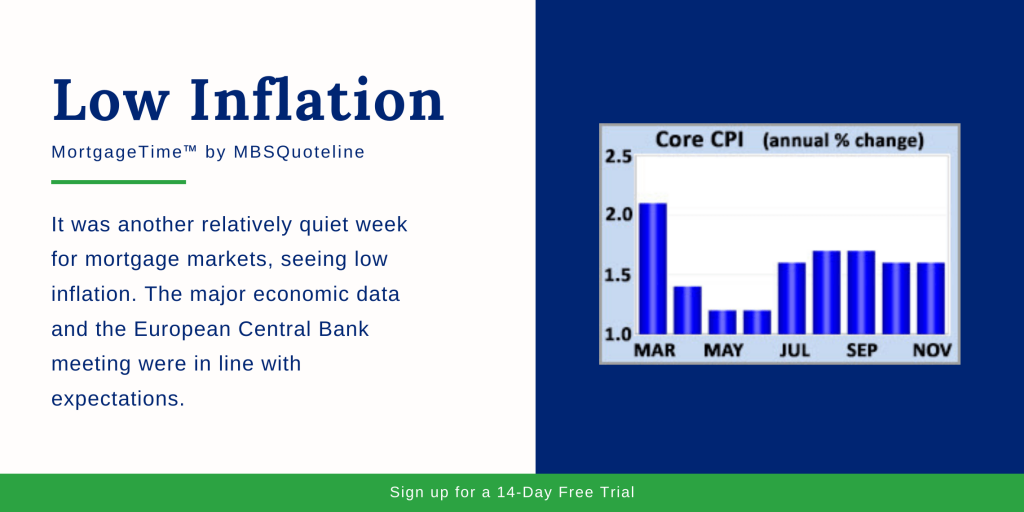 European Central Bank Meeting & Low Inflation
Thursday's European Central Bank (ECB) meeting produced no surprises and caused little reaction. As expected, the European Central Bank made no change in rates. It also expanded its massive bond purchase program by an additional 500 billion euros ($605 billion) to support economic growth. Officials said that bond-buying will continue until "the coronavirus phase is over.
The Mortgage Bankers Association (MBA) displayed the results of record-low mortgage rates on a weekly basis. According to their latest figures, home loan mortgage applications rose 22% from last year. Despite the obstacles posed by the pandemic, this is a promising result. Meanwhile, mortgage applications to refinance, which are more heavily influenced by rates, are an amazing 89% higher than a year ago.
Looking Ahead
Looking ahead, investors will continue watching COVID-19 case counts. They will also be watching the progress on vaccines and negotiations for an additional government stimulus package. Beyond that, the next Fed meeting will take place on Wednesday, coinciding with the latest data on retail sales.
Since consumer spending accounts for over two-thirds of all economic activity in the US, the retail sales data is a key indicator of growth. Housing Starts will come out on Thursday.
---
Never miss an update with MBSQuoteline. To receive by-the-minute updates on mortgage-backed securities, try our platform free for 14 days.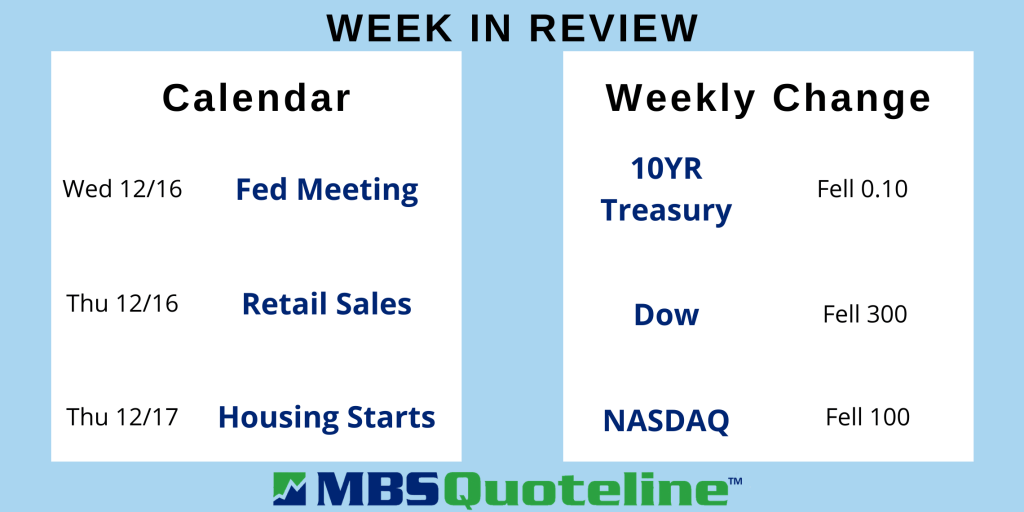 Stay connected with MBSQuoteline on social media by following us on Facebook and LinkedIn.
All material Copyright © Ress No. 1, LTD (DBA MBSQuoteline) and may not be reproduced without permission. To learn more about the MortgageTime™ newsletter, please contact MBSQuoteline at 800.627.1077 or info@mbsquoteline.com.