Due to a Bank of Japan policy change, investors raised their outlook for monetary policy tightening by global central banks. As a result, mortgage rates ended the week higher.
Bank of Japan to allow wider range in 10-year Japanese Band Trade
Japan has a more insulated economy than the US or European countries. This had resulted in inflation remaining lower in Japan. The Bank of Japan (BOJ) also has conducted monetary policy differently than the US Fed or the European Central Bank.
BOJ has not raised rates this year to fight inflation. In addition, it has held Japanese bond yields in a very narrow range. This is done by buying or selling bonds to offset further movement when the limits of the range are reached.
Bank of Japan Plans to Help Financial Markets
Investors were surprised when the Bank of Japan announced that it will allow the 10-year Japanese bond to trade in a wider range. The BOJ said that this was to help financial markets function more smoothly.
However, investors considered this to be potentially the first step on the path toward tighter monetary policy. The possibility of reduced future demand for bonds from the BOJ caused global yields to rise, including US mortgage rates.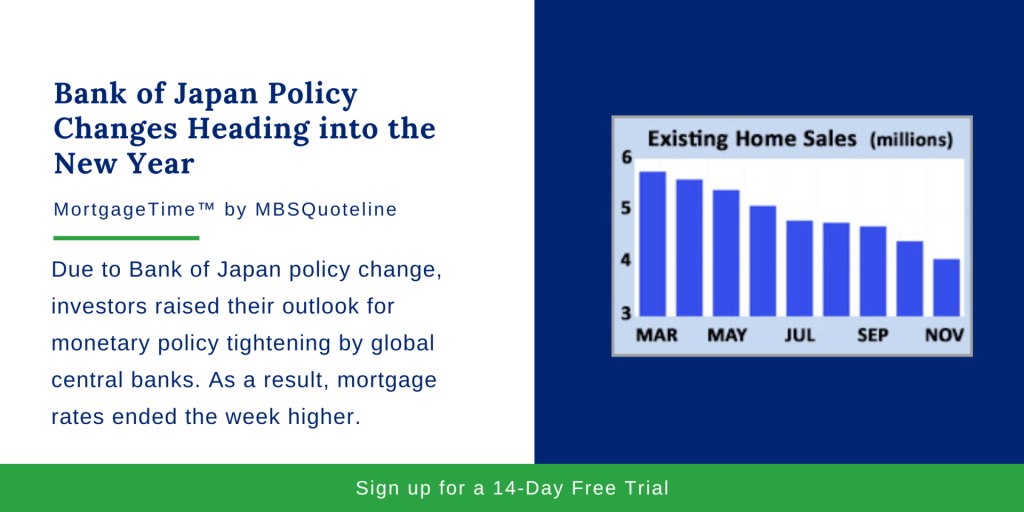 PCE Remains Above Fed's Target
Alongside the Bank of Japan news, the Federal Reserve favors the PCE price index as its go-to inflation indicator. This is because it adjusts for changes in consumer preferences over time. In November, core PCE was up 4.7% from a year ago, matching expectations.
Though it was down from an annual rate of 5.0% last month. However, this remains far above the Fed's stated target level of 2.0%. How quickly monetary policy tightening will bring down inflation and close this gap has enormous implications for financial markets.
Existing Home Sales Fall for the Tenth Straight Month
Aside from the Bank of Japan and Federal Reserve updates, sales of existing homes fell for the tenth straight month in November to the lowest level since 2010. Additionally, existing home sales declined 35% lower than last year at this time.
Inventory levels were a little higher than a year ago, but they remain at just a 3.3-month supply nationally, far below the 6-month supply typical in a balanced market. While the median existing-home price of $370,700 was 4% higher than a year ago, this was down from a record high of $413,800 in June.
The United States desperately needed addition home inventory for quite a while. However, higher prices for land, materials, and skilled labor continued to hold back builders. In November, single-family housing starts were down 4% from October to the lowest level since May 2020.
Single-family building permits, a leading indicator, fell 7% from October and were 30% lower than a year ago. In addition, a survey of home builder sentiment from the NAHB declined for the twelfth straight month to 31, the lowest reading since 2012. Analysts consider a level below 50 to be negative. While there were few bright spots in the latest housing data, mortgage rates have declined substantially since early November, so these figures may improve next month.
Looking Ahead After the Bank of Japan Policy Changes
After the Bank of Japan policy changes, investors continue looking for guidance on the magnitude of future rate hikes and bond portfolio reduction. The final week of the year will be a very light one for economic data.
Next month, the ISM national manufacturing index releases on January 4th. Later, the ISM national services index on January 6th. The key Employment report also comes out on January 6th.
---
With the Bank of Japan updates, mortgage rates ended the week higher. To receive by-the-minute updates on mortgage-backed securities, try our platform free for 14 days.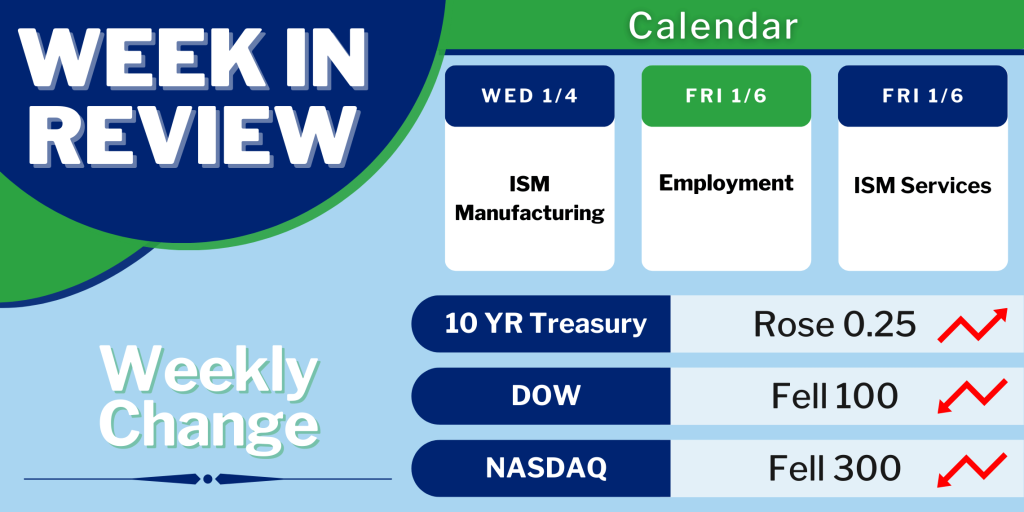 Stay connected with MBSQuoteline on social media by following us on Facebook, Twitter, and LinkedIn.
All material Copyright © Ress No. 1, LTD (DBA MBSQuoteline) and may not be reproduced without permission. To learn more about the MortgageTime™ newsletter, please contact MBSQuoteline at 800.627.1077 or info@mbsquoteline.com.