The monthly employment report brought stronger than anticipated data as the U.S. achieved breakthrough job gains. Simultaneously, incoming Institute of Supply Management (ISM) service data also yielded great news.
As the United States economy took home a couple of "wins", the impact negatively affected mortgage markets. Ultimately, mortgage rates ended the week slightly higher.
Breakthrough Job Gains
In July 2021, employment realized breakthrough job gains, gaining 943,000. Overall, this soared far above the consensus forecast of 850,000. Additionally, analysts revised results from the prior two months.
After a brutal 2020, analysts saw massive growth in the leisure and hospitality sectors. In total, leisure and hospitality added 380,000 positions. Job gains primarily permeated bars and restaurants.
As an added bonus, the unemployment rate declined from 5.9% to 5.4%. Contrary to job gains, unemployment fell well below the consensus forecast of 5.7%. Finally, average hourly earnings jumped 4.0% higher than a year ago. Average hourly earnings also increased from 3.7% in June 2021. Investors and analysts view average hourly earnings as an indicator of wage growth.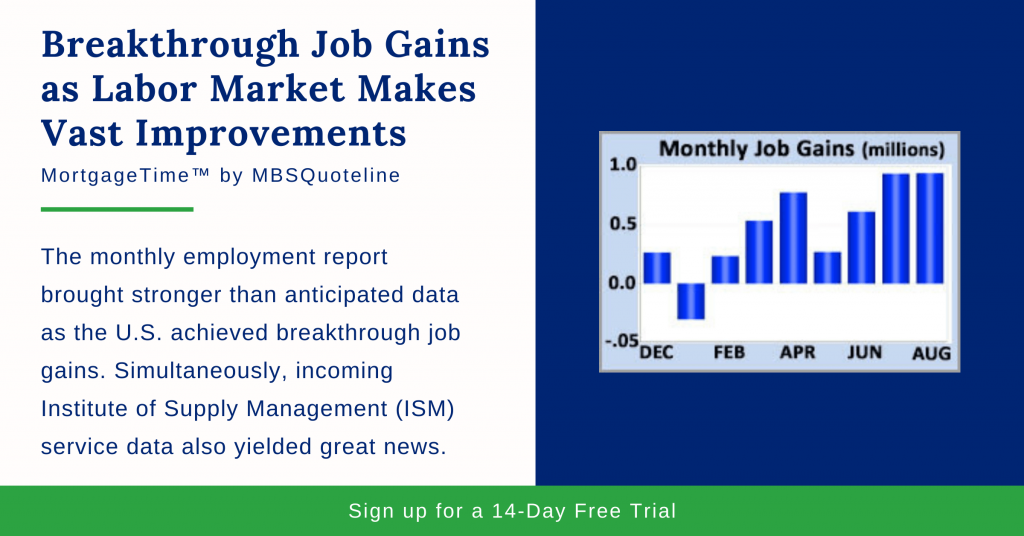 More Breakthrough Job Gains to Come?
The pace of labor market improvement picked up significantly over the last couple of months. However, the full COVID-19 impact remains to be seen. This makes experts question whether the trend of breakthrough job gains will continue. Unsurprisingly, many of the new jobs appeared in sectors previously hurt by the pandemic.
Fed officials repeatedly noted that the timing of monetary policy tightening depends on its goals. Mainly, the Fed closely watches for progress toward their labor market goals. Concurrently, investors keep a close eye on the impact of rising COVID-19 case counts.
Strong Results from the ISM
Aside from the breakthrough job gains, the ISM released a couple of other significant economic reports this week. Both yielded strong results.
Hitting a record-high, the national services index unexpectedly surged to 64.1. Meanwhile, the national manufacturing index came in at 59.5. Levels above 50 indicate that the sectors are expanding. However, analysts rarely see readings above 60. Of note, a large number of companies reported difficulties in hiring enough workers to keep up with growing demand.
Looking Ahead After Breakthrough Job Gains
Looking ahead after the breakthrough job gains, investors closely watch global COVID-19 cases. They also look for hints from Fed officials about the timing for changes in monetary policy.
Beyond that, the JOLTS report comes out on Monday. The JOLTS report measures job openings and labor turnover rates.
In addition, the Consumer Price Index (CPI) releases on Wednesday. Analysts follow CPI as a monthly inflation indicator. CPI examines price changes for a broad range of goods and services.
---
Want to see how breakthrough job gains mortgage-backed securities? Never miss an update with MBSQuoteline. To receive by-the-minute updates on mortgage-backed securities, try our platform free for 14 days.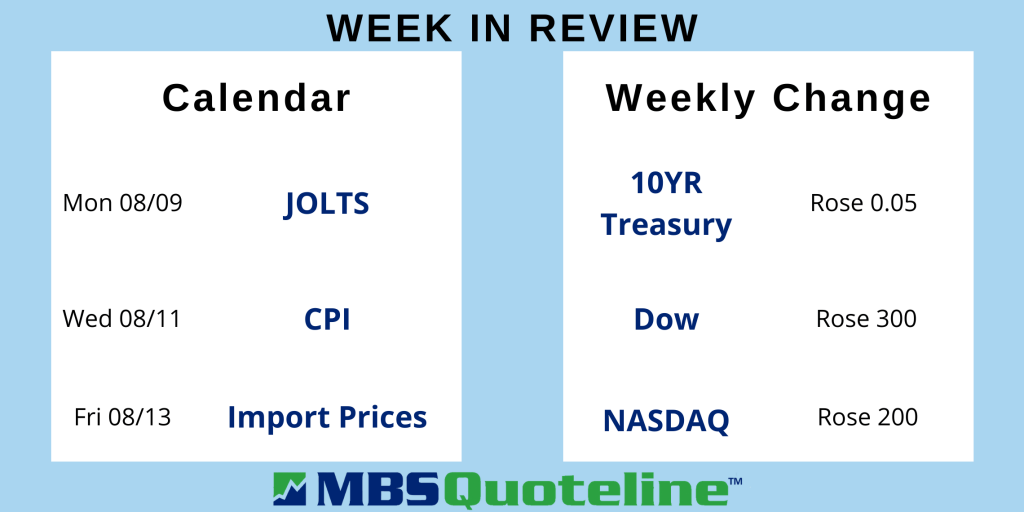 Stay connected with MBSQuoteline on social media by following us on Facebook, Twitter, and LinkedIn.
All material Copyright © Ress No. 1, LTD (DBA MBSQuoteline) and may not be reproduced without permission. To learn more about the MortgageTime™ newsletter, please contact MBSQuoteline at 800.627.1077 or info@mbsquoteline.com.