Despite seeing home sales regain ascension (after four declining months this year), this week didn't reveal significant economic news. The data from the housing sector contained no major surprises. Additionally, mortgage rates ended nearly unchanged.
Home Sales Regain Ascension
After four straight months of declines, existing home sales regained their ascension. June home sales rose modestly from May. In addition, June home sales jumped 23% higher than a year prior.
Overall, home inventory levels dropped 19% from a year ago. As a result, home inventory levels hit a mere 2.6-month supply nationally. Analysts consider a 6-month supply to be a healthy balance between buyers and sellers.
The median existing-home price rose 23% higher than last year at this time. In conclusion, the median existing-home price rose to a new record of $363,300.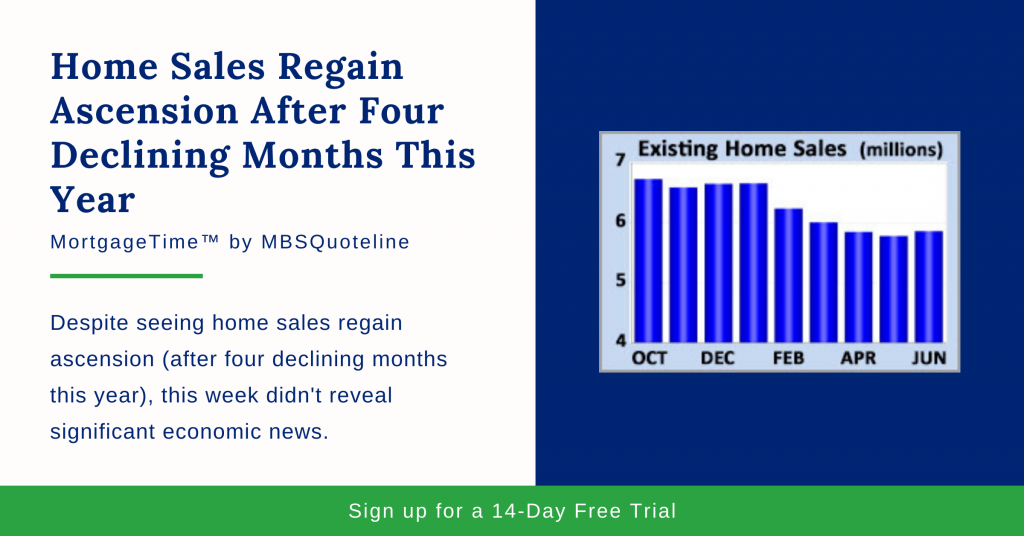 Additional Housing News
Several trends emerged due to the tight housing market conditions as home sales regained their ascension. All-cash purchases made up 23% of sales. This statistic leapt up from 16% a year ago. Investors contributed 14% of sales, increasing from 9% last year.
Sales of homes priced between $100,000 and $250,000 dropped 16% lower from a year ago. While low mortgage rates have been favorable, rising prices and competition from investors created buying difficulty. Analysts especially witnessed this at the lower end of the market. By contrast, sales of homes priced between $750,000 and $1,000,000 surged 119% during that period.
Given the critical need for more homes in many areas, investors closely watched the monthly reports on housing starts. The latest data contained mixed news. In June 2o21, housing starts rose 6% from May. This result improved 29% higher from a year ago.
However, building permits, a leading indicator, fell 5% from May to the lowest level since October 2020. Builders say that rising prices and shortages for land, materials, and skilled labor are restraining the pace of construction.
Looking Ahead After Home Sales Regain Ascension
Looking ahead after home sales regain ascension, investors watch for COVID-19 case counts around the world. They also will look for hints from Fed officials about the timing for changes in monetary policy.
Beyond that, New Home Sales release on Monday. Second-quarter Gross Domestic Product (GDP), the broadest measure of economic activity, comes out on Thursday. The core PCE price index, the inflation indicator favored by the Fed, will be released on Friday.
---
Want to see how mortgage-backed securities are affected as home sales regain ascension? Never miss an update with MBSQuoteline. To receive by-the-minute updates on mortgage-backed securities, try our platform free for 14 days.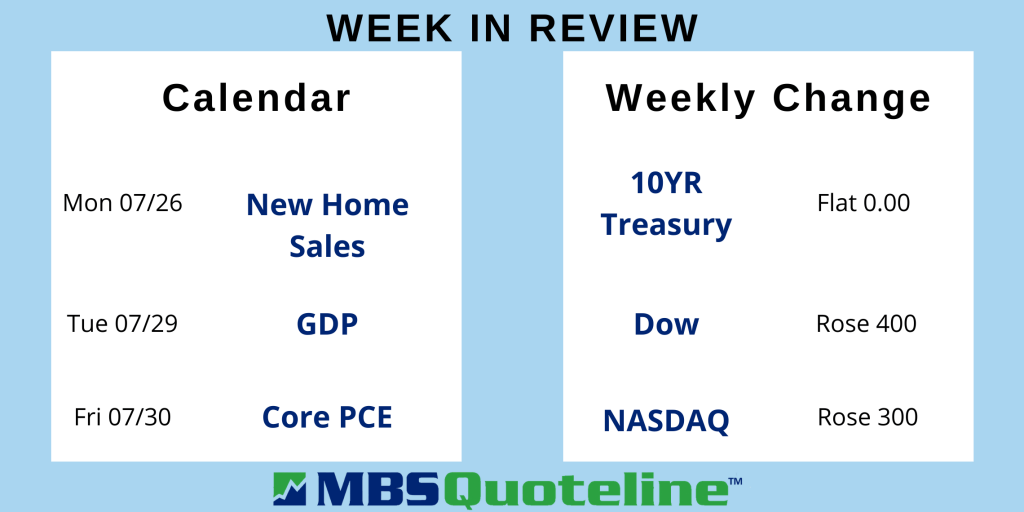 Stay connected with MBSQuoteline on social media by following us on Facebook and LinkedIn.
All material Copyright © Ress No. 1, LTD (DBA MBSQuoteline) and may not be reproduced without permission. To learn more about the MortgageTime™ newsletter, please contact MBSQuoteline at 800.627.1077 or info@mbsquoteline.com.